It was really a ultimate surprise birthday party for Pui Heng (Our nickname to him). Before I start, I want to emphasis and proudly say that we are really one bunch of good actor and actress, not to forget good planners as well! Actually we planned more than one weeks for this birthday party, and even went to the extreme to meet up to discuss about it. haha! 用心良苦 right? And we proudly named this as our version of... RUNNING MAN! Why Running Man? Shall read on then...

The event was on 26 May 2012 itself. And Pui Heng's birthday was on the next day, 27 may 2012. And guess what? We have a bizarre theme! We were supposed to wear a big bow with suspenders. The big bow is the one that caught people's attention instead. Lol.

We supposed to meet at Clarke Quay in the evening. However, a few of us actually met up beforehand to decorate the hotel. And the hotel we stayed was Santa Grand Hotel East Coast, Family Room which is very close to Katong 112. We chose this hotel was because one of our friends works at Santa Grand, so we managed to get a good price for that room. However, the rooms are not that expensive too. It is good for gathering like us.

Don't expect it to be that grand lah. But it is still okay for us. Spacious enough for 10 of us.
The amount of what we were going to drink that day. This was not the actual amount, we went to the nearest Cold Storage to get more wines. Lol. We have Martell, Hennessy, Vodka, Sake, Red Wine, Wine and etc... Scary uh.
After finished decorating, we sat down and had a final discussion on what we were going to do. Because
Jihao
and
Ahchoon
were not really aware. We have to tell them what was going to happen and what was their role. We need to rehearsal to ensure everything will be going on smoothly, you see. Simply a rehearsal. haha. And lastly, we all changed to our attire and took a picture before we went off. Where is the bow? Of course we did not wear it from Katong all the way to Clarke Quay. Wearing like that already caught a lot of attention. haha.
Finally, our show started. Met up with
Kengboon
and
Puiheng
at Clarke Quay. We made up some excuses and that is why they did not meet up with their wife and girlfriend. And the rest? We just said we bumped on each other. Simple as that. Lol. And all of us changed onto the bow accessories. Damn, you see the crowd in Clarke Quay. We really looked like a weirdo to them. If you were there the other day and you saw us, we have reason wearing like this. Lol.
We headed to
Shin Minori
which is located at UE Square for dinner. Yup, walked all the way from Clarke Quay to UE Square! haha. We were actually quite embarrassed when we entered to the restaurant. People kept looking at us and to the extreme of taking out phone to take picture of us?! This is really crazy.
8 of us, the rest of the 2 have not arrived at that time.
The food in
Sin Minori
is quite okay but the service is kinda slow. Our orders got mixed up a lot of time and eventually we have to keep ordering as the food did not come to us at all :(

Photo first while waiting for our food!
Left: The birthday Boy,

Pui Heng

. Right:

Kengboon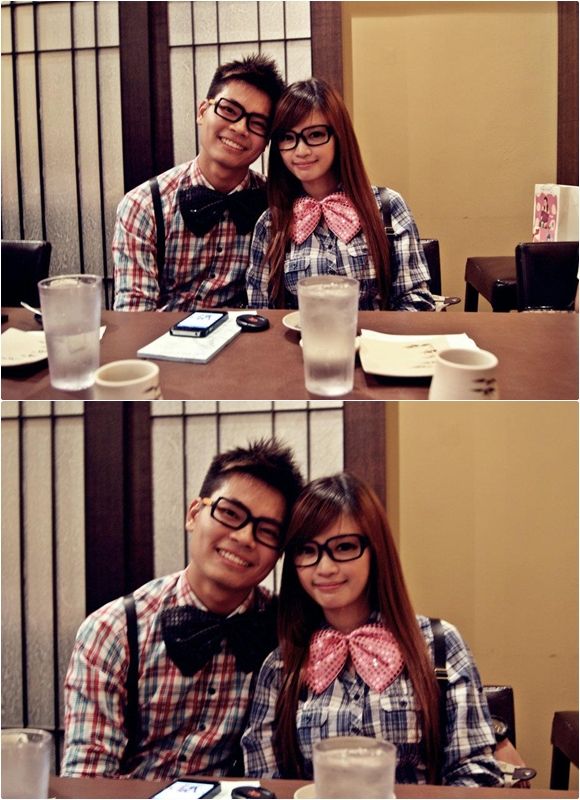 Boyfriend

and

I

.
Left:

Keng Boon

Right: His wife, my cousin,

Lina

We nearly got a big shocked from

Keng Boon

. He suddenly took out a mini cake. We all thought that it was a birthday cake for

Pui Heng

. We kept questioning him. hoping that he can get our hint by

"WHY YOU BRING A CAKE HERE!"

Nonetheless, he lighted up the mini cake and said

"AIYA, Today is my Wedding Anniversay, this is for my wife"

and he presented the cake to his wife. Omg! We are totally shocked. However, it is so sweet right! A pleasant surprise :)
We ate till almost 9pm, then our host,
lina
, started to explained the "game" out. We ought to separate ourselves into groups. Because we all thought that
Pui Heng i
s pretty smart, most likely he will not accept the fact that he is be arranged to be with the group. And of course, we are pretty smart as well. We did the group arrangement beforehand and already planned who is supposed to be which group already. haha.
Step1: How do we make him convinced?
We arranged ourselves into 3 groups,
Yellow
,
Blue
,
Pink
.
And we all had this little stickers with us to paste underneath the chair that we were seated at, except for
Pui Heng
of course. And the one who is sitting next to him which is
Keng Boon
has to help him to paste while he was away. And of course, this went pretty smooth as well.
When Lina was hosting, she asked everyone to look underneath the chair to see which group they are in. So we all will pretend to look underneath. Some will act
"Where got! I cannot find leh"
,
"Omg! Why am I in the same group with you, Sway lah!"
You know this kind of dialog that most of us will normally say. And again we are pretty good actor and actress. Hehe. And
Pui Heng
was pretty convinced at that point too.
Step 2: Proceed with the envelope.
After knowing our groups, we were given a big envelope by
Lina
, which have all the tasks. And we said that it three envelopes are planned by
Lina
,
Wally
and
Me
. And that we have no idea which one we will be taking. (Fake one of course, eventually all the tasks are the same except for the first one that we will be going together.)
And of course, we are given X amount of money as well. And we have a fake rule:
Whoever who arrived late, will need to open 2 open of martell
. Because this will make him feel that the last destination will be in a pub instead. (The usual routine) LOL After knowing our groups, we set off to do our first task. Remembered, we all have to do the first task to make it more convincing! *winks*
Lina's Group - Left:

Pui Heng

,

Lina (My cousin)

,

Miao Ling

,

My Boyfriend
Wally's Group - Left:

Ah Choon (My Cousin)

,

Wally (My Cousin)

,

Jihao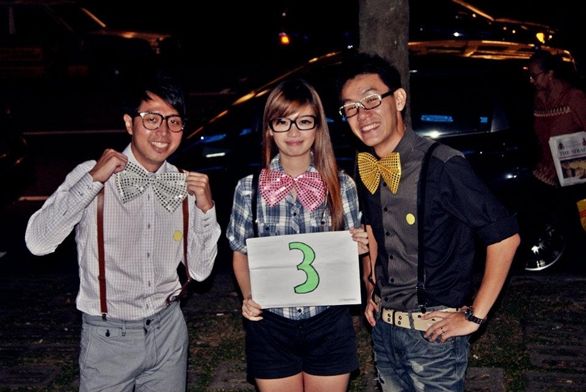 My Group - Left:

Ben

,

ME

,

Keng Boon




These are the tasks that we have brainstormed. Like I said, the first task is different. Only the numbers required are different. For

Wally's

and

my group

we will head straight to the hotel even though the task stated to Parkway Parade, while for

Lina's group

,they will really head to Marine Parade. I

n other words, only Lina's that group will be playing, the rest are only acting.

Understand? LOL!

We all swore that we will be playing with pride. Meaning? No cheating! All these cards are actually said to be given out by the leader, meaning

Lina

,

Wally

and

Me

. So no one is supposed to cheat and the leader will actually monitoring them. So Pui heng actually really nice enough to follow all these tasks and he is really playing with pride. HAHA! Thanks him for being so coordinate with us. But who cares that we actually swore that we are going to play with pride, ultimately only

Lina's group

is playing. hahaha!

These are the tasks. Like I said, the only different are the Task 1.
Surprisingly, we were the first to hop onto the cab. We are super lucky, the cab has the numbers that we wanted. LOL. And of course, we headed back to the hotel! :D
It took us around 20 minutes to reach our hotel. And coincidentally
Wally's group
reached at the same time as us too. Then we went back to the hotel room leisurely. LOL. Imagine
Lina's group
was rushing here and there! And here we are, slacking and taking pictures while waiting for phone call. (What kind of phone call? Read on and you will know)