Nowadays many couples actually decided to go for BTO first before getting married. Mainly because the increase of HDB. And well... Boyfriend and I had actually balloted a flat last November 2011. After a long wait, we finally settled all our HDB stuffs. Decided to blog about it.

It wasn't a rash decision. We went down to HDB Hub a few times to ask regarding our financial and eligibility first before we actually decided to ballot one. You may find out if you are eligible to buy a new HDB here. Because we weren't really sure about the procedures. And we are now talking about a few hundred thousands. Of course we will want to know more details first before throwing our $10 to ballot. Right? Haha. We are very cautious about it. Will blog about the procedure later.

And it was actually our second time trying as our first timer. The first time round we decided to drop out because of the weird inner layout that it is being designed. The first flat that we balloted was Punggol Waterway Terrances II, yeap, the very famous one if you know. Haha. We balloted for the 3 rooms instead. (Because at that time, my boyfriend is still in the army but is waiting to ORD) Our ballot result was really bad! It is like 99/118 if I don't remembered wrongly. Not sure why, though we had already opt-in the staying-near-parents scheme. And because of the poor ballot result, we didn't managed to get a river view. The 3 room flat price was ranged $307 000 to $390 000. Quite expensive uh. And we decided to give up after struggling. haha!

Punggol Waterway Terraces II
After we gave up our
Punggol Waterway Terraces II
, we followed up with their launches every month. You may want to check out their monthly sale launches
here
! Finally
Punggol Waterway Ridges
and
Punggol Waterway Banks
have launched and we decided to give it a try. We wanted
Punggol/Sengkang are
a
because in the near future, my family will be moving to Sengkang and his family is staying at Punggol. So it will be a perfect location for us. However, it has been such a struggle for me to move to Punggol/Sengkang area as I have been living in the town for the past 20+ years! I can walk to Bugis in 10 minutes, reach Orchard in 15 minutes, reach any town area within 30 minutes or so. Can you feel me? Lol.
Anyway, we got a number of
800+ out of 1000+
, seriously not really a fantastic number. We really puzzled how people actually can get a better queue number when they are just like us, young couple, yet didn't even opt for stay-near-parent scheme. Well, luck play an important role, you see. =\
This time round, since both of us are working. We decided to opt for a 4-Room instead. Boyfriend insisted to have a 4 rooms instead of 3 rooms. We are interested in
Punggol Waterway Ridges
initially. But because this time round, they actually combined both of them together. Meaning if
Punggol Waterway Ridges
and
Waterway Banks
have a total of 1100 units, and in this case we got a queue number of 800+, we actually have a chance to take either
Punggol Waterway Ridges
or
Waterway Banks
. This is beneficial for those who have a good queue number as they can choose which to get, but for people like us, we are stuck between
Punggol Waterway Ridges
and
Waterway Banks
. Really a disadvantage for us =]
Punggol Waterway Banks
(Standard Flat)
Many of them do not understand the meaning of
Standard Flat
and
Premium Flat
. Alright I shall do a simple explanation here, based on what I know.
Standard Flat
is very simple.
Standard Flat
does not come with the finishes and fittings at all. Meaning you have the choice of your own to install the desire finishes and fittings. Another meaning, an empty flat for you to decorate loh. haha! However, you have a choice to opt in the floors and doors given as an optional from HDB. But many say that the quality will be lousier than
Premium Flat
. I cannot confirm this. But many choose to opt it (Like Me!), cause it is cheaper from the contractor outside as it is payable through CPF. Why not? It will help you to save a lot of money, you see. Furthermore, most
Standard Flat
provides 3/4 length window in the living room and 1/2 length window in the rooms. For the location wise, some says that
Standard Flat
normally is more "wulu" than
Premium Flat
. But it is not that "wulu" as you think. And of course,
Standard Flat
is cheaper.
Premium Flat
. Everything is fixed here. Even if the finishes or fittings look like sucks, you also have to face it and take it. That's Premium Flat. Everything is done and given to you. Because of it, it is much more expensive than
Standard Flat
. And also, some
Premium Flat
provides Balcony and most of them have full length window in their living room OR even rooms and also 3/4 length window in the rooms. And for the location wise, normally it is nearer to the MRT/LRT as compared to
Standard Flat
. Maybe in
Premium Flat
, you will require to walk 2 minutes to the MRT/LRT while
Standard Flat
will require you to walk 5 minutes or so? That is what I mean by "it is not that wulu as you think" Yup. And that is why it is more expensive than
Standard Flat
. Reasonable?
We struggled to take
Punggol Waterway Ridges
. We compared the flooring and we feel that the tiles for
Ridges
is much more better than the banks one. And for the outlook, actually I prefer
Ridges
too. We waited almost 4 months for our turn to select, freaking long right? However by then,
Ridges
only left a few storey units, like storey 2 or 3 which we did not want. And these units are totally blocked by all the blocks, which means totally no outside views at all. I guess most people won't want to get this kind of flat right? We are quite "pan tang" (superstition) one. haha. But then again we did not want give up our last chance as first timer. In the end, we decided to get the
Banks
. Surprisingly, there are still a lot of good units left. I guess it is because most of the people prefer
Ridges
too. In the end, we got a until at level 12 :D Like I mentioned, to cut down our renovation fee, we decided to opt in for the flooring and doors. In the end, the cost of our flat is
$298K
. Look! Compare to the
Punggol Waterway Terraces II
's 3 rooms, we actually saved a lot!
For the procedures, these are what I have did during the whole process of doing our HDB. My personal procedure that I have did. You may want to take a look :)
1. I applied for HLE first
I know many of them will ballot a flat first before applying a flat. But for my case, because we would like to know how much my boyfriend and I can loan from HDB. The figure might not be accurate. But at least we know that we are able to get a loan and a certain amount of loan. It makes us much more comfortable and go ahead with our plan to ballot for a flat.
2. Sign up as their HDB Alert
.
You may want to subscribe through
here
. We got sms/emails when they start their new launches every month :)
3. Sale Launches
After we received an email or sms saying that the sale has launched. We visited their website at
here
. Click on the month sale launch banner and it lead us to a new window with all the introduction of the BTOs. Look through our desired flat in details in the HDB Website. Look at the estimate cost of the number of rooms that we are getting. We sat down and discussed first, making sure that we can afford and etc...
4. Ballot
After much consideration, we decided to throw in our lucky $10 for the
Punggol Waterway Ridges and Waterway Bank
.
After that, we prayed hard that we can get a good queue number. As for the steps to submit a ballot, Don't worry! , there will be steps to guide you on how to ballot. It will only take 5-10 minutes for you to complete an submission.
5. Ballot Result
We waited for around 2-3 weeks (Depends) for the ballot result to release. The waiting period is the most killing one. Ballot Result will emailed to you. So make sure when you submit your ballot, the email that you have given is valid! Tentatively, you may check in your
my HDBpage
for the result. Normally email will be faster. myHDBpage will take up some times to release the queue number.
6. Search for your flat Facebook Page
haha. I came upon my flat Facebook Page and I joined their group. It is very useful. The chief of the group will always upload the status of the queue number and whatever they have found. It helps you to choose your unit better through their evaluation. And most importantly, you know your neighbours before the flat is build! HAHA!
7. Received flat booklet.
We received our booklet around 1-2 months (depends) after we have received our queue number. The detail of the booklet is something like what you have seen in the website, however, it is stated with all the prices and etc.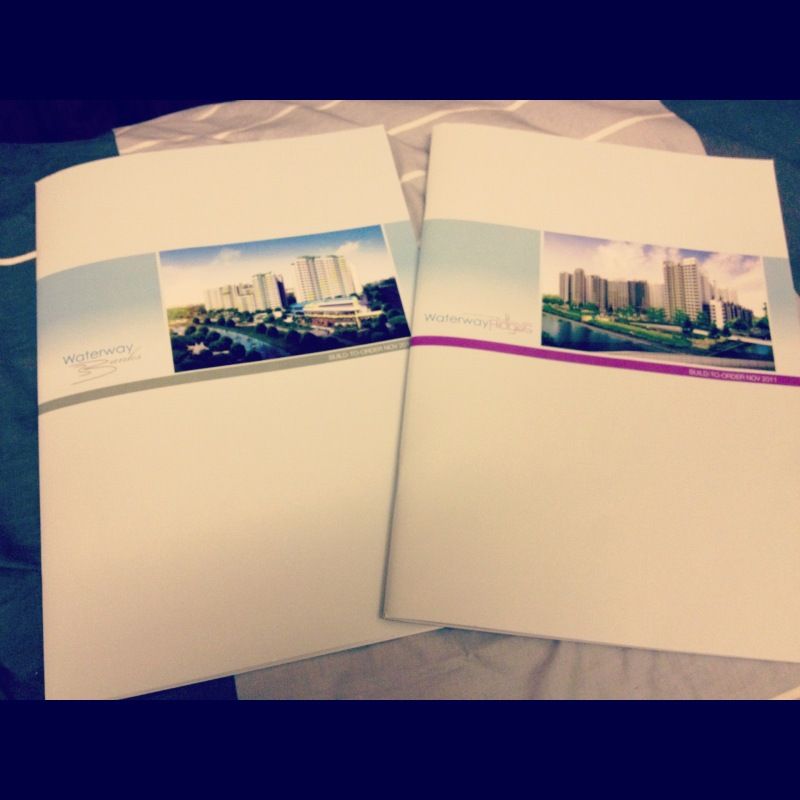 8. Date of Selection
For what I have gathered from forums. Most of them said that selection will start with the 4 rooms first, followed by the 3 rooms then 5 rooms. You will know your date of selection through
my HDBPage
, again, it is the first-hand news. Other than that, they also will send you a letter regarding your appointment date and time. What we did is, when it is close to my selection date, we will sit down together and discuss our desired units that are still available. But take note, you will suffer a disappointment every now and then when you see your desired units taken away. That's why I suggest you to select when your selection date is closer :)
9. Selection appointment
Finally, our selection appointment is here!
02 March 2012
. Oh ya! Before you went for your selection appointment, make sure that your HLE did not expire. If your HLE expired, you may have to reapply again.
What to bring for selection.
1. $1000 option fee for 3 rooms, $2000 option fee for 4rooms/5rooms. These are payable via Cash/Nets/Cheque. And these option fee will refunded to you after you have made your deposit (Which is a few months later!)
2. Identity Cards for both of the parties
3. Marriage Certification (if you have)
4. latest 3 months payslips
5. Letter from employer
When we were there to select our desired unit, we were quite nervous and excited. Nervous because we were so afraid that before we went into the room to select our unit, some people might took our unit away. And excited, because we are first step closer to build our future! haha! When we went in, the officer is quite friendly. She filled us in with a lot informations. Things like: what is this document about, what are the things we should take note and etc. And I remembered we signed a lot of the documents. Then she asked us if we would like to opt in for the flooring and doors, and we agreed. And because we are qualify for the
AHG
(Our average gross monthly household is below $10K), the officer helped us to apply for the AHG. By then, we did not know how much we are granted because they have to process it. They told us that it might take a few months, that's long, I know. But she somehow said that most likely we will be granted, how much, she cannot confirm. You may want to know more about AHG
here
. After all the signing procedures, we were asked to pay our option fee of $2000 at level 3, then back to the office again. The whole process took 15-20 minutes. And tadah, we are happy to be the owner of
Punggol Waterway Banks
! :D
10. AHG letter
I still remembered the time that boyfriend excitedly whatapp-ed me when I was in Taiwan (June). He told me that our AHG letter has arrived and we got a total of 30K grant! That's really a good new! It is because we have been waiting for this AHG letter for almost 3 months. 30K were granted to us, 15K each to our account. You don't have to do anything to it. Just be prepare to see another addition 15K to your CPF account :)
11. Signing Agreement for lease
Most of them said that, when you have received the AHG letter, the date to sign for the lease will be around the corner. True enough, after I am back from Taiwan. I quickly went to check
my HDBpage
to check our date. On the 21 June 2012, we went down to sign our agreement. And the officer told us that the option fee will be credited back to our account. We paid a total of 5% of our total cost, which is around $14900, this amount was deduct from the 30K that the government has granted to us. As for the stamp and legal fee, it cost about $2-5K, almost forgot the exact figure, but these amount are deduct from our CPF account. After this process, we are officially the owner for
Punggol Waterway Banks
!
Phew! It took us
7 months
to complete these process! Our flat will be ready by November 2014, most of them said that it will be 6 months earlier so I guess May 2014 it will be ready for collection. 2 more years to go! We are excited for our new flat. And well, lots of preparation to be done within these years and yup, we are working hard on it :) It is a wonderful process to go through together with your partner. And this is just the first step. To those who are getting a flat, congratulation! Enjoy this wonderful experience. Let's work hard for our first home :)