We booked this Phuket Trip in advance for more than 6 months, to be exact, 8 months! And finally! We are heading to Phuket! Yeap, we are going for the second time, but this time round, with the other 10 of them. The more the merrier! :D Check out the last phuket post here!

Actually we bought the package from a travel deal website named TravelSm****. I think it is quite obvious which one. They often have deals in their website. And I'm here to say that it is going to be my first and last time booking from them. We all know that since it is a deal and we should know what kind of quality we are getting, quality as in hotels and etc but definitely not the service. Full Stop!


Luckily, our trip went pretty well. Despite an earthquake that actually happened in Indonesia one week before our departure date that triggered Tsunami Warning in all nearby islands. See the news
here
. Thank god! Everything went fine when we reached there :)

Say hi to
Sea Sun Sand Resort and Spa!
We were upgraded to Sea Sun Sand Resort and Sp
a
(Long Story that I am too lazy to elaborate why) :)
The location of Sea Sun Sand Resort and Spa isn't really good, I would say. It's at the start of Patong Beach. You can walk 5-10 minutes to the start of the Patong Beach. But pretty far to walk to the shopping and pubs areas.
Time to check in! The good thing is they allow us to check in early. Cause we reached there before the stated check-in time. Phew! The reception area is an open concept design, I guess most resorts are like that.

In order to get to our room, we have to walk up a very steep slope. So they actually provide this mini lorry for us. Our hearts almost dropped when we were on this lorry. Never expect it to be so steep. Totally got a shocked.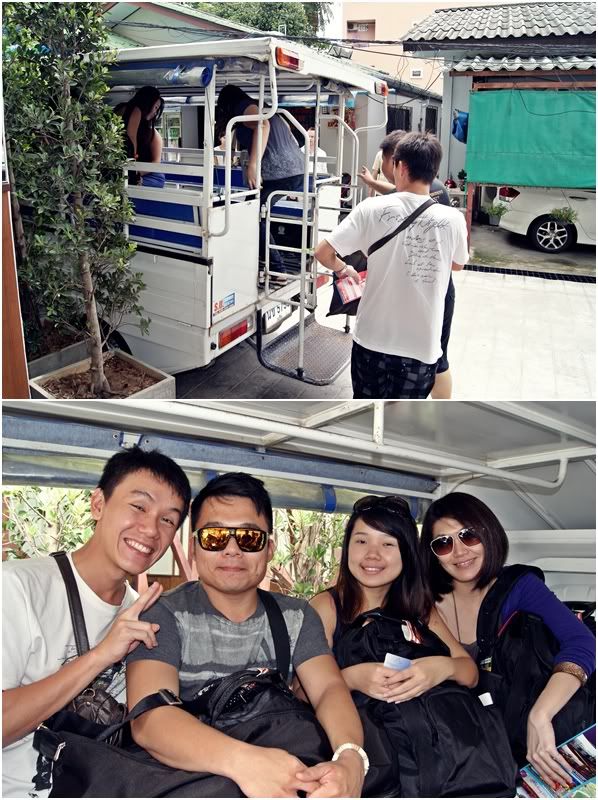 You cannot imagine how steep the slope is...

The first group that got into the lift. There is only one lift in this hotel =.=
We literally let out a
"Wow"
when we saw the surrounding.
And this is our room...
It looks grand isn't it? Trust me, it don't really appear to be that good actually. The air-condition is not working well and it'll auto shut down in the middle of the night or early in the morning. At first we thought that the air-condition in our room was spoilt or something, but my cousins who were staying at the same level experienced the same thing as well. It kept shutting off even when you switch on again :( Can you imagine how frustrating it is specially when you are so sleepy after a whole day event? :(
And there are a lot of mosquitoes in the room, my room is not that bad. My cousins' rooms have a lot. In the end, they have to buy mosquito coil. haha. And worst of all, we don't need a phone to communicate. We just have to shout over and they can hear us. Basically we communicate through my cupboard lah. haha. That's convenient uh.
After settled down, we quickly proceed for our brunch. So freaking hungry! Some tourist-photo-taking! :D
Walking down the steep slope~
We feel like rolling down instead. Such a chore.

Stopped by at one of the restaurant near the beach.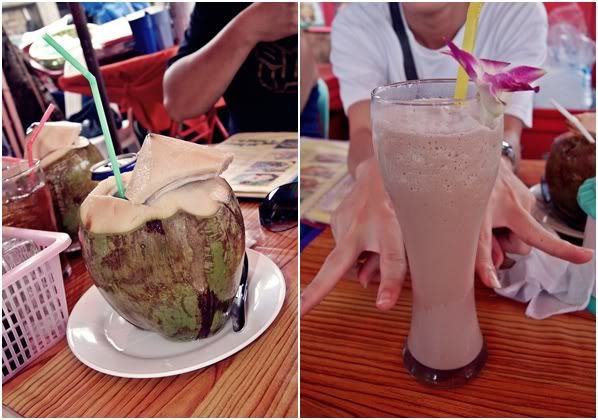 After that, we went around exploring the place. Phuket is still the same to me. Nothing much changes and generally I really love this place.
Sea, Sun, Sand...AHHHHH~
haha! 职业病!
Stopped by to purchase our adventure package for our Day 2. Bargained and Bargained! We got a rather reasonable package.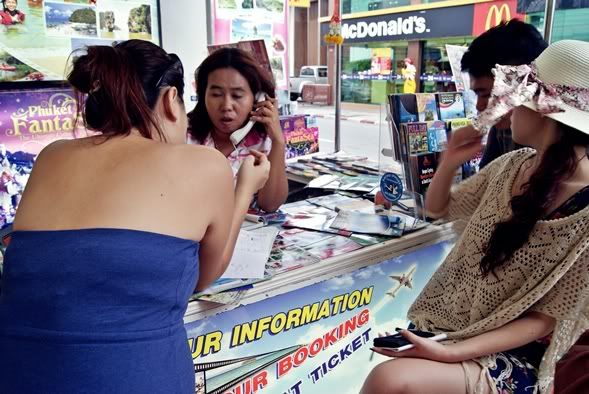 After that, we went for a massage before going back to hotel for a swim :D
Wash up and off we go for dinner! :D
Dinner for the day!
Roadside food is still the best lah! Forget about the hygiene, just eat whatever we want! :D
Cheap and good! *Drools*
Peiru and I have been looking for our pancake for the whole day! AND WE FOUND IT! :D
This auntie must be very happy to see us throughout these 4 days cause we have been going back to her. And each time, we bought a lot from her.
Because it is tested and proven that her pancake is the best of all! It's cheap and delicious lah!
Drools! I really need to franchise this back badly :(


Sitting by the roadside waiting patiently for our pancakesssss.
Time for some relaxing night activities! We are really one bunch of drunkards. Time for a drink!
Lol! Look at them! Attract so many attentions!
Settled down at one of the pub to chill. And also order two of this giant drinks and one tower of beer. Anyway, the band in this pub is good!
After that, supper first before we went back to hotel for a night sleep :D

Day 2:
Start of our adventurous day!
Our adventurous package consist of
Monkey Temple
,
1 Hour of Elephant Trekking
,
Flying Fox
,
1 Hour of ATV Ride
,
5km of Rafting
,
lunch
which cost us only
1500baht
(If I didn't remembered wrongly?) Quite cheap right? Best of all, it is a private tour :D And the whole tour almost take up 10 hours, we went back to hotel is around 5pm.
Monkey Cave/Temple!
Back to the same Monkey Cave that boyf and I went the other time. Always have the phobia that they will suddenly jumped onto you to snatch the peanuts in your hand. They are really greedy, they always aim for the whole bag instead of those in your hand. Smart uh?
This cutie here is so obedient. It actually sat there and allowed us to take photo. No idea why too. Mad cute. But still worried that he/she might just jumped onto me. Lol.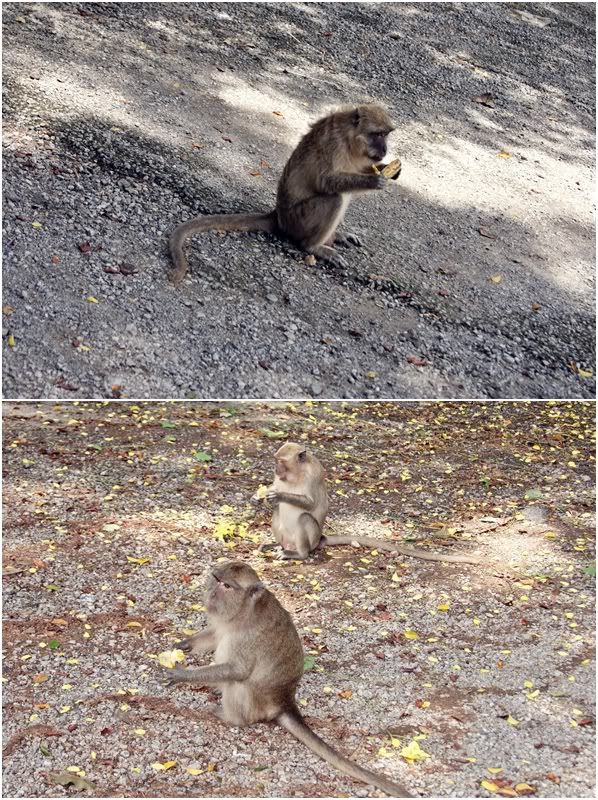 We paid additional
20baht
to visit the
Sleeping Buddha
in the monkey cave. I didn't take the photo of the sleeping buddha cause it is kinda of eerie and I am not sure if we allowed too?
Then we explored the cave...
After that, we went to our
Elephant Trekking
and
Flying Fox
! We were really unluckily. When we first reached there, it did not rain. When we started our activities, it started to rain super heavily. And when we ended our activities, it stopped! =.=
In the end, we didn't managed to take any pictures. Can you imagine it was raining so heavily that we actually have to hold onto an umbrella while sitting on the elephants? haha. I'm really screaming my lungs out when sitting on the huge elephant. Cause it rained so heavily and I have to balance myself. I am all wet from head to toe. Worst is when the elephant has to climb up and down the rocky slope. I have the feeling that I am going to be thrown out anytime! But at the same time I feel that being an elephant is not easy. When I am sitting behind that, I did not dare to step onto them. I am so afraid that I might hurt him or something. Yet if I don't, I will really slip down. So whenever I stepped on him, I kept apologised at him. haha!
Taken before it started to rain...
A rather smaller size elephant :)
Up next,
ATV ride
!
Totally a wasted that the girls didn't have a chance to sit and ride on our own cause the boss kept advising us that it will be dangerous for the girls to drive alone. So the couples will have to sit on one ATV instead. Turn out, it was not that scary as we thought. The girls could actually drive on their own too :( Actually it was because there was an accident the day before when we went. That's why the boss kept emphasised that it will be dangerous.
Then again, the boss is so friendly and he actually invites us to stay there if we ever come again next time. Lol.
The most exciting part,
WHITE WATER RAFTING
! OMG! Seriously I am so in love with this sport. hahaha! It is one of the
MUST DO
in phuket :P
The rest who did not play actually waited for us to have lunch. So touched. Cause they were equally famished at that point and they waited for us for so long! Lol.
Here is my group!
Miao Ling
,
Ben
,
boyf
and
I
! :D
Come to think of it, we realised that the river is super dirty. haha! Cause we saw elephant bathing and shitting near the river when we are halfway the journey. So make sure, you keep your mouth shut no matter what happened. Lol. Cause the rest of the group will splash water at you. So if you drink the water... God bless you!
Ended our adventurous day! Took a few hours of journey back to our hotel. Most of us are so tired and dirty. All because of the sudden rain. Our clothes went "Dry" to "Super Wet" to "Almost Dry" to "Wet again" Lol.
After washed up, we went to the
Mama Restaurant
that is near Patong Beach to have our dinner :) Because it is a distance from our hotel, we took tuktuk there. It is about 10 minutes journey. You won't believe, this tuktuk actually squeezed 12 of us! LOL! And it only cost
300Baht
! :D

Totally hungry. Ordered whatever we can. It was a satisfied dinner. Cheap and good!
You may want to try this when you are there! :D
After dinner, we explored around the area since it is the Biker's Week! Brought our umbrellas along because it seems to be raining soon!
Checked out some of our boliao's action! haha!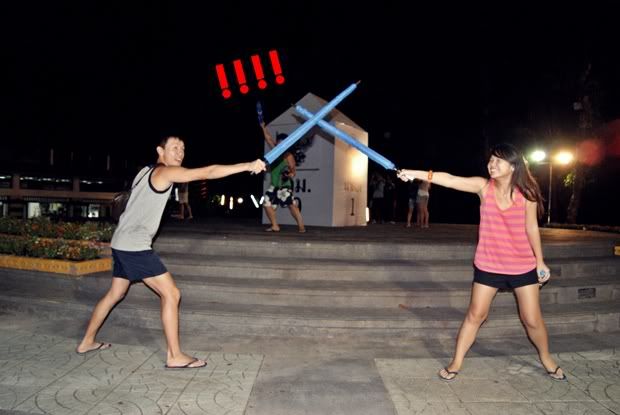 Military Wedding Lol. They are very serious okay.

Exploring around before it started to rain again!
As usual, massage before going back to hotel! We found a fantastic massage place name
REFRESH
. It is just opposite Patong Beach and if I didn't remember wrongly, there is a dentist beside the shop and it is directly opposite the MaMa Restaurant that I've mentioned earlier.
The environment is really good, those spa kind, not sleazy at all! Real cheap, like
250baht
for an hour for this kind of quality you are getting. Body Massage or Foot Massage. Thumb up! The most important thing: their masseuses are experienced and friendly too! After our massage, it began to rain heavily! Pouring like mad! And again, we have to squeeze ourselves into the small tuktuk back again!
My masseuse told me that it is really rare that it kept raining in the month of April when it is not supposed to. And they are actually worried that there might be another tsunami. It is because before the week that we went, there is an earthquake in Indonesia that affect most of the island; like I've mentioned. It is kinda sad to hear this kind of natural disaster. Please bless Phuket. It is such a nice place to be :)
Day 3:
Island hopping day!
Woke up really early for this Island Hopping! The weather appeared to be quite good at that time. We were really worried for the bad weather. Luckily, it was really a fine day (at that point only) Lol
On our way to take our transport, we really thought we were taking this ferry and happily taking photo of it while we were walking towards it.
Then we realised this was the transport that we will be taking.
SPEEDBOAT!
*Gasp!
It was my first time taking a speedboat though. Haha. All of us occupied the front of the speedboat. A bumpy ride throughout the whole journey. Poor Boyfriend. He really suffered like mad. He did not enjoy at all. He had a seasick. Apparently we didn't know that we are taking Speedboat, if so, he would have taken his seasick pill first. He vomited throughout the whole day :(
He is still fine at this point. But after 45 minutes later, the worst has arrived :P
Time to explore the islands :D
We jumped off from our speedboat for a swim. No fishes for us to snorkel at that point. AHH! And I really dislike the feeling. The water is so freaking salty and I don't like the feeling that my feet are unable to touch the ground. And worst of all, I am not a good swimmer. Or maybe you want to list me as non-swimmer instead.
Thank you, Jihao for helping all of us to take pictures :D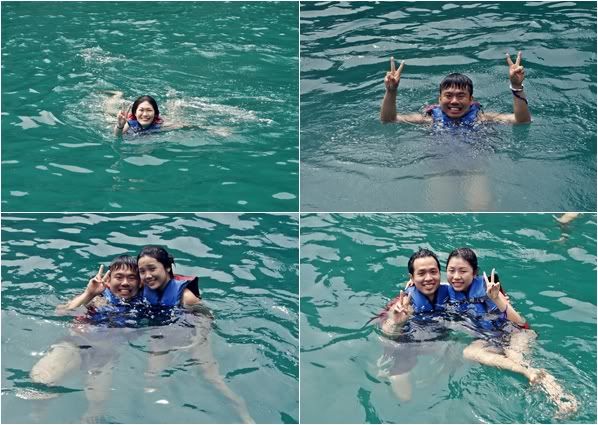 This is my first time visiting
Maya Island
. The other time we only passed-by. It was really crowded! Crowded with all the mainlanders! Sigh! The surrounding is really beautiful :)
Time for pictures!

Playing "Running Man" Photo-zone. Trying all our best to block Keng Boon. Lol!

And lastly, our group photo :)

It wasn't a smooth ride. We experienced rain most of the time. As a result, super bumpy ride. And boyf suffered again and again. Finally we reach an island where he can take a rest. The rest went for snorkeling while I accompany him :)
Look at the dark sky! Tsk Tsk!
After another 15 minutes ride, we are back to the ground. It was such a relieved for boyf. Phew! A group photo taken before we boarded the speedboat :)
Later in the evening, we met up with my other cousin who did not go island hopping with us. We brought the
FantaSea Package
. Actually it is quite expensive. Around
1300Baht
! You can use this amount to go for a half day tour.
Before that, we went to one of the nearby roadside to have our dinner.
Okay. I miss this popiah! The sauce is yummy!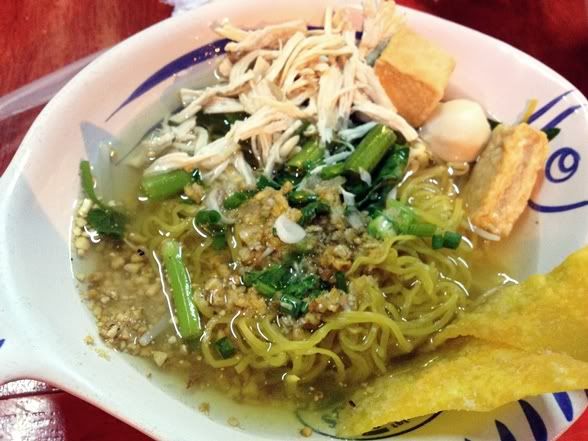 After that, the van came to fetch us to
Phuket FantaSea
. It seems like we have booked the whole van! Lol. Some crazily photo taken again!
It was around 20 minutes of car ride to
Phuket FantaSea
Group photo before we went in to explore :D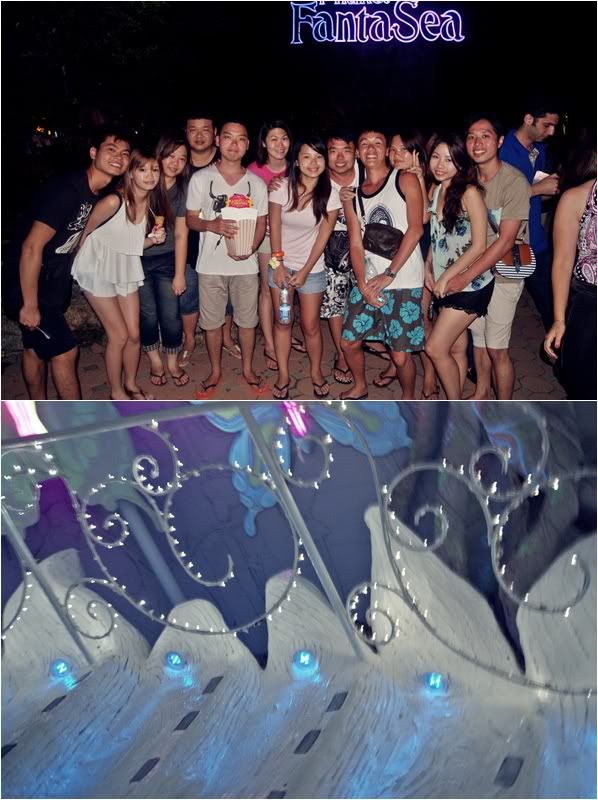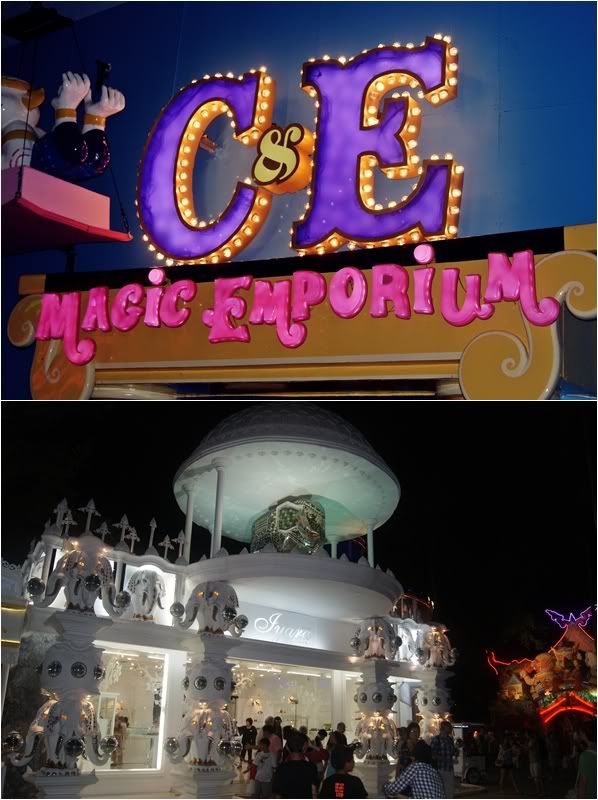 The guys are trying to act cute =.=
My cousin won himself a bear. Lol.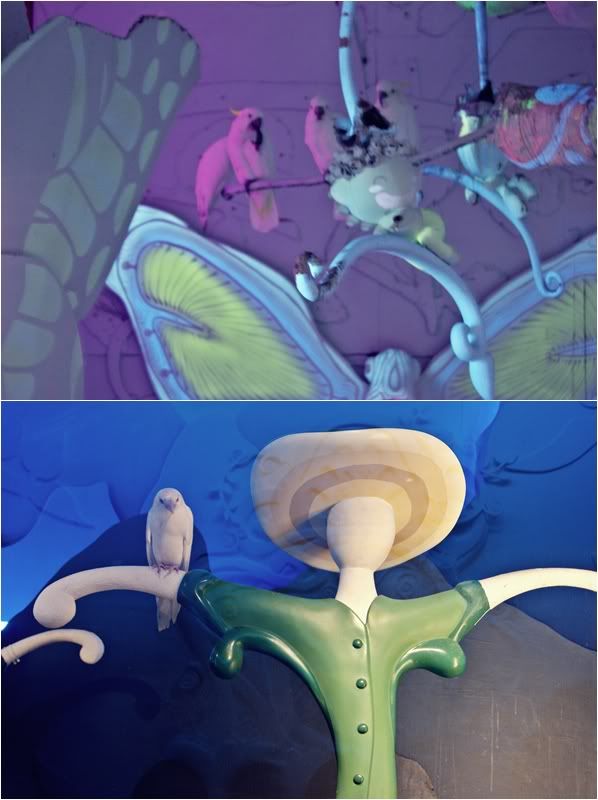 The world's happiest hamsters!
I seriously think that this white tiger is trained to do catwalks. He seems like he knows that you are taking photo of him.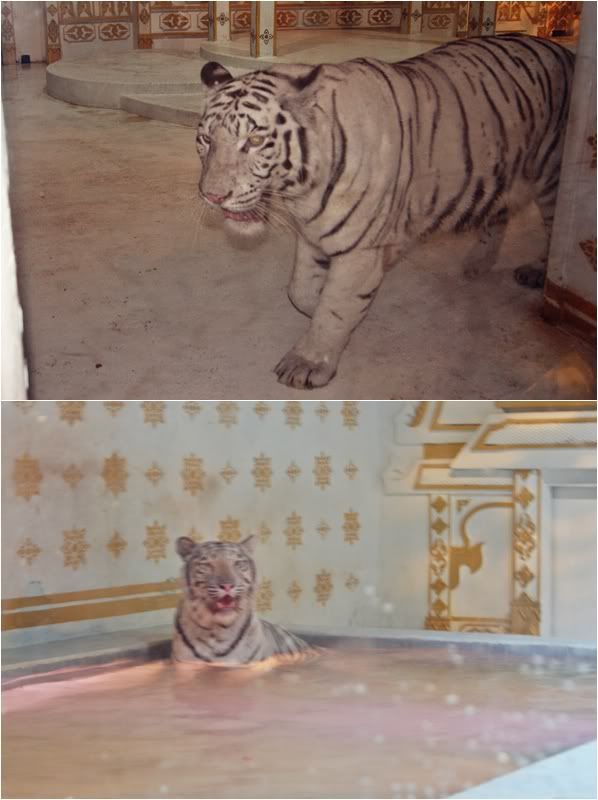 After that, we went to the show. A few of us actually nearly fall asleep and this includes me. Haha. Perhaps I am not a culture person! The show is mainly all about Thailand culture involves with animals. There are some parts that it actually managed to make me stay awake. Parts like when animals are involved. Lol. The rest, I am totally forcing my eyelids to stay opened. Personally, I feel that
Phuket FantaSea
is totally over-rated. Not worth the amount. Most of us feel that
Simon Cabaret
is so much better. And Simon Cabaret is almost 3 times cheaper than Phuket FantaSea.
After that we went to have supper and bought some beers back to hotel room! Again, another drunk night! Too fun till no photo was taken. Such a wasted. Lol. It was really a super crazy night!
Day 4: Saying Goodbye to Phuket!
After a wasted night, only some of us managed to wake up to have the last breakfast in the hotel. haha. Explored and went for massage at
REFRESH
again before we bid goodbye with Phuket!
Thank you, Phuket for giving us such a wonderful memories though it rained throughout the 4 days when we are there! A fruitful trip for all of us! :)
With love