Last month, April, my family and I have a 2 Days 1 Night stay at Festive Hotel Family Suite. It was a FREE stay! woohoo! It was really an awesome room that catered for both the parents and their children! Imagine my family of 7 actually stayed in this room. There are one king-sized bed, one loft bed and one sofa bed which folds out to a double bed! It is really an ideal stay for a family's getaway over the weekend!

Upon checking in, the kids were given this each. How thoughtful they are.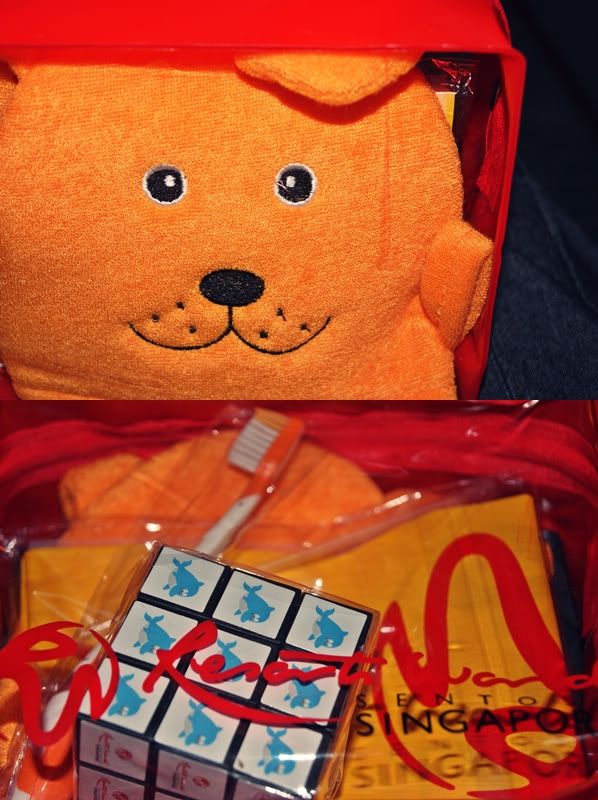 Getting excited and time to check-in! :D
These are what we saw when we first entered in...
Honestly, I would say, we were kinda of disappointed as it did not really seems to be that big as compared to what we have seen the pictures online. Well...
What really disappoints the kids is that, there is actually no bathtub! I thought most of the five stars hotels should have it?

And what we really like most, is most probably their bed. It is really comfortable and soft.
The balcony... They should actually let us just cut through and went into the pool instead. It saves so much trouble as we still have to walk one big round.
The kids are so excited with the loft bed. I think most kids will get very excited whenever they see a loft bed? Cause when I am young, I used to too! How about you? Lol.
After all the making-ourselves-feel-like-home, we get prepared to go for swimming. Or probably soaking ourselves in the pool instead. Before you entered the swimming pool area, you might want to get some pool towels from the kiosk beside it. It is good that they have this practice. :)
The swimming pool isn't really that big. But I really got a shocked when I see the crowds.
"Gosh! Are we entering public pool or...?"
Perhaps their rooms are catered for families, that's why the pool are fill with kids and parents
Most importantly, the kids enjoyed themselves :)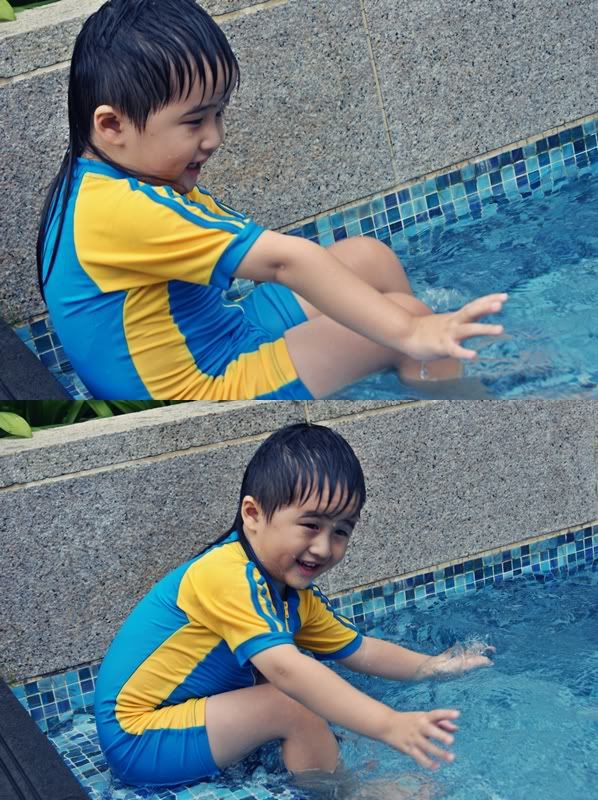 I went to their gym too! Kinda of obsessed with gym nowaday. haha! But the best thing is, there isn't anyone. I guess nobody will be so crazy like me to go their gym? Had a 30minutes or so workout and feels great.
We wanted to go into the Universal Studio during the night time, whereby the tickets are sold only at $5 or something? But sadly, I have no idea why it is not opened at that time. So we went around walking and have dinner at Ding Tai Feng.
Doing some crazy stunts in the lift! haha! Why my camera focus on my face! :(

He insisted in taking a picture with the fireballs. Guess that it didn't appear to be that good. Lol. And imagine we have to wait for the fireball's scene to appear?!
Prepared to check out at 12pm. Some stunts inside the lift again. Lol.

Time for a check out yo!
The kids and their small little luggages.
Then again, this mischievous boy wants me to take picture of him and his fireball again! If you realise, he really had a lot of facial expression. Lol. Never really smile properly to the camera.
Phew! At least, these pictures came out so much better. hahaha! And got his approval before we can move on...
Personally, in my own opinion, if next time I had a family, I guess I won't come to this hotel again. I saw the price in the package and it is around $700-$800plus for just 1 night. I just feel that it is not worth. With the price like this, I can stay in Siloso Beach Resort for a 3 Days 2 Nights! Check out my stay in
Siloso Beach Resort Post
!
With love