Day 2 in Hong Kong!

Checking out at Disney's Hollywood Resort and Checking in again at Park Hotel! We failed to wake up for the Disney's breakfast. haha! Initially we wanted to buy the Breakfast Buffet at Chef Mickey. Luckily we didn't as we couldn't wake up! That's good too! As we have ample of rest and ready to continue our journey. And my boyf has recovered too! hehe! We are fully prepared for that day's weather! And he regretted not bringing a thicker jacket; resulted to wear 2 hoodies and a shirt throughout the trip! As for me, I wore my one and only jacket throughout too! SO UNDER-PACKED!!

After we have settled down with our luggages at Park Hotel, we began with our first destination. Bought their
MTR Tourist 1 Day Pass at HKD$55 = $9.80 (SGD)
Planned your itinerary well and have a rough calculation before getting it! :)
Decided to visit -
Wong Tai Sin
. It is one of the most popular temple in Hong Kong. If you are like me, love to visit overseas temple. This is a must come! :)
Wong Tai Sin Temple

How to go: Exit at B2 at Wong Tai Sin MTR

Opening Hour: 7AM - 530PM
Next, we traveled to
Sham Shui Po
. There are a few places you may want to visit in Sham Shui Po.
Apliu Street Flea Market
How to go: Exit at C2 at Sham Shui Po MTR
Opening Hour: Not Stated - Midnight
We walked around this streets (It is quite BIG). Here, it sells mostly light bulb, electronics, batteries... Unless you really need it, else you could really miss this place. Lol. And oh, if you are looking for handphone covers, you are at the right place! :D This place sells LOTS of covers! And we've checked, it's the cheapest among the rest of the markets (Like Ladies' Street, Temple Street or any other street)
Cheung Sha Wan Road Fashion Street
How to go: Exit at C1 at Sham Shui Po MTR
Opening Hour: Not Stated
My sister strongly recommended me to go to this place. Well-known for it wholesales. True enough. But sad to say, it is still in winter season. I am so contemplated in getting the winter clothes. I love to shop for winter clothes. In fact, most of my winter clothes are bought from overseas. So much cheaper than Singapore's. Apparently, we bought almost nothing here except for scarves. And it is
MAD CHEAP!
HKD$20=$3.50 for 1! *SCREAM* I heard you woah as well! :P
Along the street above, you will find a
dimsum shop
. Here is the shop name -
Boo Dim Lui Lee
. Oh My God! You got to try their buns! It is holy shit delicious! The one that I have is the Honey Chicken Bun. Thumb Up x 100!!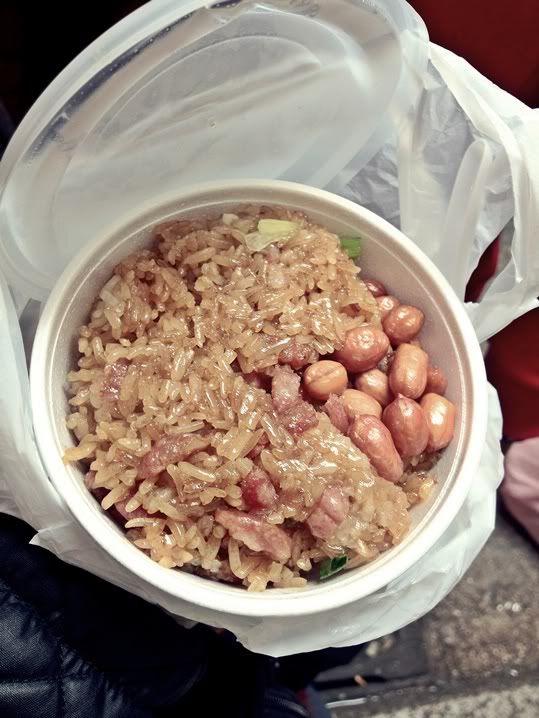 However, I am not really into their glutinous rice. It is nice but personally, I don't really like it. I am more into their buns! *Drools*
广东烧味餐厅
Basically I think it is one of the famous restaurant in Hong Kong. You won't miss it cause it seems to be EVERYWHERE! We had this for one of our meal, not very sure if it is a lunch or dinner. LOL. But mine (on the right), don't taste that great :( You can see from the pale colour. But his one was the famous goose rice! AHHH! It is damn delicious! :D
Time for some street markets. I know you love it! So am I!
Ladies' Street

How to go: Exit at E2 at Mong Kok MTR, walk along the Nelson Street and walk two blocks

Opening Hour: 12PM - 1130PM
Fa Yuen Street (Sportswear)
How to go: Exit at D3 at Mong Kok MTR, walk along Argyle Street for around 3 minutes

Opening Hour: 11AM - 930PM
Proceed to our next destination! Carrying big and small bags by then. Lol.