Hooking up with baking nowadays. Mainly because I have bought myself an electric oven. hahaha! Actually I always love to bake, just that I don't have the proper equipment at home :(

Anyway, I decided to try something that I find the recipe online - Chocolate Cornflake.
Received lots of compliments from friends, colleagues and family and I wanted to share with you guys. The procedures are very simple; anyone can do it, even kids! :D

Ingredients
Small Size of Cupcake liner
1 Packet of Cornflake (You can get it at any of the supermarket as well)


1 Packet of Baking Chocolate
(Note: It is a Baking Chocolate and not any other chocolate bar) And I got this - Baking Dark Cocoa Chip and the best part is - it is not very sweet.
If you want to beautify your Chocolate Cornflake, do get this too! :D I got the
hundreds and thousands
but then my niece wanted to get the stars to decorate. haha. So I get it for her as well :)
If you have no idea where to get your baking ingredients or the ingredients that I have mentioned, you can always get it at
Phoon Huat
aka Red Man! They have lots of baking ingredients! :D I always visit the outlet near Bencoolen. There is an uncle over there that is very helpful. He always help me with my ingredients!
Alright, here is the
procedure
for chocolate cornflake
1. Melt your Baking Dark Cocoa Chip (Baking Chocolate)
Most of the people do not know how to melt chocolate. So am I. I tried for the first time and I failed terribly. In the end I have to throw away the burnt chocolate. Thank god, my mum taught me the traditional way of making the chocolate to melt. She asked me to use the steaming method - bowl over a pan of hot water. Good idea huh? And it came out perfect! :D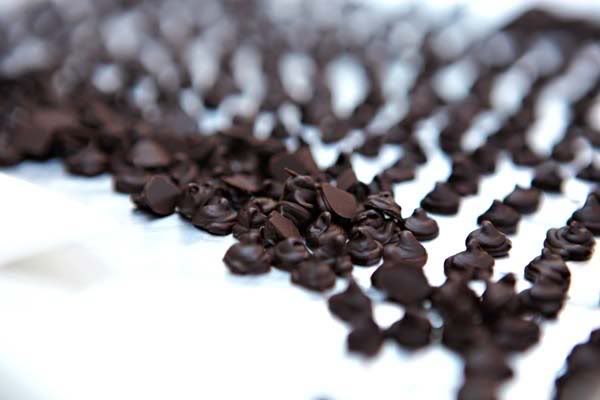 This is how the cocoa chip look like.
Important thing to take note!

water and chocolate don't mix well at all! So, before you start to melt your chocolate, make sure that all the equipment (bowl, pot) are dry as any droplet of water will cause the chocolate to become stiff and thicken :) That is why i failed in the beginning...
This is how your melted chocolate should look like :)
2. Crush your cornflake!
You can pour the cornflake into a ziplock bag and start to crush it crazily. Lol. You can use it to de-stress. Crush Crush Crush ~
3. Pour the melted chocolate into the crushed cornflake and mixed them well.
The Result. Tadah! And you may slowly displayed them into your cupcake liner. Follow by decorate with your hundreds and thousands...
Get the ingredients now and try this at home! 100% Hassle-free!! Hope you will like it! :D
With love