Again, it was an outdated post on Phuket on 12 August 2011!
It was considered as an ORD Trip for him.
Finally ORD already! Phew!
Army Period has been very tough and always means as an challenge to all relationships.
And I'm glad that we made it too! :D

DAY 01:
Boarded the second earliest flight at 10+! It was just 1hr and 30minutes flight.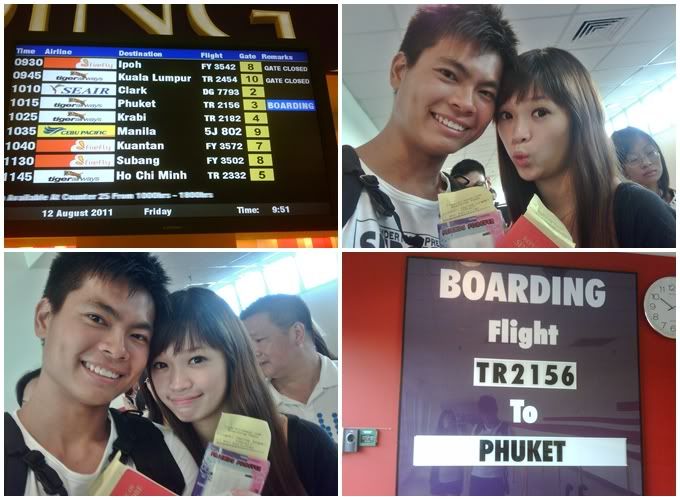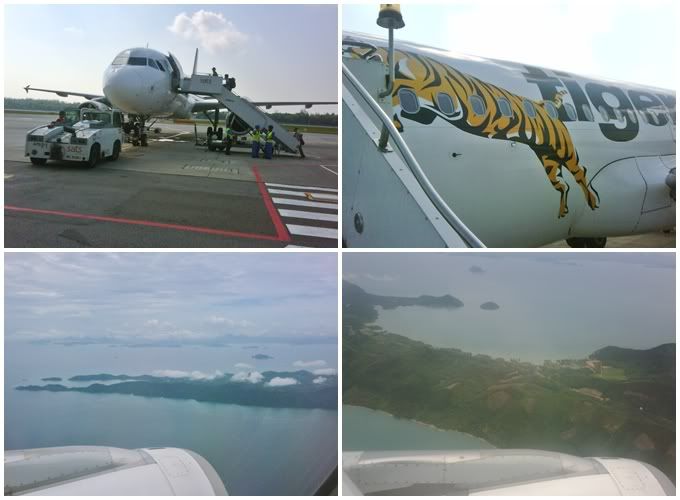 On the plane to Phuket. Phuket is located in the Southern part of Thailand.
Finally reached Phuket! The whole of first day was really tiring as we had less than 5 hours of sleep(As we went to send his army men off to Brunei for training). Mentally and Physically tired! :(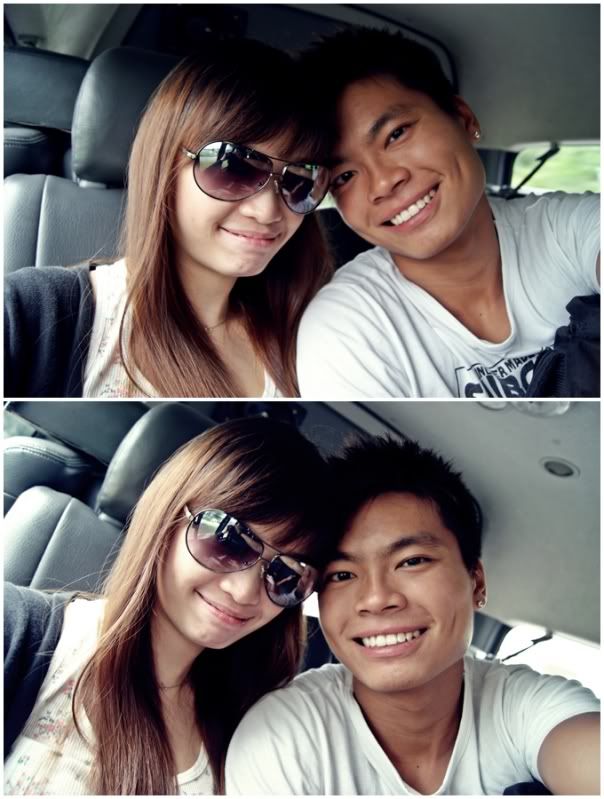 Finally we reached our hotel in the afternoon. We were lucky to meet a friendly female guide. But we kept laughing at the way she speaks. So bad!
Here is our resort!
The Kee Resort & Spa!
The Kee Resort is a new boutique hotel that is located in the heart of Patong Beach. The location is very convenient!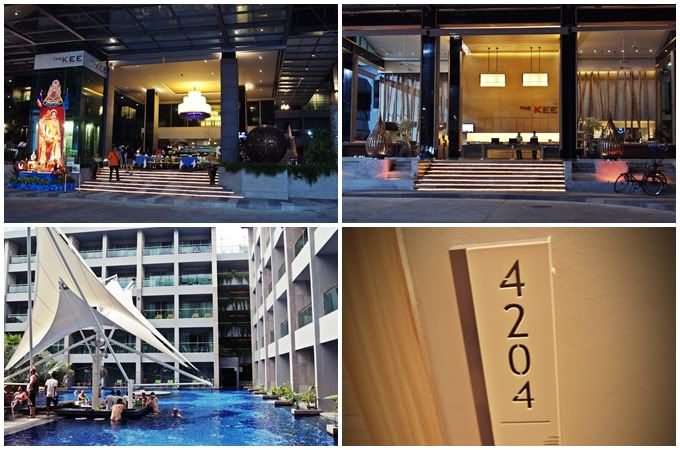 We were greatly welcomed by the staff on the welcomed drink as well as hot towel while they prepared the check-in for us. We upgraded our room to the Deluxe Room with Pool View. They have Deluxe Room with Pool Access. But I think most of the time we will be outside, there is no point having Deluxe Room with Pool Access too.
Here is our room!
We were pretty shocked! The staff actually came in and explained to us every detail of this room. Lol. Great Service!
Beautiful right? And he was so excited about the Smart Tv that the hotel provides. Lol! Never expect that it is so high tech :X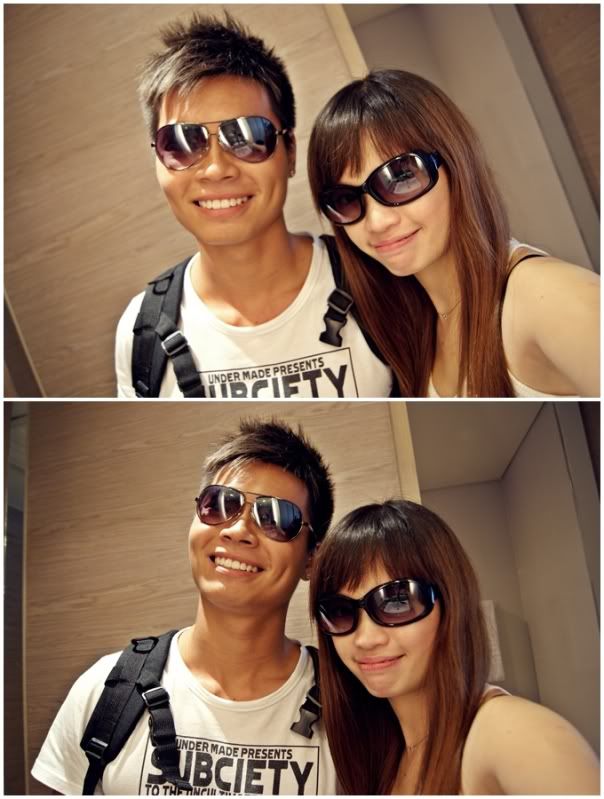 After settling down, we immediately rushed out for lunch! We really had a damn late lunch and was causing me to have gastric! :(
Like I said, the location we stayed is really not bad. Less than 2 minutes walk, you will reach bangla road where all the pubs and nightlife activites will be there. And less than 5 minutes, you will reach the Beach! How great!

We managed to find a Eurasian Restaurant and we just went in for our lunch! Too hungry already!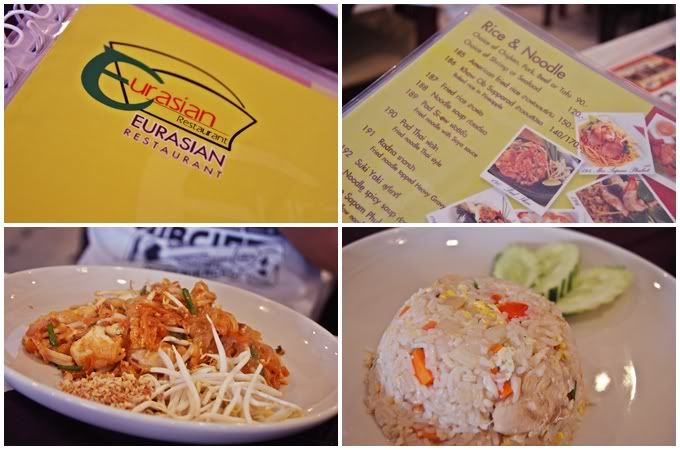 He was figuring out the location of the massage that we wanted to go! Whenever we went overseas, it is always me who do all the research (maybe because I'm in travel trade). But he will be doing all the navigation and in charge of finding these place. Haha!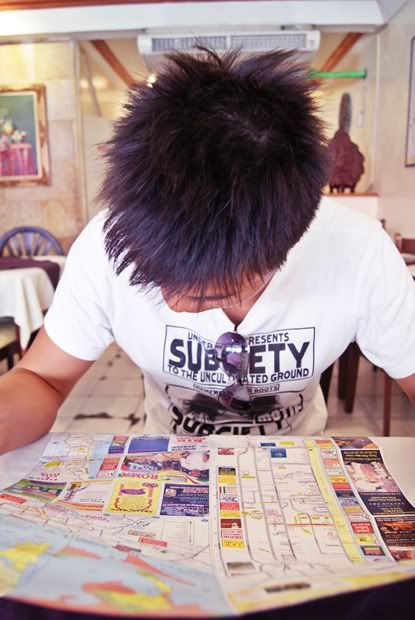 After a good meal, we went to the beach for some walk and enjoy the scenery.
Then we came across this uncle that is selling some pancake. Immediately, we stopped and decided to try. We ordered Banana with Chocolate *MY FAVOURITE*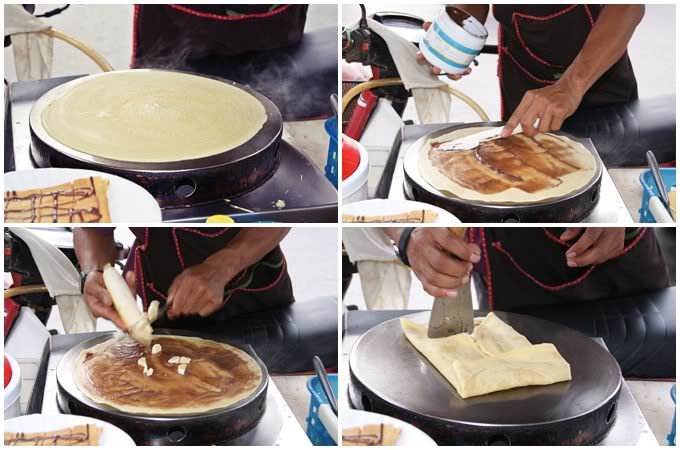 It is only 40Baht ~ $1.70?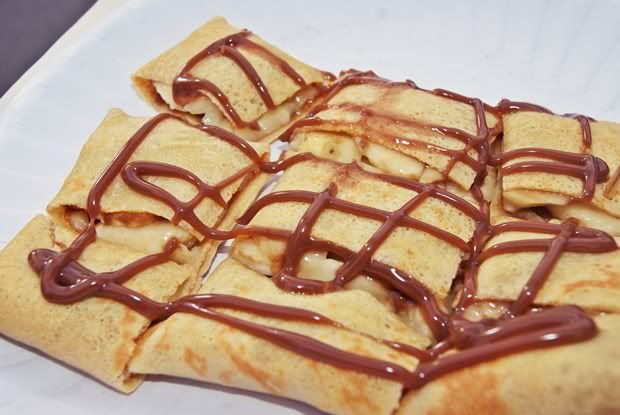 I fall in love with it! AHHHHHHHHH~ It was really heaven!It is really a MUST try food in phuket! I wanted to try all the favour so much! But i think the best will still be
banana with chocolate
. hehe! Best Combi in the world!
After that, we spent quite something looking for a good massage. Well, you will see thousands of them. Some of them are really extreme. I mean the way they wear. X.X So, perhaps you might want to do a research before coming.
I did research for a few. We managed to find one near bangla road. I did some research before coming. It is quite cheap! About 600baht for a couple. Don't expect high class couple room. Just normal one. We keep asking the masseuses to focus on our feet! Walk too much already. haha! PS: I forgot the name of it already :P
DAY 02
It's time for
Phi Phi Island
! We woke up at about 6 plus! Super tiring but thinking of going to Phi Phi Island! hehe!
<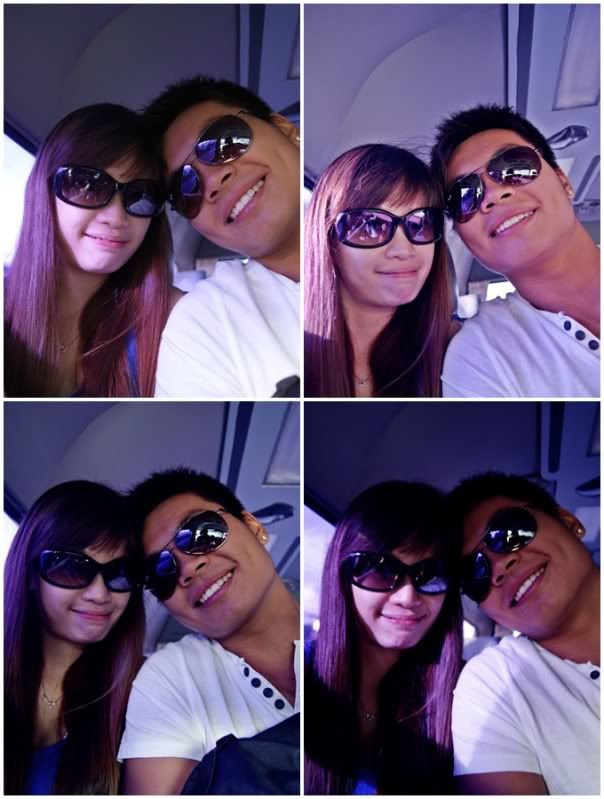 After we reached the harbour, we were quickly direct to our ferry. We are the Super VIP and we don't even know that. Lol. There str a few staff that appointed to serve us with drink/food. Feel like a king. :X
Tourist-Taking Photo Session :D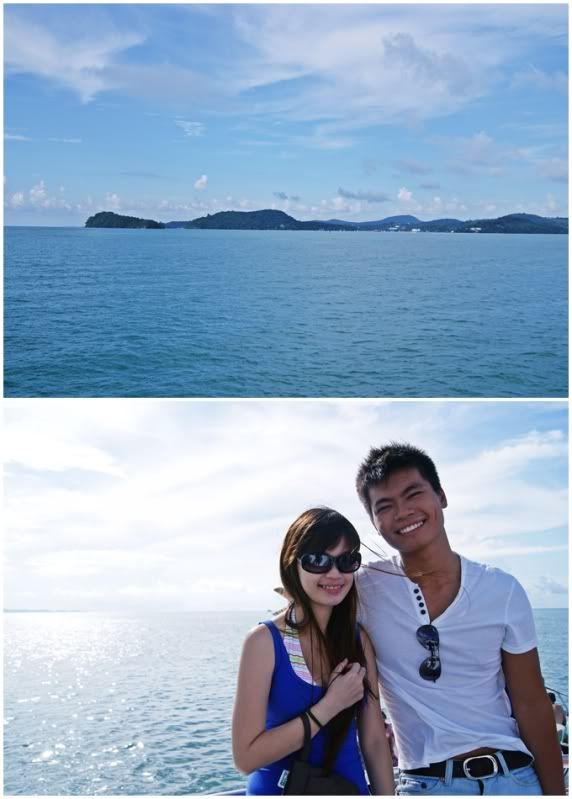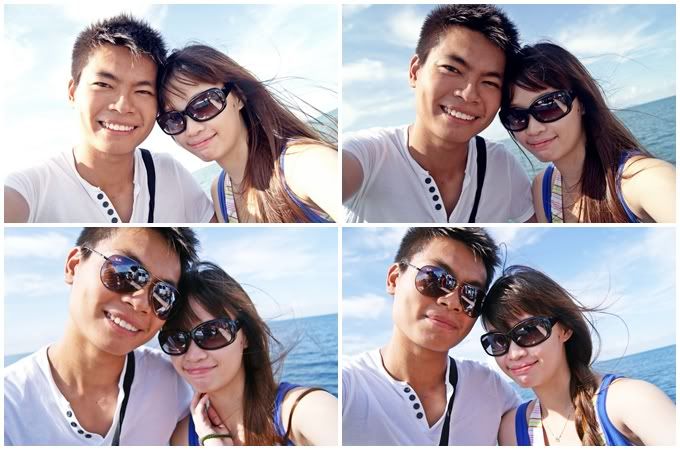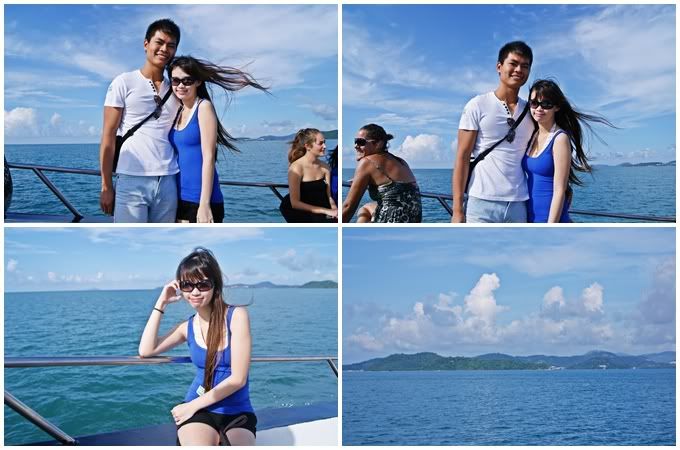 This is my favourite photo! Because of our background! hahaha!
We reached
Phi Phi Land
!
After viewing
Loh Sa Ma Ba
y,
Pi Le Cove
, and
Viking Cave
, we proceed on to
Live Aquarium
as well as
Snorkeling
! :D
Experience the underwater aquarium!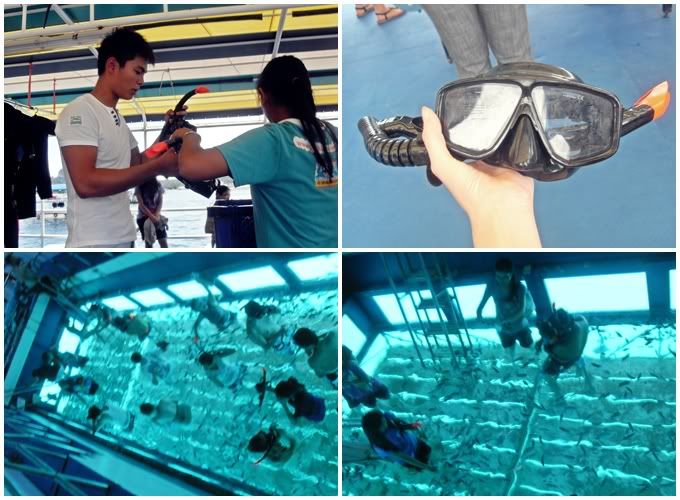 They will swim around you. A bit disgusting right? haha. But i managed to enter into the water.
Feeding them with bread when they are just around us!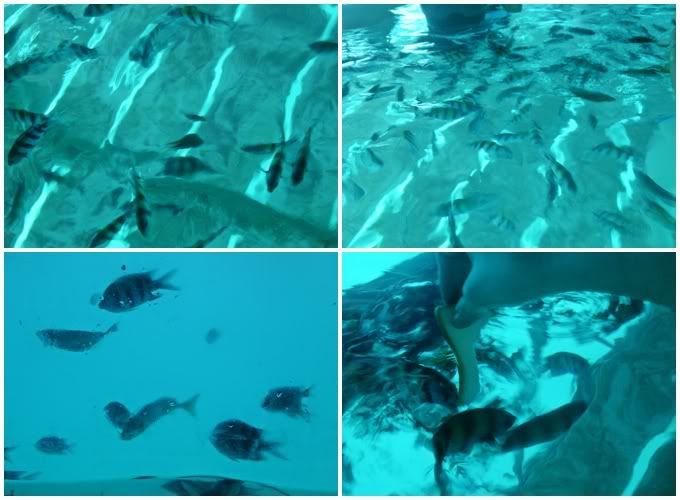 Lots of candid shot. You can see the facial expression change. I didn't know there are so many fishes around me when i took the first picture. OMG~
After 1 hour in the aquarium, we proceed on to snorkeling.
My virgin
snorkeling
!
They just asked us to jump down after wearing all the equipment.
For a non-swimmer (I don't really know how to swim), it was really a terrifying experience. haha.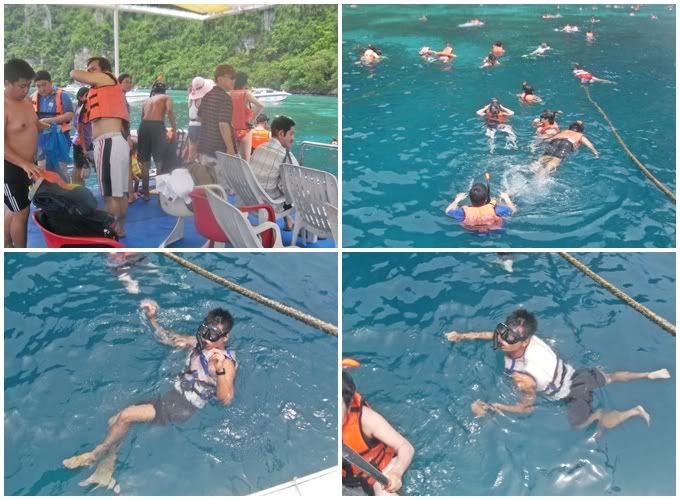 Okay. I admit I am really struggling at that time. Drank a few monthful of sea water. It is frigging salty that I want to vomit so much! At that point, I really feel like I'm dying. Keep clinging onto him. hahaha! Like koala bear. He kept asking me to "calm down. relax relax" I am so kanchiong as if I can kept strangling him. So freaking dangerous! I mean for him. hahaha!
But that didn't stop me from anticipating. hehe! I still want to snorkel. I went up and down a few times to adjust my goggles. Here are some of the pictures I took.
PS: I bought the waterproof bag for my camera. hehe!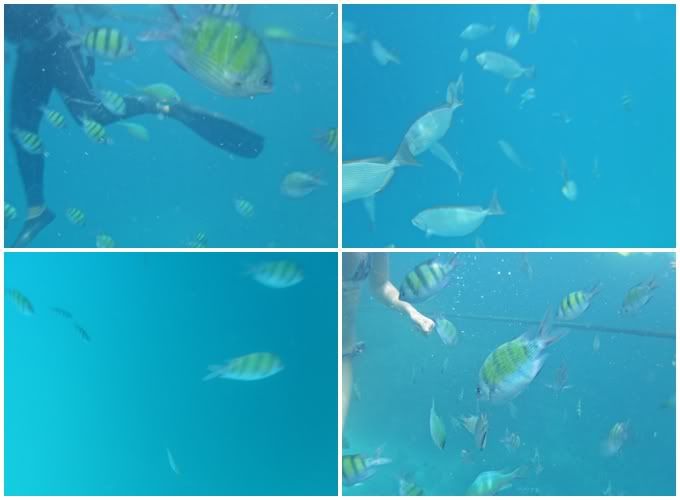 After this tired activities, we went for our lunch at the
phi phi don island
. That was when he injured his toe badly. He kicked onto the trunk of a tree. It is the trunk (look like a stool) in the middle of the road. :( Badly injured and ran up and down to help him to find plaster and thank god! I found it!
This island is beautiful! :)
Before we went back to our cruiser. The water is so clear!!
Before I end my day 2, here is our dinner. This restaurant is quite famous. :)
No.6 Restaurant
, you should try this :)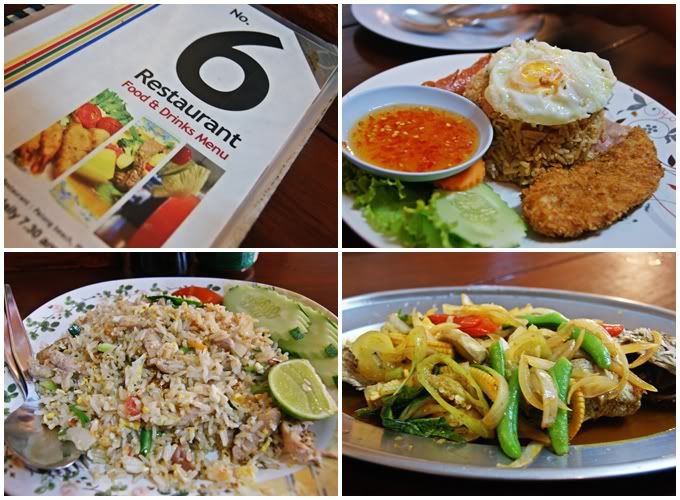 DAY 03
Another waking-up-early morning but we know that it is going to be a awesome adventurous trip for us :)
Monkey Cave
There are really
LOTS
of monkey! The whole mountain behind are their palace I think.
I must say they are really intelligent! When they see food in your hand, they will start to follow you. But of course, they will start to fight for the food. I got jumped up a few times when they fought in front of me. They screamed so loud and they look damn fierce!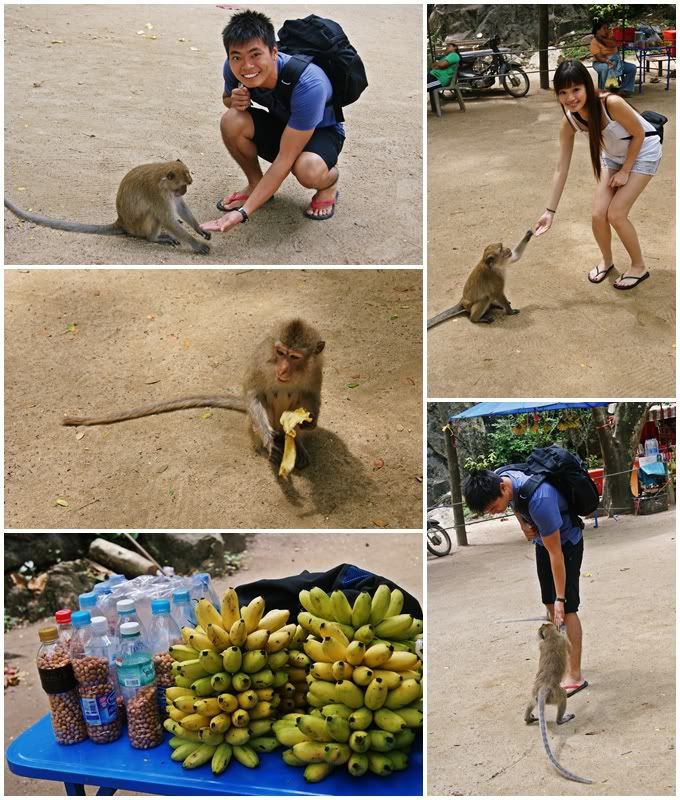 ATV Ride.
We started off with ATV Ride. It was drizzling at that time. So we ended off this activities quite muddy and my white top was totally gone at that time! Heartache! A top from Japan some more!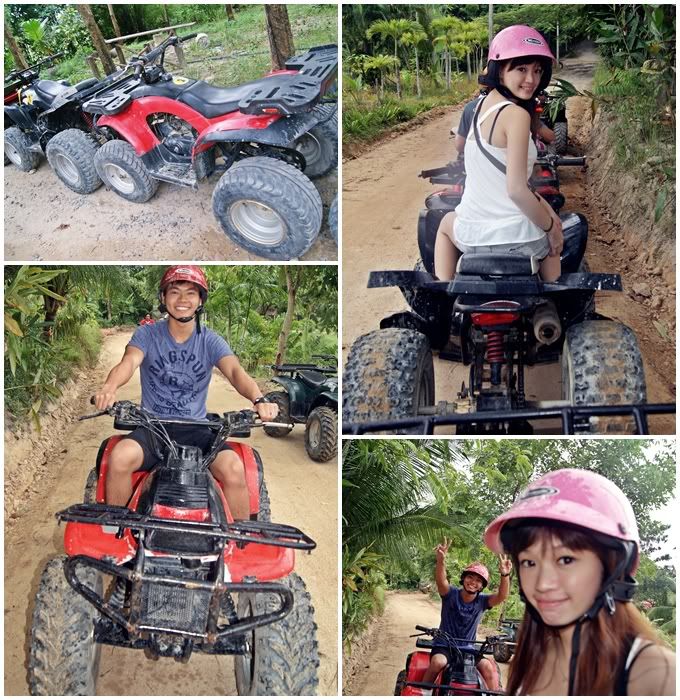 It was a 30minutes ATV Ride. Super exciting. Look at the road we are driving through. All of rocks and you can easily toppled down if you hit onto any big rocks. Overall, it was damn fun! Worth to get dirty. hahaha!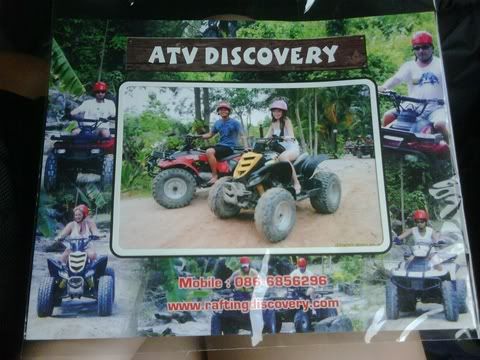 Elephant trekking
I always feel that elephants are the most toughest animal. Wonder if they feel any pain when we sat on them. Our elephant brought us around. From river, to rocky hill. hahaha. whenever she climbs up the hill, we always have the feeling that we are going to fall anytime. Amazing ride in the jungle with them :)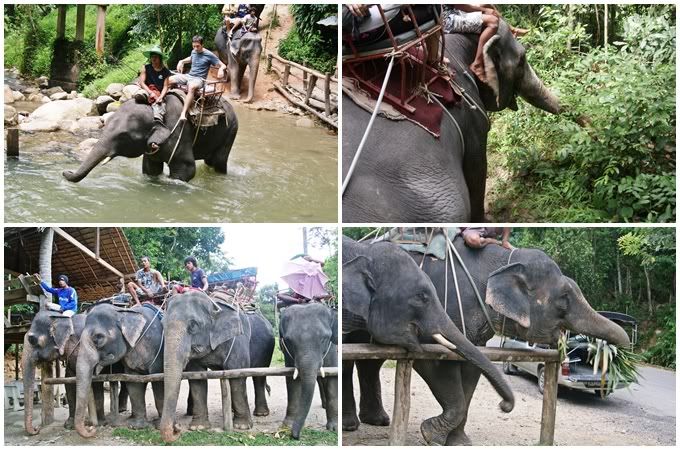 Waterfall Swimming + Rafting
We were quite dumb. We actually forgot to bring our swim wear and not to say our towel and etc! In the end, we went back in our wet clothes. We didn't went for the waterfall swimming as well :(
The excited moment is here! It was also my virgin rafting! hahaha!
Here is our team member and our guide.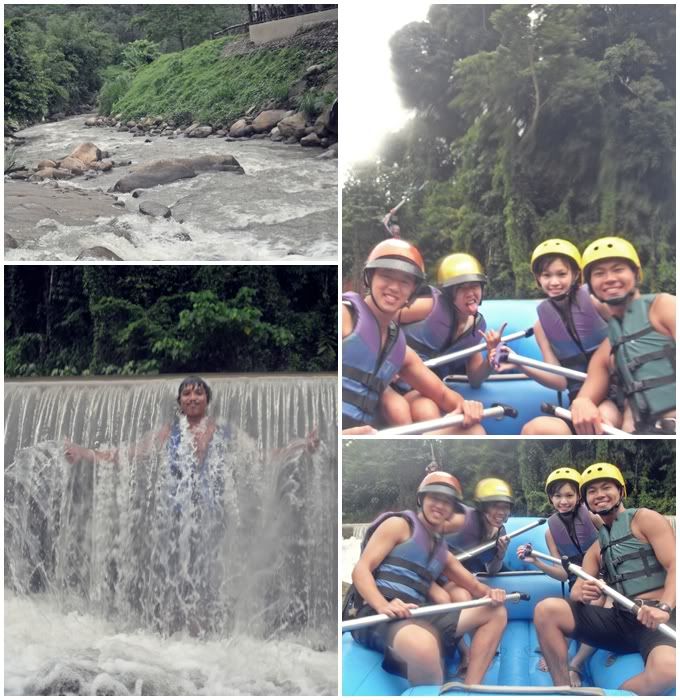 It was a
2.4km ride
. Totally fun! I had some bruise all over my leg due to the impact. Our guide is very playful. He always distract our attention by telling us "HEY LOOK! THERE IS A MONKEY OVER THERE!" and all of us will start to look at the direction not looking that there is an obstacle infront of us. Immediately we fall badly but didn't toppled our boat. haha! After all, it was really an experience! I will for sure love to raft again! :)
Our night activities:
Simon Cabaret.
The lady boys are really beautiful! All have the look of Japanese/Korean! Slim legs and waist! After the show, really have a doubt if I'm a true woman or not. Tsk! Apart that they look really amazing. We love their effects and costumes as well. I won't say that it is a boring show. :)
It was our last night, hence we went to look around and enjoyed their night life :)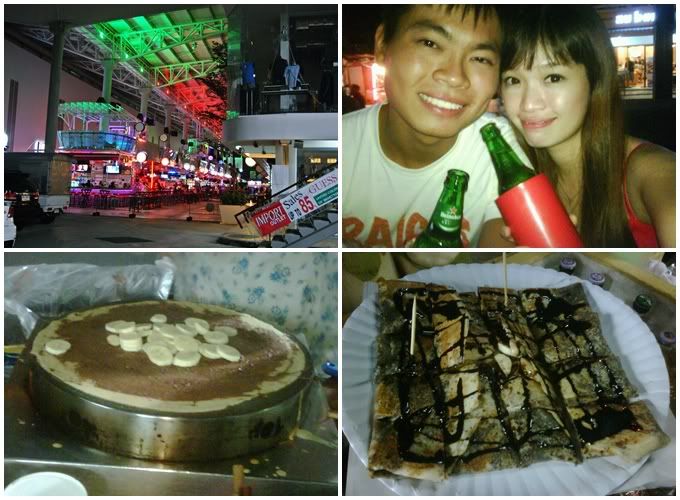 And last but not least, to enjoy the last time of the pancake! Gosh! I really miss this badly!! I told him that I wanna franchise this back. hahaha!
We went for the portrait drawing. In the end it turned out like this. Well, we feel that it don't even look like us at all!. LOL!
And so sickening, he actually saw I'm wearing braces and he drew it out as well! TSK!
DAY 04
Our last lunch in phuket! :)
Spending our baht away by buying food + Tibits and some souvenirs.
Back to airport at 5 plus for our flight at 8+.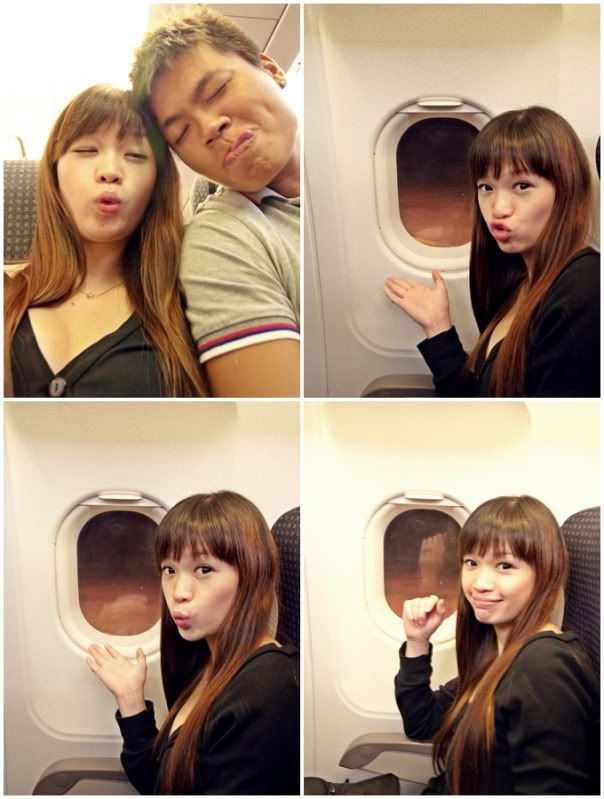 It was really an fantastic trip for us! Enjoyed the Sun, Sea, Food, Sports! And everything! Love everything in Phuket. I'm excited that we are coming back again next year - April with our cousins! Seriously can't wait to explore this place again and I hope that the pancake will still be around *drools*
With love