Back blogging! Okay. Getting more and more lazy to blog!
Just a quick update. I'M ON BRACES! :)

It has been one of my wish to do something with my teeth. People has been saying "You look okay with your teeth what..." Well, I guess it is just myself who feel that I have a very ugly teeth.
It really take lots of courage to be in Braces. I thought of going through invisalign where it is so much easier and best of all it is invisible! But it cost almost up to 8K! *Got a shock of my life* So I decided to go for Simpliclear instead.

What is Simpliclear?
Simpliclear is the world's only completely clear braces system. Virtually invisible, Simpliclear allows you to undergo orthodontic treatment without the embarrassment of unsightly metal braces, without compromise on performance. Being clear makes a great difference in portraying your natural self. Simpliclear blend naturally with your tooth enamel resulting in a complete aesthetic appearance. Simpliclear is metal-free. There is no tooth-coloured coating, Hence offering aesthetics when you smile :)

The family tree of braces (According to their price)
The earliest stage: Traditional Metal braces. Metal wire with Metal bracket. (Up to 3K)
Followed by: Traditional Clear Braces. Metal Wire with Clear Bracket. (Up to 4-5K)
Then slowly: Simpliclear by Biomers. Clear Wire with Clear Bracket. (Up to 5K)
Followed by Invisalign. No Wire and No Bracket. (Up to 8K)
And Lingual Braces. hidden bracket and wire behind the teeth. (Up to 10K)

Hope it helps! :D


--------------------------------------------------------------------------------
14 May 2011
was my very first consultation with Dr Kenneth Lew from Tanglin Dental Surgeons. He is really patient and really went through explaining all the details with me. From then on, I decided to take up Simpliclear which is more affordable in my case :P I went for the X-Ray and all the screening that cost about $300 plus. The first consultation is about $80+ but it will be waived off if you are taking up for it. :)
Here is my scary X-Ray.
I have 4 wisdom teeth that it seems like I have to take out no matter what.
Dr Lew said that the reason of my protruding teeth might be because of these wisdom teeth trying to come out and push those teeth forward. As you can see, they grew slantedly :(
I haven't take out my wisdom teeth yet, I postponed it first. Heard many stories about extracting of wisdom teeth and I'm really afraid :(
Here is the mounding of my teeth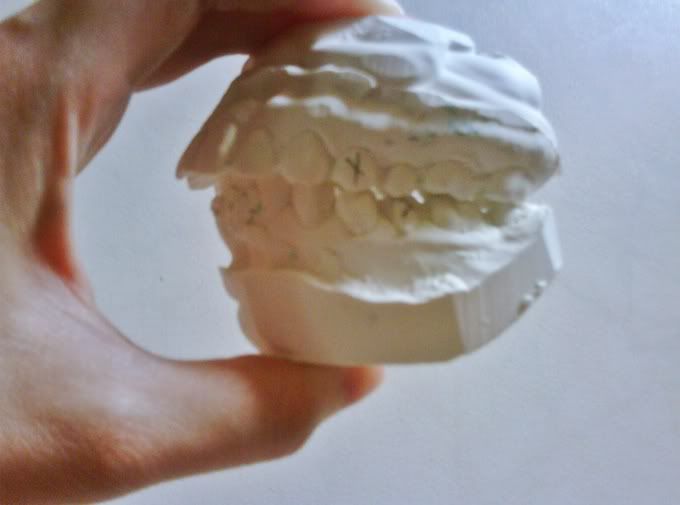 The "X" teeth are the one that I have to extract them out. A total of 4! :(
11 June 2011:
I had my separator on. Separators are just tiny blue ring that insert in between your teeth to create gaps. Look like this.
It wasn't painful for the start. I just feel that there is some food stuck in between my teeth. But after a few hours/one day later, the pain started to arrive. So painful that I can hardly bite but only swallow food :'(
13 June 2011:
I had my braces on. The process is quite fast. The brackets are on as well as the wire. The only thing that is uncomfortable in the metal bracket right at behind. I guess because the separators are forced in between the teeth and all the teeth start to move; that's why it is so painful when bite together. For the past few days, I have been on soft diet, porridge for almost every meal :(
See my Simpliclear? :D
27 June 2011:
Right after my Hokkaido Trip, I went for my teeth extraction. You may be weird about the process. As normally people went for extraction first before putting on. Dr Lew said that it won't look awful with 4 holes when you have not put on the brackets. So when I did the extraction, it will look normal as people will know that you are under braces.
The thought of extracting my teeth really turn me off. I have been struggling with it! The process is quite fast. During the extraction, you wont feel any pain except for the pressure. The doctor plucked them out just like plucking strawberries. Damn Fast!
Say Hello to my 4 teeth!
Thank you for being there with me for almost 22 years :'(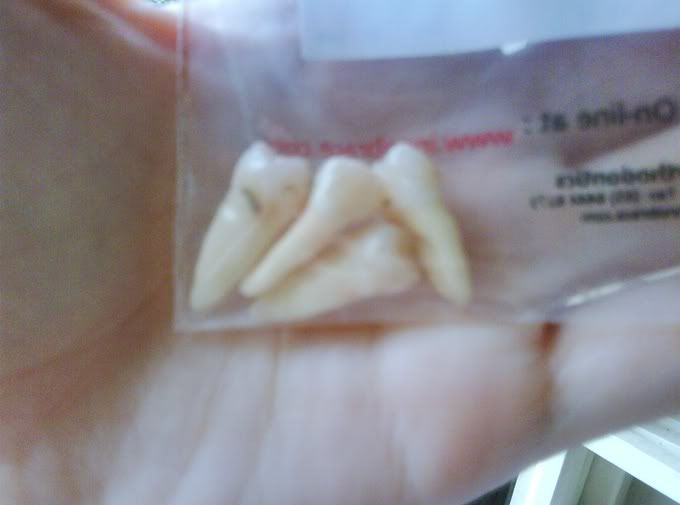 Dr Lew also changed my transparent wire to metal wire. For just 2 weeks. This is me now! :D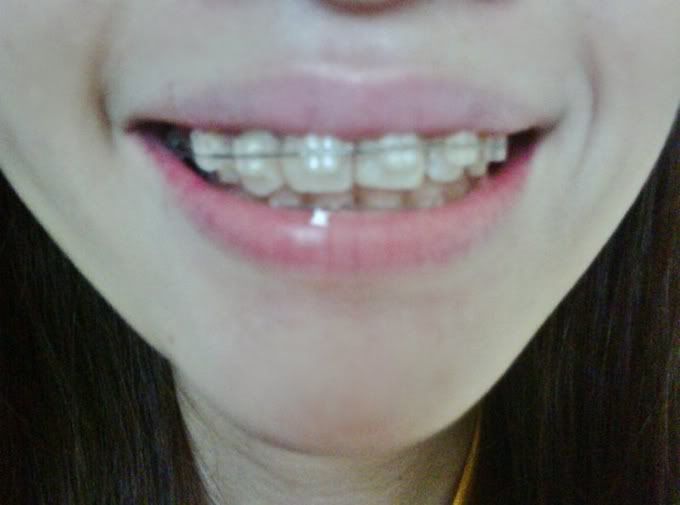 I will be on braces for at least 18 months! Hopefully it will end early! And very soon I am able to smile like this :D And I will continue to update the process of my braces here :)
Dental Clinic: Tanglin Dental Surgeons @ Tanglin Shopping Centre
Doctor: Dr Kenneth Lew