08 September 2010


HAPPY 21th BIRTHDAY TO YEE LIANG!!
&
HAPPY BIRTHDAY TO MY CUTIE PIE ADEN!
Too much birthdays on September!!! Anyway, was supposed to go zouk's ladies night with secondary peeps. However it was my precious brat's birthday! He is 3 years old! Alright, I just postponed the trip and stayed at home instead.
*

He chose his own cake and we have no idea why he chose a mickey mouse cake. It was from Swensens btw.
Time Flies ah.
This brat is already
3 years old
! Talk like adult, Start to go school, learn new things/songs.
I feel so old already! :X
And my another secondary pal is going to deliver next month. Wah. Suddenly I feel that I am in mid 20s. Growing OLD real fast! =]
岁月不牢人!
-----------------------------------------------------------------------------------------

09/10 September 2010
It is really rare occasion for us, secondary peeps, to club. This is the
4th time
that I clubbed and also the
first and last time to zouk/phuture.
HAHA!! Don't really like there. For the music, people and etc...And because of that, we left quite early. :( So upset!
We had Bacardi before we went in. Then we ordered 1 for 1 the so called as lambo? Shaoling introduced us to drink. Felicia went almost concussed after drinking. haha. And she went gaga the whole night. Heavy hang over for her. hahahaha.
*


And after a few hours of sleep. Just maybe 2 or 3 hours. I woke up early in the morning for photoshoot. I think I am really superwoman! Today photoshoot theme is
Jap Student Theme
! Seriously, it is kinda weird to ask me to act cute. Seriously feel wtf, I mean myself. Cause ahhhh. I just feel so old, the rest of the models are like so young only. Feel old, Feel myself so...大只 among them. hahaha.
I am so glad that all the photographers that I have worked with are all nice people! Just now, my secondary school friend, yongkai, just warned me about one photographer that is quite pervert! And okay, I have recognised his name/logo/face. Hope that I will never meet this kind of person. And yah. the most important is to protect myself. =)
Here you go for the preview! Shall upload the rest next time :D
Credit to Doms Valentin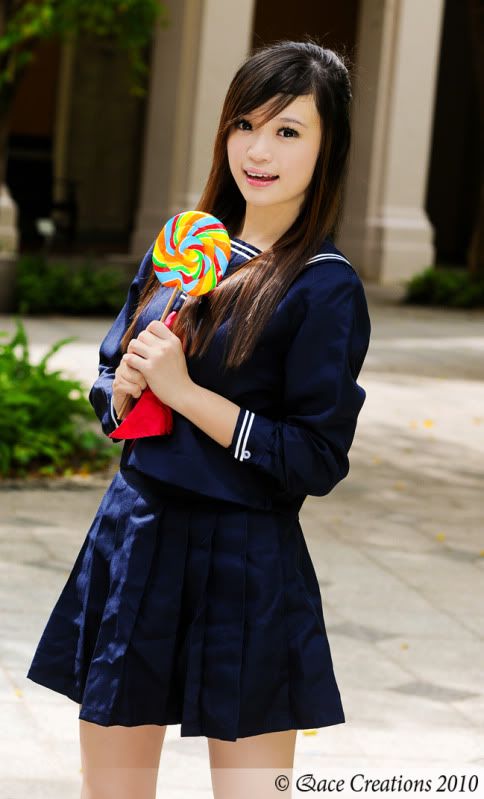 Credit to Qace Creations 2010
With love