Let's have some quick update on what I have done! Recently I am so busy either with work or with Magic Scarf

Clique Updates!


I bet everyone received their GST rebate. LOL! This is my first time getting so... kinda happy! Heard that it is the last year that government is giving? Not sure.
Anyway, meet up with
secondary clique
for a chilling session. Yenyee's stomach is getting bigger and bigger! After that, we went for timbre @ Substation! :) Had a HTHT session with them. Actually not really HTHT, but grilling session! =\

*
*
*
*
*


Meet up with clique for KTV session!! :) Updating their army stories as well as
WORLD CUP
! Okay I am a fanatic for worldcup now! heehee!
I don't know why I am kinda sway! Whichever team I support, they won't get in! =\ That day, they bet on Germany over Argentina! I am supporting Argentina. But in the end, Argentina disappoints me! :( OMFG, 4 vs 0! This is totally so depressing!! I missed that match actually, I think if i watch, i will be cursing all the way! And anyway, they won that match. Should I be happy or cry for Argentina. =\ And the teams that I predicted to go to final have already kicked out. (Brazil and Argentina) :( Sway Queen!

Picture from KTV SESSION! :)


I've no idea what happened to these guys? They got themselves tangled up and asked me to take picture of them! And look where their hands were placed. They are officers and sergeant. =\

After KTV session, they decided to have supper at 126 Dim Sum! We went back to Sam's place to get his car and he drove us for dim sum :) And we had a good time hunting for his car! HAHA! Treasure Hunt! :D

After Dim sum, we went to Kallang Mcdonald to watch Worldcup
Paraguay Vs Spain
. I supported Spain but I share in to buy total score of 3 goals! And again, lose again! =\ We watched the match till almost 4plus.
After that, we walked home from kallang to my place. Actually it was quite near, so I don't mind walking all the way to my place. :) He stayed at my place till 6 plus then cabbed home :) Super tired!
*
*
*
*
*

Last week,
I think I am a superwoman!
LOL! The only day that I've rest is on Monday! Cause Tuesday onwards, I have no time to sleep =(
Tuesday
, I went for
Hangersbar
's photoshoot. And I got home at 11 plus. Sleep at 1 plus and got up at 2.30am for Soccer Match -
Uruguay Vs Netherlands
! I supported Uruguay! Okay, lose again! =\ And then headed back to sleep right after the match! The terrible part is, there is work next day at 10am!
HAHA! The funniest is when my colleague told me
"Life is tough. Woke up at 2.30am for match, lose money, don't have enough sleep and you still have to go to work the next day" I laughed cause I agreed to what he meant. But still, I enjoyed watching :D



Wednesday

, A BAD BAD DAY! But still I woke up for match again! Torturing but still I managed to! :P

Germany Vs Spain

! And that is the very first time I won! HAHA! You know I really dislike Germany!

(Sorry for the fan out there!)
Yah, they are young and able to run. I dislike them because they win England! =\ But still, I really don't know what the f. happen to Rooney the other day that I just wish I can smack him! But still because of the wrong judgement that the referee gave. That is so disappointing!! =\
Thursday
Woke up for work again then after work rushing down to Beer Market for a Tiger Beer Wayne Rooney Private Event. All the way till 11pm! Actually I think I am kinda noob, I didn't know that it was such a big event! Lots of People from Media Industry, all the VIPs! Anyway, Still have not get tagged by any pictures, so meanwhile there isn't any picture :) Get home kinda late and sleep almost at 1am plus.
Friday
I think I am really a superwoman! My bones and physical body are toring me apart! But still I am able to manage through! Work at office isn't easy for me anymore! Getting tougher and tougher! I wish I can scream out loud and said "I NEED HELPING HANDS" but I guess noone will bother and I believe I can handle it! :D
Anyway, after work, I met up with my
Poly Clique
to celebrate Cek's birthday! :) It was his 26th! HAHA! He is damn upset! Cause all of us are busy and he has to organise this outing! He even hinted us to get a cake for him but I am just being mean to ask him to get one for himself. But in fact, we didn't lah. I am trying to get one for him too! :P
We ate at one of the china restaurant at Chinatown which Sherlene and I think that it won't taste that good as they thought! HAHA! After that, we headed to Chinatown Point to get Cek's birthday cake! LOL! We are damn mean, we asked him to pay for it and we will carry the cake for him. HAHA! After all, we did buy him a cake and the cake that he choose for himself! :)
After that, headed to Clarke Quay KTV Pub. JJ, sherlene and I took perry's car. And he changes his car again, audi convertible somemore! And we counted, he has change more than 5 cars in... 2/3 years and that include 2 porsche!! *FAINT* Everytime I saw him, he will be driving out a new car! tsk!
Sherlene and I were so excited about the converter! HAHA! I had the urge of standing up and scream while he is driving! But he is not on highway, so most probably I will end up in Stomp if i did that.

I think we are pretty random that we stopped at one of the carpark to celebrate for him. HAHA! Kinda weird cause they have no idea which KTV pub to go.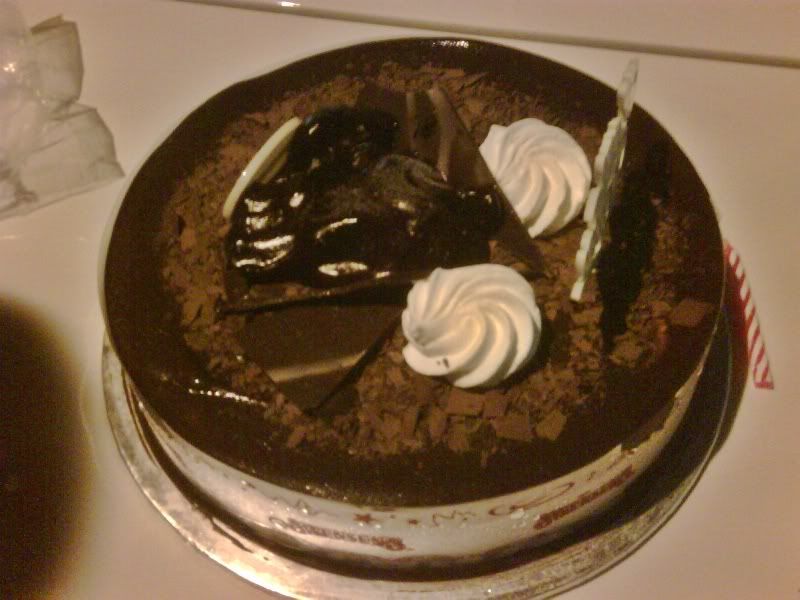 The Guys! :D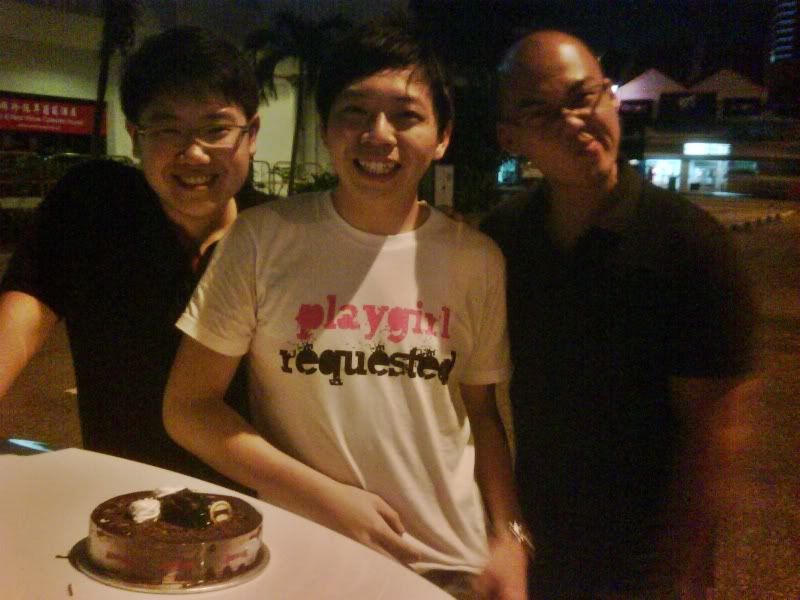 His two sisters!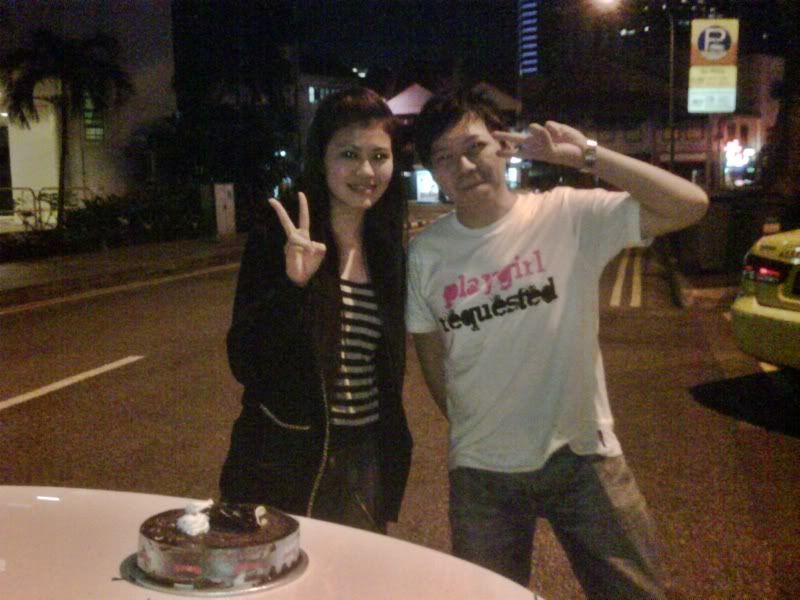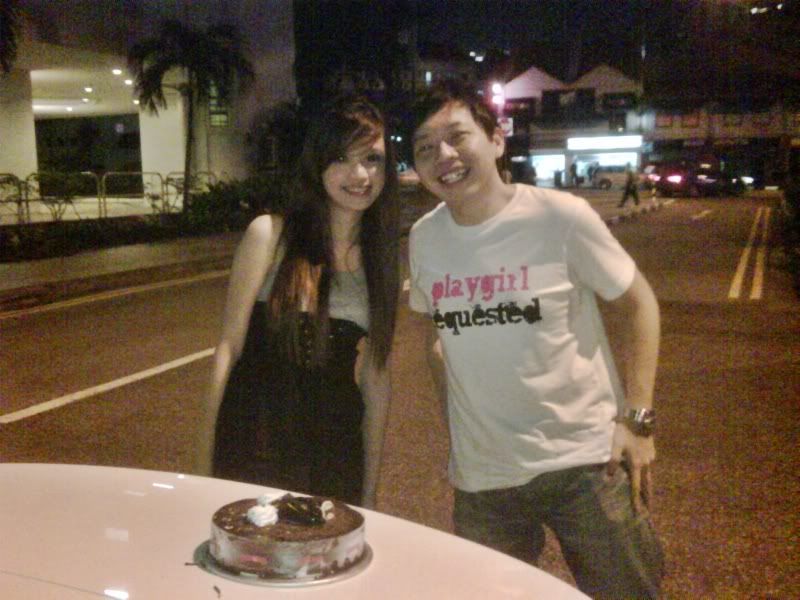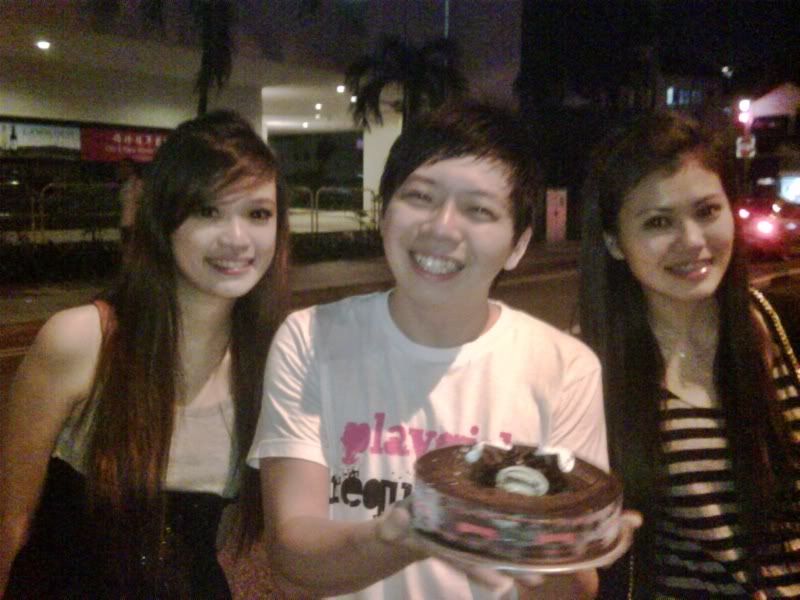 Random celebration for him. But still wanna wish him a
HAPPY BIRTHDAY
! Last month, I did have some unhappiness with cek. But alright, it is over. There is a miscommunication, should be lah. But whatever it is, over mean over! :)
After that, we headed to KTV pub at Boat Quay. Actually I like KTV pub more. A place to chill, sing if you want, sing if you want, play if you want. Much more better than club. Though I never been to club before. But... I still prefer KTV pub! :)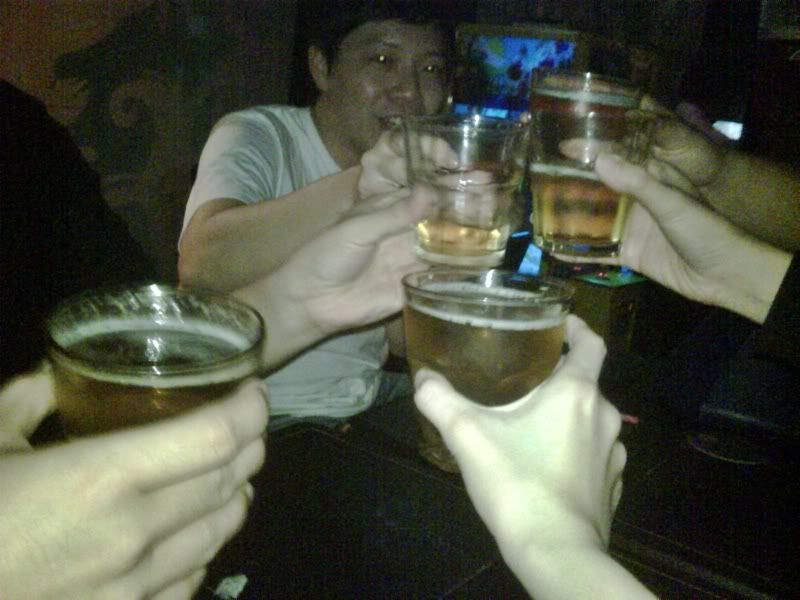 And we celebrate with him again in the pub. :)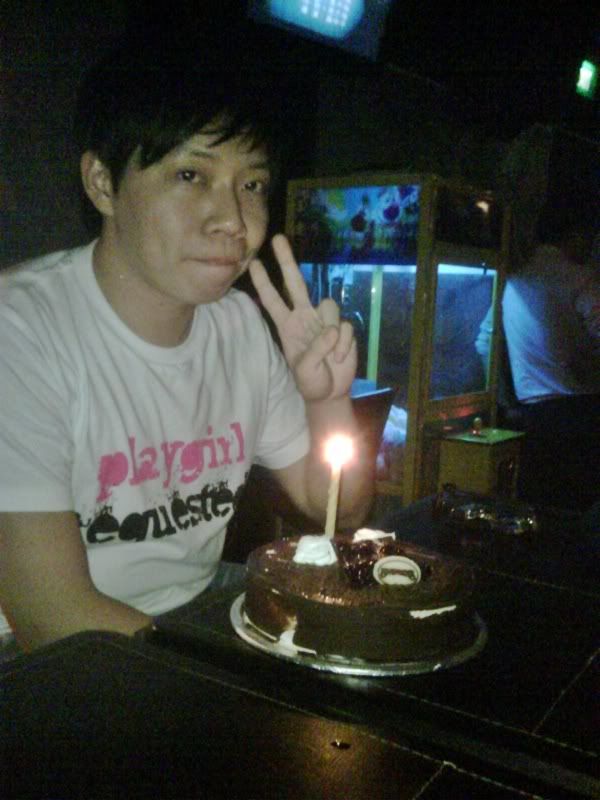 Sherlene and Perry left after awhile and wende came to join us after his night firing. I really enjoyed myself. Through all the 划拳, I think I am pro! HAHA! No lah. I think because JJ is kinda sway! We played 4 people 划拳! And because of me, JJ drinks alot! HAHA! He kana sabo by me no matter what direction we played! HAHA! I cannot stop laughing and he drank until he kinda dulan!
That is my very first time drink so much outside with them. HAHA! But I am still okay. The worst is wende. I really never expect he is so drunk! When he is drunk, he wants to take picture! HAHA! We realised it. And he kept leaning on either one of us. Worst is when we played dice, JJ and Wende's dice can dropped onto the floor! =.= Funniest thing is, when playing, I realised one of my dice is missing, guess what? Wende took mine and he still said
"WHY I GOT 6 DICES!"
PIANGS!
I really have a bunch of cool friends! They really took care of me! Two big brothers, zixiang and cek. They ordered JJ and wende to send me home. And my brother, cek, he was so worried that I might be the one who send JJ and wende home! HAHA! But anyway, wende is so drunk until he can't even remember who he talked to me on the cab and don't even know when i've dropped off! Zzzzzzzzzzzzz!!!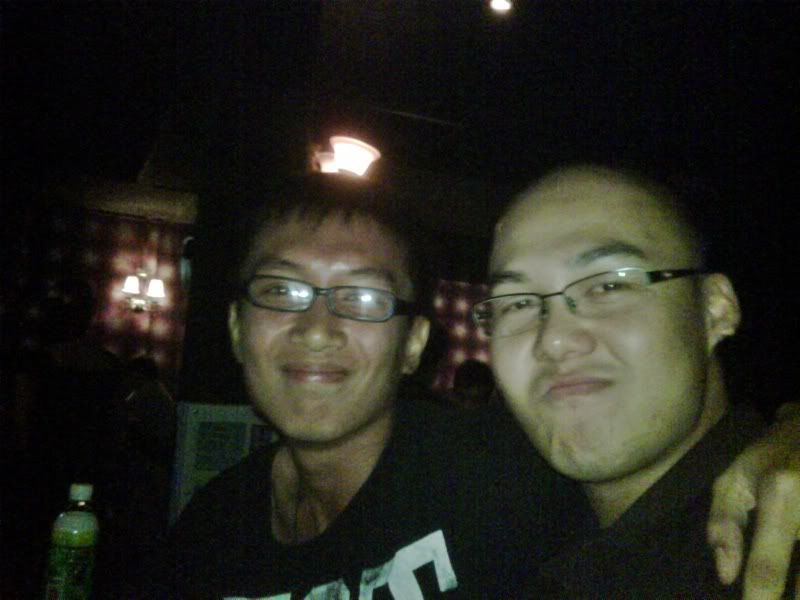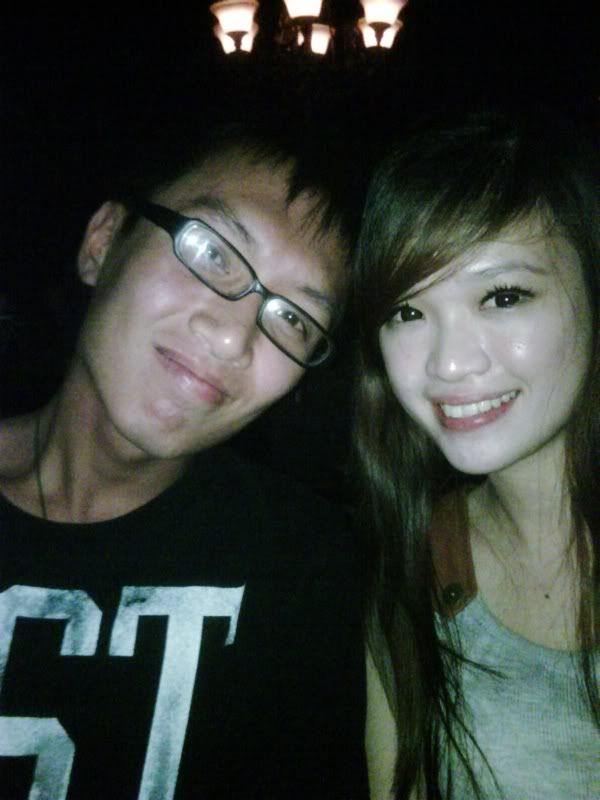 The gift that I gave to cek! LOL! The only thing he laughed was that picture of him =\
*
*
*
*
I'm in love with Jay - 说了再见! It is really meaningful and touching! Describe... everything? Geez! I hope that the jay's concert tickets can just drop from the sky!! The tickets are way too expensive! I mean those online that people are selling it off.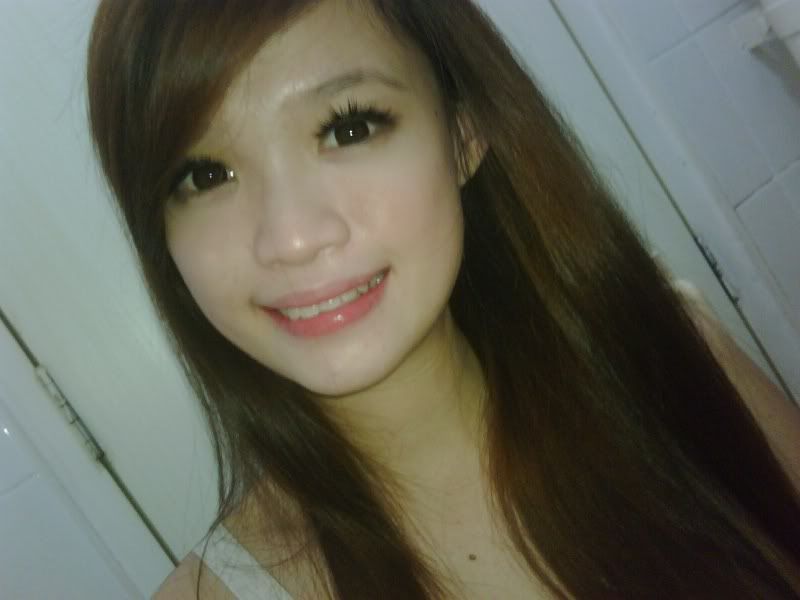 With love