I've attended Yenyee's ROM at Concorde Hotel. Yes.
SHE IS MARRIED!!!
Since secondary school, we always predict who will be the one who get marry first. And tadah,
our prediction is right! :)
This year is totally her year! Her 21st, Her wedding and the her upcoming events... =) Totally an awesome year for her! Can't wait for her upcoming!!! :DDD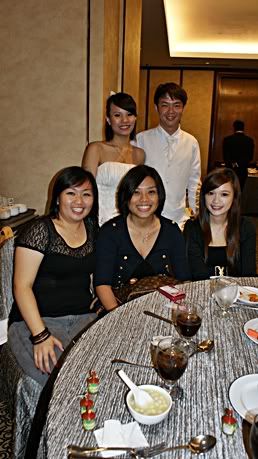 We are really happy for her; more on excited. haha! And this made me feel old as I am already attending friend's wedding! Oh no! And they predicted I am the next. (Won't be that fast too!)
We bless her marriage full of happiness! :)
Congrats, Yenyee. You are no longer little kid anymore!
A wife of someone, and sooner or later a mum of many kids!
She is going to be a pretty mama and always a pretty wife!
幸福的小女人!
羡慕死人了!! :D
----------------------------------------------------------------------------------
09 May 2010
HAPPY MOTHER'S DAY TO ALL THE MUMMIES!
OF COURSE TO MY BELOVED MUMMY!!
A super meaningful song by
容祖儿
-
永远的爱人
从不要求爱得对等
话好伤人但你还在忍
不管我是否变成更好的人
你依然像是为爱我而生
爱人也不能爱得那么忠贞
我真的曾误认疼我是你的责任
当我学会爱人我却先爱别人
你像苦恋那么动人
妈妈...妈妈
原来你才是我永远的爱人
妈妈...妈妈
你证明爱大于自尊那么坚韧
妈妈 oh 妈妈
原来你才是永远爱我的人
妈妈 oh 妈妈
额头有了年轮我才会心疼...妈妈
见证爱的可能怎样爱人妈妈
当我学会爱人我却先爱别人
你像苦恋那么动人
妈妈...妈妈
原来你才是我永远的爱人
妈妈...妈妈
你证明爱大于自尊那么坚韧
妈妈 oh 妈妈
原来你才是永远爱我的人
妈妈 oh 妈妈
额头有了年轮我才会心疼...妈妈
见证爱的可能怎样爱人妈妈
*
HAPPY BIRTHDAY TO BABY!
(who is still in thailand =\)
As expected, he is spending this day in his 7 days of outfield! 7 days!! And sadly he did not bring the itouch with him (Which I have placed a video inside)
He is good enough to call me EVERYDAY! How nice huh! =) The funniest thing is that I told him to ring me on Sunday 12am.
ME: "You remember to call me on Sunday 12am hor, I wanna wish you happy birthday"
HIM: "Okay. no problem"
ME: "Eh. but is yours 12am or my 12am?"
HIM: "Singapore 12am bah"
ME: "Huh, but your side have not 12am leh."
HIM: "Aiyah. nevermind. I am not born in Thailand also."
His answer totally caught by my surprise

hahahhahahahahhahhhahahhahahahahhhaha!
Anyway, he told me on monday that he have watched the video and he almost puke out when he is drinking water.
DAMN! KUA ZHANG!
He then said that he couldn't stop laughing like a nuts with his ear pieces on.
DAMN! SUPER KUA ZHANG CAN!!
Worst of all, he said he feel the embarrassment of me while I am doing this video.
URGH! I SWEAR I AM GOING TO KILL HIM! GOT SO KUA ZHANG OR NOT!!!
And he kept teasing me over the phone!!
URHGGGGG!!!
TRYING TO TEST MY PATIENCE, I FEEL LIKE STRANGLING HIM NOW MAN!!
Anyway, here is the video that I DEDICATED TO HIM!! BUT BEING DESTROYED BY HIM! :(((((((
But yet, I still wish him HAPPY BIRTHDAY!!! ^^
He will be back... in 3 days time!! :D

With love