A cushion of La Pi Xiao Xin
. Why La Pi Xiao Xin? The story is super long! It is a nickname I gave him in ... .... 2003? Super long! Kinda cute in the picture. But the hairstyle really look like badtz maru! (If you can notice.) HAHA!
Lastly,
"Hi, My Sweetheart" DVD

.
It has 23 episodes! So by the time I finished, he should be back. He knew that I don't like and don't have the time to watch it in youtube, he bought a dvd instead. :D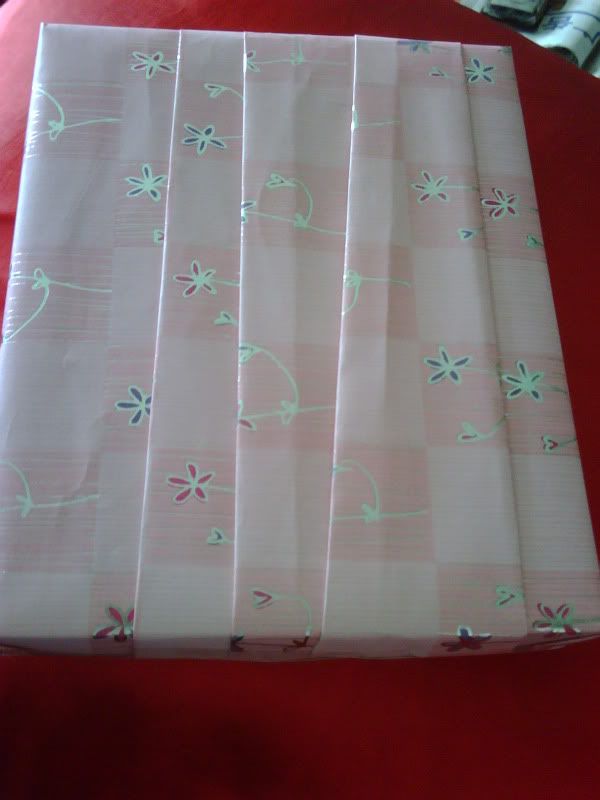 *


During the night time, I decided to go to the hospital since the pain is still there. We went to
Raffles Hospital
initially despite having the TTSH Referred letter by my doctor. Same procedure. Test urine all these, in the end, doctor from Raffles Hospital referred me to
TTSH
again!!
We really had no choice but to go to
TTSH
instead. The A&E department seems to be so chaotic! More like a market than a hospital. As usual, took urine test again then waited for consultation. Everything go so slow until the pain arouse again!
The doctor from consultation is even worst! Examined halfway and went off! Luckily I am strong enough. If a dying person waiting for consultation, he/she would have die while waiting. After 30 - 45 minutes, the doctor then appeared again. Totally wtf!
BY RIGHT
, she should have injected two injections! Due to "cannot find my veins", she injected 4 times! 2 at the back of my hand, 2 at my elbow.
I won't forget how stupid I cried in the hospital! Actually I am more afraid than the pain in my hand. My hand totally went whitish (totally like some dead hand or something). And also this is my first time I am admitted to hospital!
Imagine, boyfriend is at the airport waiting for his flight to take off while I am in hospital!! This is madness! The last call from him is that he is going to board the flight while I am still crying in that observation room! Dramatic!
And my sister had to accompany me all the way even though she complained that she waited for that doctor until she is hungry. HAHA! Actually I am also hungry but seeing myself in this state, do you think I am still able to eat!! And my jiefu who is along outside waiting.
I don't know what's wrong with my abdomen that not a single doctor can answer the pain of it. ): But however, I was told that if the pain is still carry on, I have to referred to KK Hospital for a scanning (as TTSH do not have the scanning machine)
And I got all the bruises on my hand and elbow! :(
---------------------------------------------------------------------------------

He had left for thailand training. But I am glad that I can receive his call every day!!!! His encik is really nice! He knew about my condition and allows him to bring phone with him even when he is outfield.
He even make a pact with baby that if there is anything happen to me (CHOY LAH!), he will arrange a plane for him to come back. :D But I am glad that I am okay lah. If not it will be so troublesome.
3 weeks only mah! I can take it. =X (
like real!
) But really feel bad that he kept worrying about me even when he is in thailand. :( But still, anyway, glad to hear from him that he is fine over there :D
Thank you everyone for your concern :D
With love