11 March 2010

I have a great night with my colleagues;
THEME:
c
o
l
o
u
r
f
u
l
n
i
g
h
t
!
It really racked our brain to think of a suitable night!
From scarf night > Hawaii Night > Colourful Night!
We nearly wore straw hat and nylon hula skirt to work!!!
And supposingly we wanted to have a best dressed for the night; but somehow... we forgotten!
Had a feast at Chinatown Food Street; Not to say their food is really expensive and really yummy!!
And the amount of things that we ordered were way too much; 1 plate each for fried hokkien mee and char kuey tiao, 2 kuay chap, 1 stingray, 1 ou ah jian, 1 ah ballings and 40 satays!!
And there are only 5 of us eating!!
*
Oh yah! We went to kbox; Kbox is really high tech now!
I haven't been to kbox for such a long time.
The machine allows you to touch screen; the amazing part is
IT ALLOWS YOU TO RECORD THE SONG YOU SING and BLUETOOTH IT INTO YOUR HANDPHONE!!
Cat secretly did a record for me; sound really pathetic!!
Did i say i lost my voice? HA! and I still managed to sing for about.. eh.. less than 10 songs i think! I must say I am really 厉害!
My voice is really pathetic; can you imagine I can even 走音 when i speak? not to say about singing! I can sing if the song doesn't required any 假音. HAHA!
I am not sure what had happened to my voice but definitely the cold is back again!
*
Coincidentally it was tiffany's birthday too; and we bought a cake to surprise her!
Actually the main purpose wasn't to celebrate her birthday; but in the end, we still celebrate for her :D
We always get so high in the ktv room; it reminds me of the other time during jacky's farewell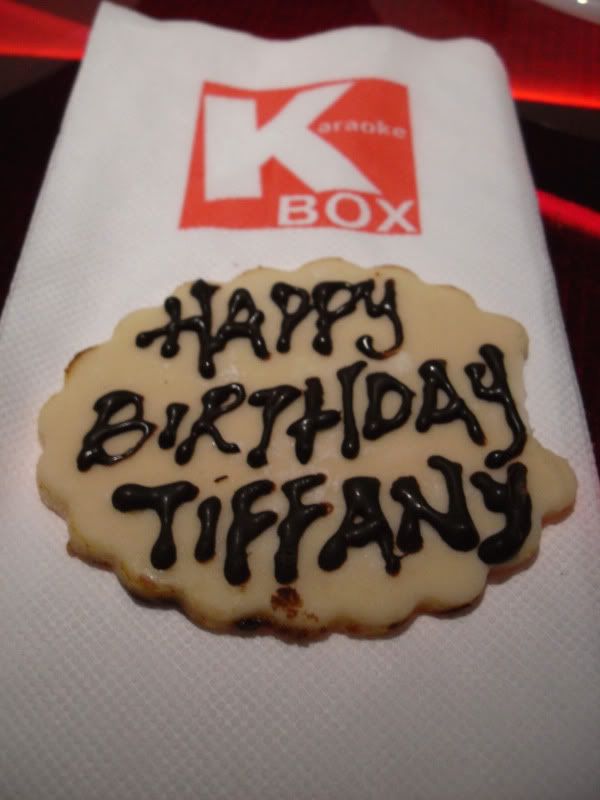 1st row: Irene, Rain
2nd row: Katty, Mandy, Tiffany, Su hui
Those who are not inCatherine and Jerry are not inside the picture
KBOX PROMOTION




$8

nett for all kbox members!
Monday - Friday 2pm to 7pm
Thursday to Sunday 7pm onwards
Duration: 3 hours!
Inclusive of 1 drink and tibits!
Valid till 30 April 2010
*



Everyone is leaving
I hate to say goodbye
I hate farewell
But deep inside I'll still wish you all well

Whether is improving or getting a better opportunity,
I won't be stingy to say all the best in whatever you guys do.
When I say it, I really mean it!

All the best, girls.
Su Hui
Thank you for giving and teaching me tips to be a tour leader; though last year was the only time I partner with you for the A-B bus
Thank you for bringing me around for good foods and good buys.
Being in tour, really help to know each other cause' after the tour we are no longer hi by colleagues but colleagues that actually will chat.
(after all we are in different department and different floor)
Most of all, thank you for the camera trick that you have taugh me; which I am still figuring out.
I am still waiting for more beautiful photos taken by you!

Rain
The one that interviewed me when I first stepped into this company - Rain.
I still remembered I projected her as "fierce" lady; she does look fierce when she is not smiling!
I don't know how we break through the ice.
But of course, she is one of the most 洁癖 person I have ever met.
Try to throw an used tissue insider your bowl or cup after eating with her; you'll get what I mean. haha
Most of all, I feel that she is really a great teacher and someone whom willing to share and easy to talk with

I won't say I know them really well! But at least, we do click compare to the others. Now that you all are leaving/left. I really do feel upset.
I still hope I am able to keep in contact with them :)

Past is experience, present is experiment and future is expectation. So, use your experience in your experiment to achieve your expectation



*
I hope my voice will be back to my side! It is really irritating when I can't speak properly! Rawr! And I realised within 3 months, my medical subsides is going to use up! Not to say my MCs. I don't know what happen to my health nowadays. I seems to be quite weak and into medicine! My mum wants me to go for a full body check up as I got acute pain in my heart this afternoon! Well, I need to fork out time to go for that! I have already forgotten how many bottles of cough medicine and Flu medicine I have eaten over these 3 months! :(

Anyway, I gave up on FHM casting today! Because it is at mediacorp. Actually I gave up a few casting already. I only go for those which are near my workplace. lol.

I'm going for a camping tomorrow! Hope it won't rain and turn out fine fine fine!!



With love