It has been a really hectic week for me! Well... ton of things happened.
It is really hard when you intend to leave your job scoop and there is so many things you have to consider before you can do so..
Sigh!
But i am glad I have a bunch of adviser to give me lots of advices and suggestions.
Thank-you guys!!!!!
I decided to stay in my position instead of account.
Indeed I have some passion for account; Design is something I desire for too. I know as for design, my standard is still up there yet.
It is really hard to make decision!
I really hate to make decision!!!
As much as I think, I am going to plan and take up some studies for either account or design.
At least to improve my skills... :)
I might consider to take up night course or part time course?
I'm not very sure about the schools :(
Goana check it out :D
---------------------------------------------------
30 January 2010 (Saturday)
HAPPY BIRTHDAY TO MY BROTHER!!
Baby is having some serious shopping spree!!
He really bought a lot of things!!!!
Every Saturdays become his shopping day; not mine
(I'm more online! heehee!)

He bought average of 2 tops each week!
And this saturday, he bought Levis jeans!!
And the promotion for the
trade in your old jeans to get a $50 Rebate
is still going on.
I think it is rather worth :)
Spending money as well as doing charity at the same time :D
*
After that, we went over to citilink to meet the clique.
(supposed to sing; but CNY is around, they are more interested in buying new year clothes. heehee!)
Shopping while waiting for them.
We managed to see sampson and taiyee.
They even told us that they saw johnathon and shumin
(They did not meet us in the first place as they thought that we are going singing...)
Super coincidence!!!! And they joined us for dinner too :D
*
After that we decided to go shopping first before meeting the rest.
We went on separate ways. Suntec City seems to own by us; kept banging on familar faces.
LOL!
We had
New York New York
for dinner :D
The bigger one is mine!!!
His face went sulky when he saw his baked rice coming in such a small plate.
HAHAHA!
No doubt, he wasn't full at all and wanted to buy subway.
I stopped him!
Kw was saying that the girls aren't in convensation at all
(Refer to me, sm and ty)
Seriously I think is because of the sitting arrangement. Kinda hard to talk.
So he drew out a sitting arrangement plan!
(not drew by him, I did not save the one he drew. LOL)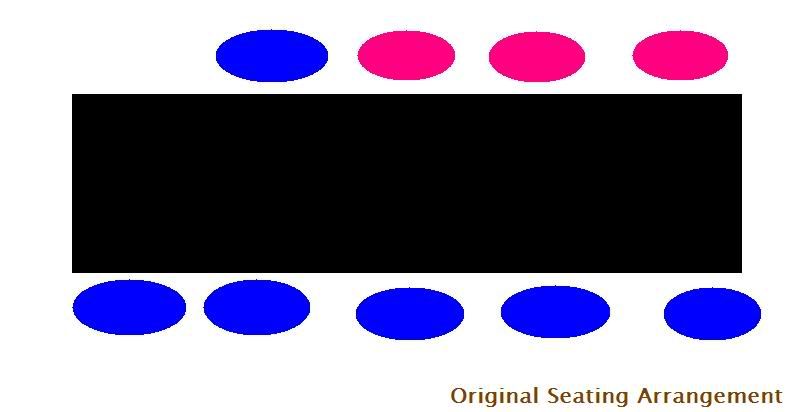 Kinda hard for the girls to talk..
The one in the middle (shumin) will most prolly get a neck twist, seems like practising tango dance.
hahahahahahaha
And if i talk to shumin, it will like leave taiyee out and vice versa.
And our pattern seems to far away from us.
hahahahahhaa
And that smart boy drew this out...
Hey, I think it is a very good seating arrangement, we all will be having eye contact and no one will miss out anything... hmmm. okay. we shall sit this :D
We shall talk more than the guys next time :P
*
While waiting for the clique...
He bought me to the Sky Garden
(I don't even know there is such a place in Suntec. LOL)
Playing with the camera
(yeah! My camera is back from hospital! Badly injured, luckily warranty still valid =P)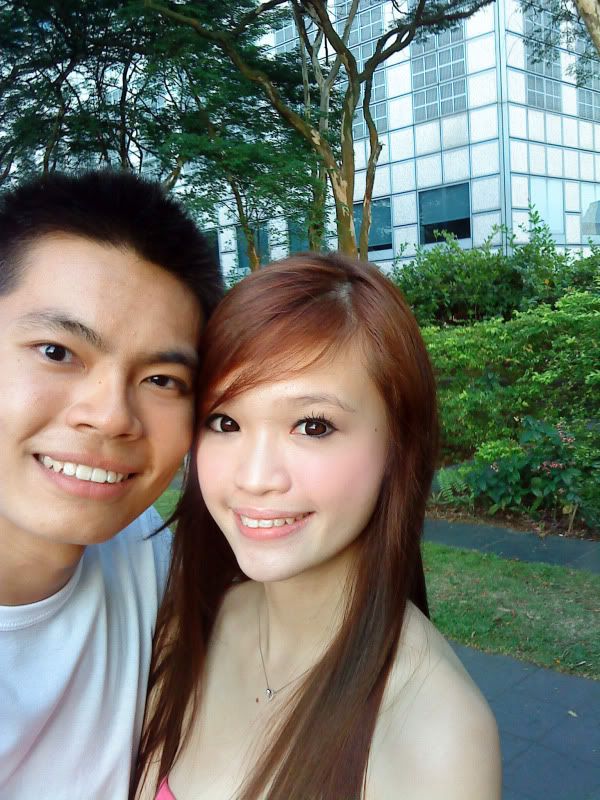 Being boliao...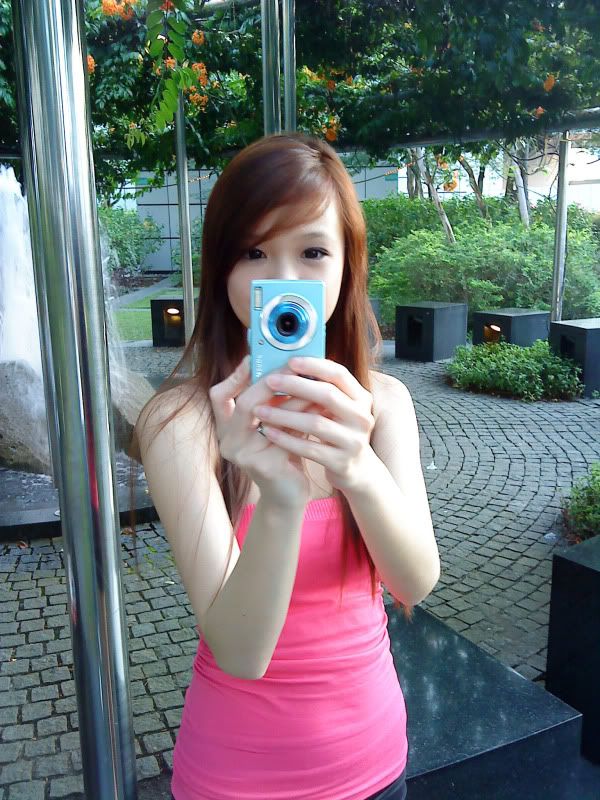 Special huh? He took this :)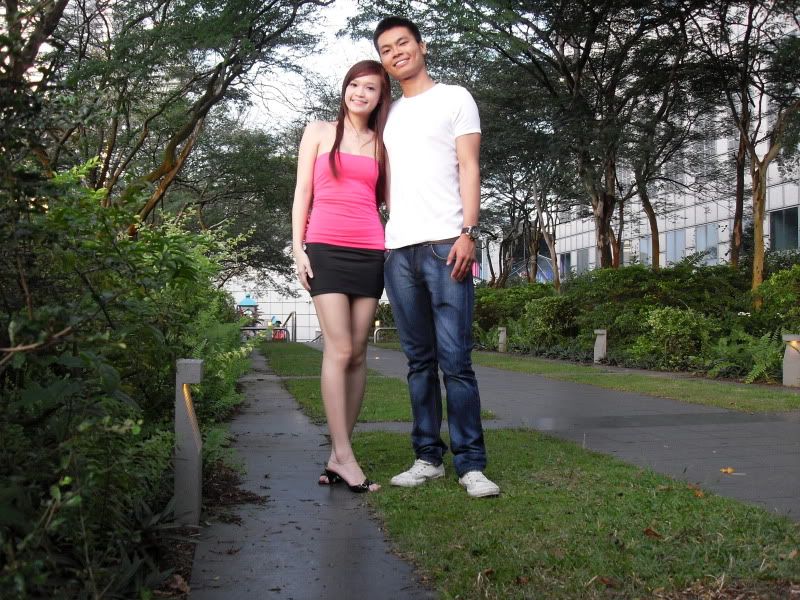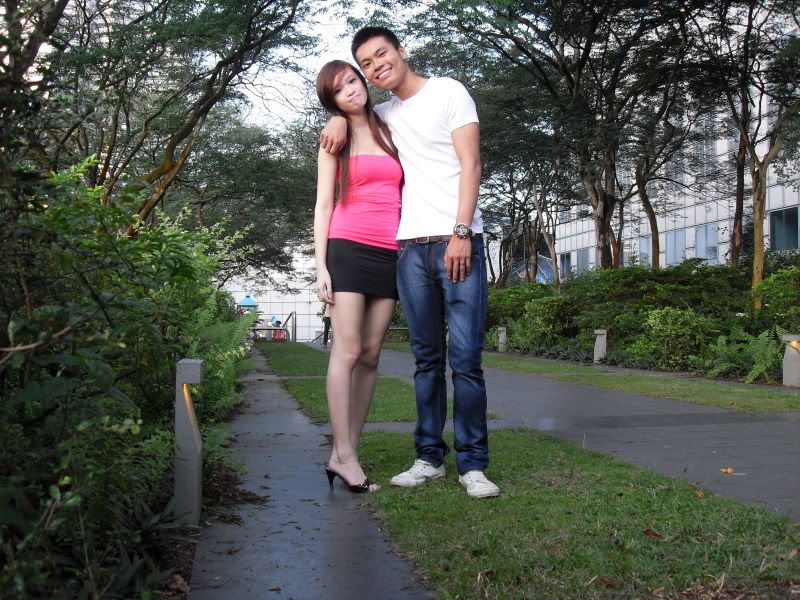 Mr. HIM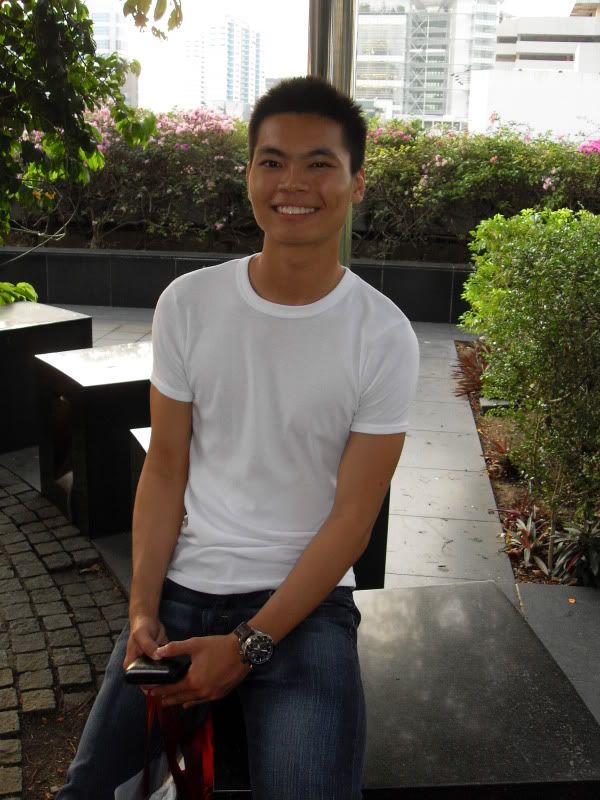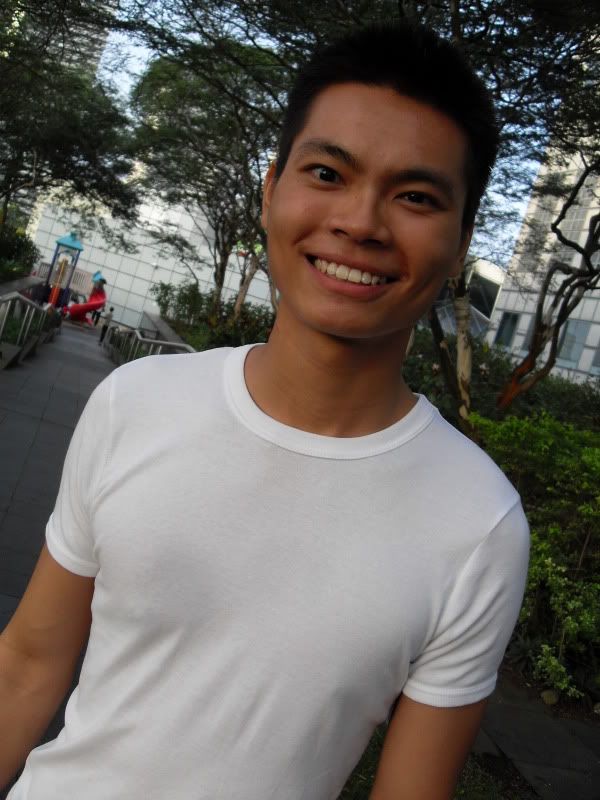 *
After the dinner, everyone went separate ways.
It is really a dinner meetup.
meetup for dinner only =x
Couples went on couples way; the rest went for orchard to hunt their CNY clothes :)
Then baby and I walked all the way to Clark Quey; totally have no idea where to go as the shops are closing soon =( dangling time with totally nothing to do.
BUT we managed to see a little bit of fireworks that come out of the sudden...
LOL =)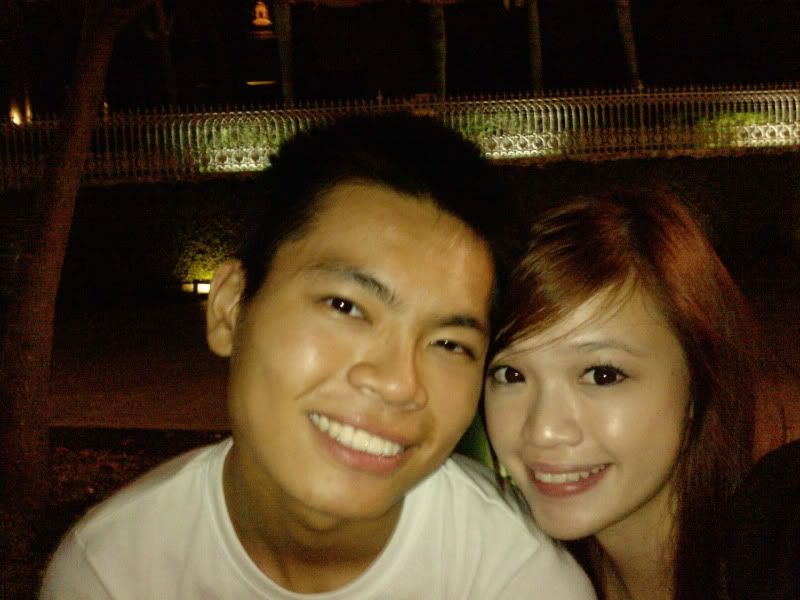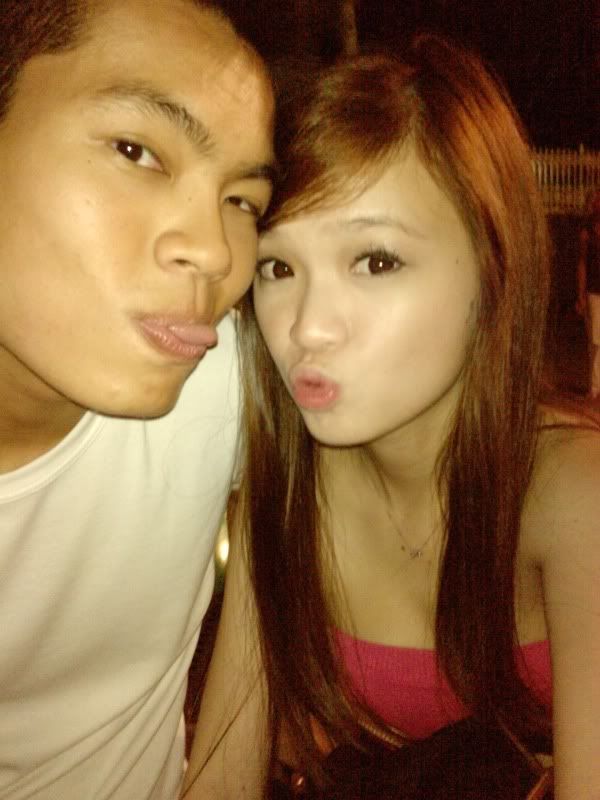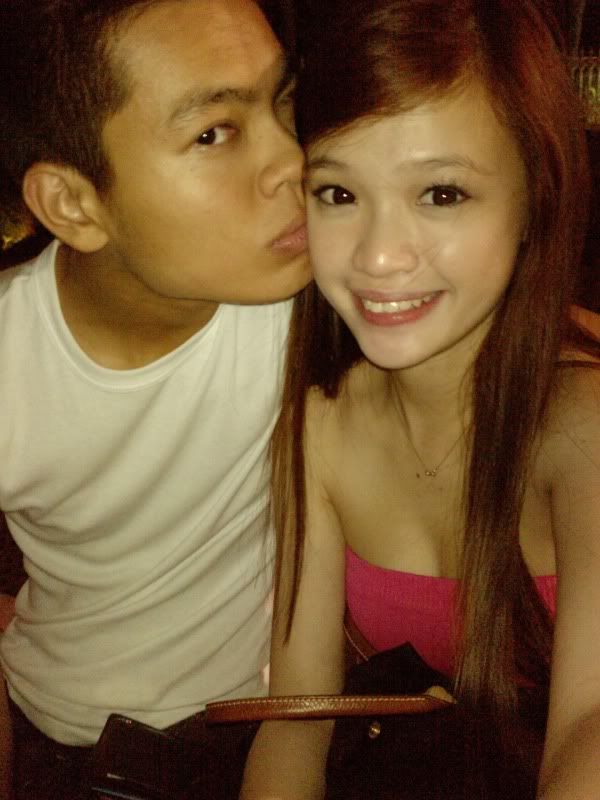 We ended our Saturday Pak Toh day :DDDDDDD
Fruitful Shopping for HIM!
*
31 January 2010 (Sunday)
It was a
bonus
for us to meetup again...
Due to my...forgetful!
He was on a shopping spree
AGAIN
!
Suppose to buy pedro shoes yesterday but i thought i forgot to bring the card.
IN THE END
, the card is along inside my wallet =X
heehee! I didn't did that on purpose; I got a big shock after finding the card like hell!!
Such a good excuse to meetup again. HAHA!
He bought a superb chio pedro shoe :)
And also a G2000 Polo Tshirt.
I bought one for my brother's birthday present too :D
*
hmm, do all the guys that went in army that...
hungry
?
Or only refer to baby?
But I remembered the other time when we went batam; sampson
(the only one who is in army at that time)
ate alot too!!
I am saying this as I was having lunch with him when he ordered a char siew sao rou rice and Teh Ping; he finished faster than me... <- Not an issue...
BUT
he told me he is still hungry!!!
I told him that stall sells buns and all these.
He went to get...
Came back...
ANOTHER PLATE OF CAI FAN!!
I stunned and looked at him!!
"I thought you buying buns?"
He replied: "I think not enough for me"
Jaws dropped!!
And no doubt, he finished it up!! :)
KUDOS

TO HIM!!
---------------------------------------------------
hmmmm. I'm not really happy nowadays; nothing seems to cheer me up.
Well... How would you guys react when you know someone you trust the most
among the others
actually backstabbed you?
Not once, But I guess lots of times and I KNOW ONLY NOW?!?!?!
He/She might not even know that I knew it.
But the feeling is really terrible.
Not angry; perhaps more than upset...
I really trust him/her a lot a lot; told him/her almost everything about everything happened.
Be it an intentional or not; I really don't know why.
I should have start to beware, but because of our friendship, I
THOUGHT
that it will be ok.
It really seems that I tend to believe someone easily
I really never know this will happen.
Because of my "i-so-call-as-trust", it has become so much burden to others...
Till now he/she will still talk to me...
Seriously, I started to have the "wall" in between us.
I am not angry; all i need is... maybe an explanation?
(but he/she don't even know...)
I started to know how scary humans can be...
I never know... I am being used intentional or unintentional.
Is terribly disppointed!
Like everyone that told me, I am too gullible.
I need to open my eyes and see this world carefully.
Bad things might have even spreaded till Tuas...
I don't know how bad things are.
I don't know who to approach.
I don't know who should i explain to about the so call as "bad things"
Shall I let others mistaken me? Shall I leave it till they will know the truth one day? Shall I pursue to ask for an explaination? Shall I....
But definitely I know... it has already spreaded around.
I can sense it; i feel really really really upset by this.
This really taught me a deep lesson.
You teach others good; doesn't mean they will treat you good.
You trust them; doesn't mean you are close to them
(you might be just a using tools to them)
They care for you; doesn't mean they really care, most prolly they are just kaypoh.
What I want to say, nobody can be trusted...
The one you trust might not be the one you should trust.
The one that you thought you can trust might be too
Nothing can be most afraid of, except for
human beings
.
With love