HAPPY CHINESE NEW YEAR TO EVERYONE!!!
13 February 2010 (Saturday)
Still, I had a half day shift; Pathetic!! But what's fun is. Our company had lou hei! :) I only eat the crackers :P
Long story of the NTUC Link Card Membership thing!!! Alright, I have to go all the way to Downtown East to settle my chalet stuff :(
Rushed back for steamboat reunion dinner :D
Always a sumptuous reunion dinner!
After that, did my last round of spring cleaning! It is god damn tiring as I have to rush to clean everything!
This is when something happened!!
When I am cleaning, I heard something really loud outside then following by some shoutings.
Curiously, I went outside to see what happened.
First, there is this man here who kept shouting like a lunatic. "OEI" here and there!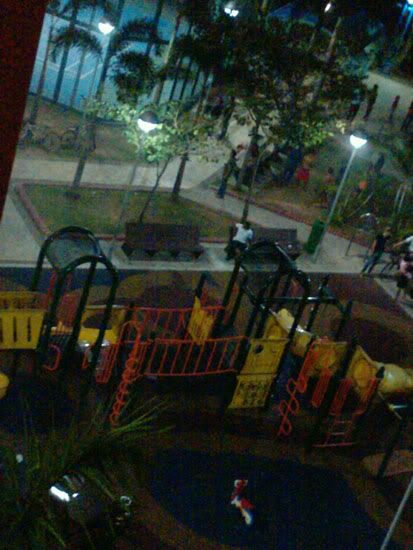 Then I saw this right outside my corridor
SMOKE!!!
I hurried and shouted for my brother and mum to see what had happened!
Something exploded and caught fire!!
No one knows what had happened; which unit, which floor!
I still thought that there is an explosion in the lift!
My brother went all the way to see what had happened; then came another explosion!!People rushing down from staircase; while my mum and I were waiting for my brother to come back. He told us it was from the first floor; not sure what had happened.
More and More people rushing down...
We seems to be too late, but out of curiosity, we still went down. (Just in case there is another explosion)
The cutest thing I saw is "there are actually people bringing down pails of water!!"
Cause the staircases are totally wet!!!
HEARSAY:
It is due to the dispose of furniture, mattress, all the rubbish at the nearby lift which result fire and therefore causes explosion as there are electrical unit.
THE NEXT DAY

To my dismay....
Some people are just inconsiderate! I am not sure if the CCTV caught the person who accidentally set the fire. A butt of cigarette might has cause the fire too! Who knows! But I think Town Council will definitely work on it; as it is believed the rubbish are left there over a few days!!
EDITED!!!
While I am doing this post! I see something strange from the picture above. Yeah. The last picture of the ceiling dangling! SHIT! Did you all see a sort of green face or something towards the bottom right side of the picture? FUCK. I sort of chua tiok when I am typing the last sentence from above!! Because it is 12AM; I don't have the guts to zoom out the picture to see what the hell is the thing! But damn, it really scare me out!! SHIT!
*
Okok. The very next morning, I got the guts to open this photo and zoomed in again.
The previous night I was asking baby to see this picture.
Damn it! He said he was too afraid to see this picture!
HAHAHAHAHA!
Because the atmosphere wasn't right; he was in his room.
And in the end, he had to carry his laptop out of his room to the living room where his mum was watching tv. =.="
At first, he kinda chua tiok! Then after seeing for a very long time, he said that it was leaves!!
Yah. should be the leaves??
BUT LOOK! The features are all there! The face, the TONGUE, the hand.. everything!!
Brrrrrrrrrrrr!
*
Just to share a joke of the THAT day!
I was sms-ing sam to ask him if he is able to help me to bring satay over to my chalet on saturday as I won't be able to rush back to my house nearby to take it.
And I was telling him that my mum put her name so he just have to say my mum's name they will let him to take those satay.
So I told him: "My mum put her name eh. She put sia"
He replied: "You damn funny, you didnt tell me what is ur mum's name, how am i going to collect"
SEE THE JOKE?
My mum's surname is SIA! She used to put her name as SIA. Not the SIA the slang that we always used to say.
LOL! I couldn't stop laughing until I told my mum about this joke!
HAHAHAHHAHAHAHAHAHHAHA!
xxxxxxxxxxxxxxxxxxxxxxxxxxxxxxxxxxxxxxxxxxxxxxxxxxxxxxxxxxxxxxxxxxxx
14 February 2010 (Sunday)
HAPPY VALENTINE'S DAY
AND
HAPPY CHINESE NEW YEAR!!
Little aden was SICK!!! Thus we set off to my Er Gu's house quite late and my mum woke me up so early!! We have to wait for them to come over to my house first before we can set off.
Here are some of the pictures we took!
He was still in a good mood!
A minute later, ANGRY LIAO! :((((((((((((
So Qien and I took pictures instead :D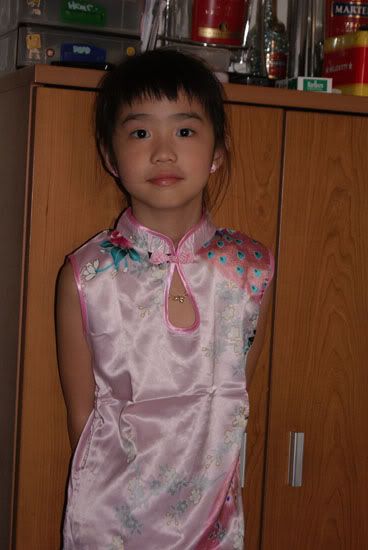 *
We came back home very early too! LOL! rushing out and rushing back also! Cause little aden wasn't feeling well and making lots of fuss over there!
*
NICE EAR RING?
It is only $6.99; Imported!!


VISIT http://www.hellohappyshopping.com

14 February 2010 (Sunday)
We still managed to celebrate our
6th Valentine's day
without postponing! LOL! Okay, He bought me to Waraku - Mr Curry. That wasn't the place he wants to bring me go. As the restaurant he wants to bring me closes on that day :(
At first he still bluffed me that he is bringing me to billy bombers. And I always think billy bombers are for beef restaurant!

While waiting for bus, he finally revealed that we are going to Clark Quey :)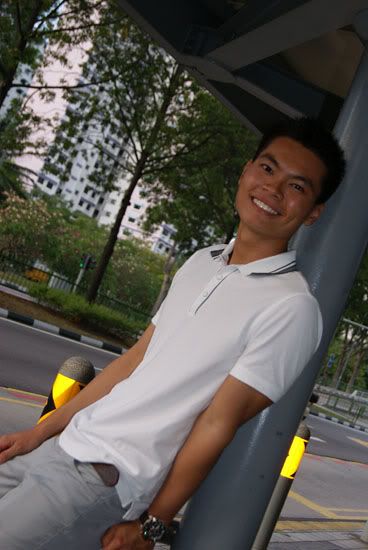 *

Reached the restaurant, he don't seems to be happy with the environment or something. At first was quite okay, then suddenly the music change to...
"恭喜阿恭喜 发呀发大财~~~~"

Then his face changed! hahahaha. Totally no mood for Valentine's but only Chinese New Year Mood! And the restaurant is packed with couples!! Maybe 1 or 2 families only! Totally turned off!
And baby is really crazy! He ordered damn lots of things! Luckily I stopped him, if not he will order more a nd more!!

THIS IS MY FAVOURITE! LOL!
BUT 日本村's still the best; cause it is not hot enough :(

HIS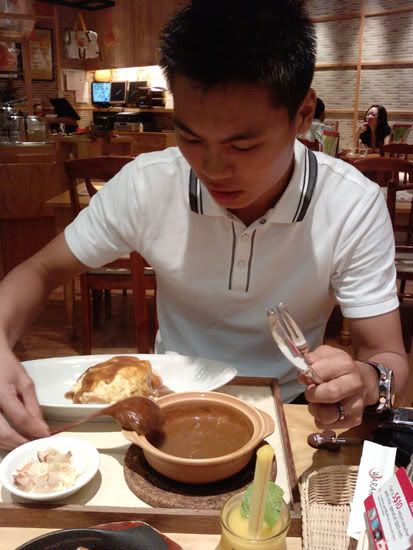 THIS IS MINE :)
He always say whatever I order, seems to be so much better than him. LOL!
Taste better; and always in a big portion! heeeheee!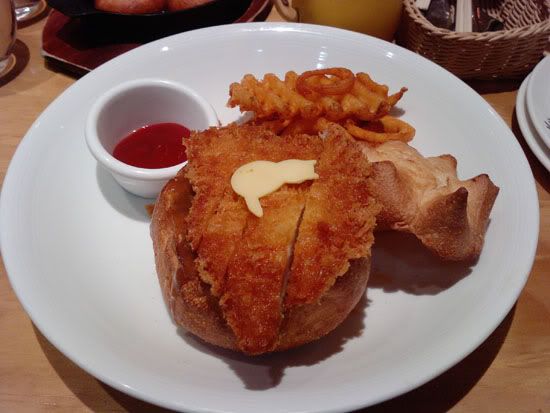 GOSH! This is darn special! I LIKE!!!
MOCHI POTATO WITH CHEESE (If i didn't remember wrong!)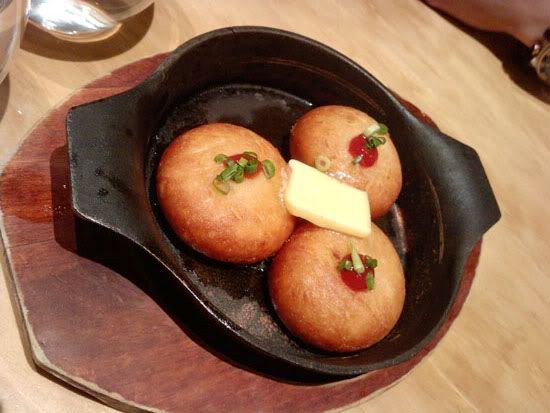 Here come the dessert when we are already soooo full!
THIS IS NICE!!! :)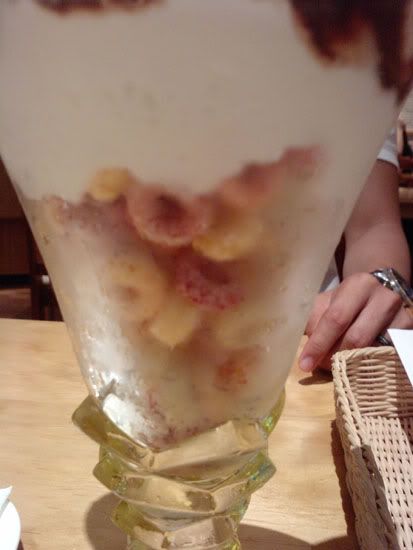 Cheesecake! But it is hard to taste it when I am eating the ice-cream at the same time
The ice-cream's taste overtake cheesecake! But I assume this is nice too. hahahahaha
I am too full to taste anything!!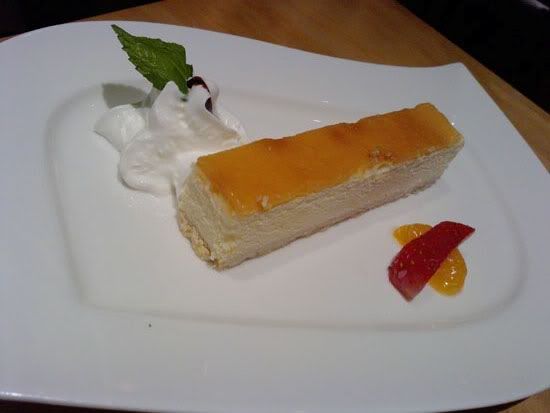 *

There is this little girl here who seems to be 3 years old or something.
She is so cute! Guess what, she kept looking at our direction. It is okay when I smiled at her, but once baby turned his face, the little girl's head turned too! She refused to look at him!

I did a video recording; but then i realise i did not save it!! ARGH!!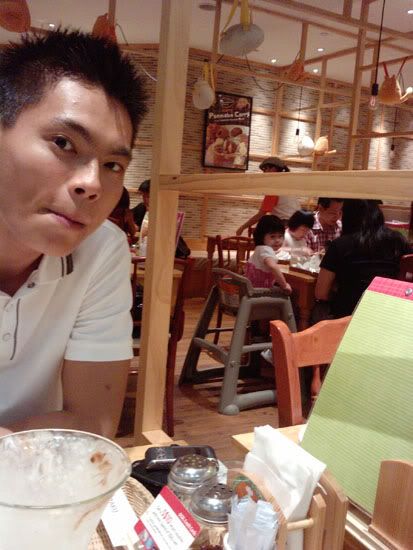 Baby says she is too shy to look at handsome boy. HAHAHA! But I say, she seems to dislike you!!!
He CLAIMS to have 女人缘; for kids! But I don't think so. HAHAHAHHA!

*

After that we took a stroll along Clark Quey; it is quite crowded!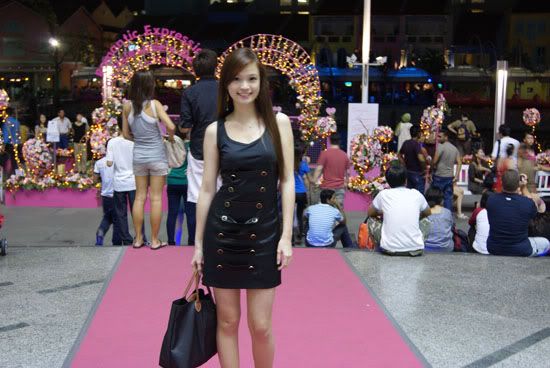 Then we walked all the way to our favourite spot :)
I like this picture of his! :) Cause I took this picture. LOL! And I wanted him to take a exact picture for me... But his skill... ahem!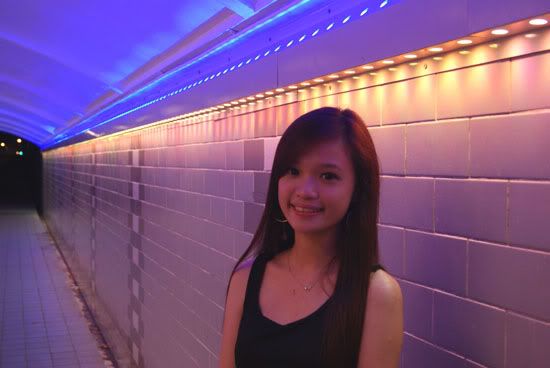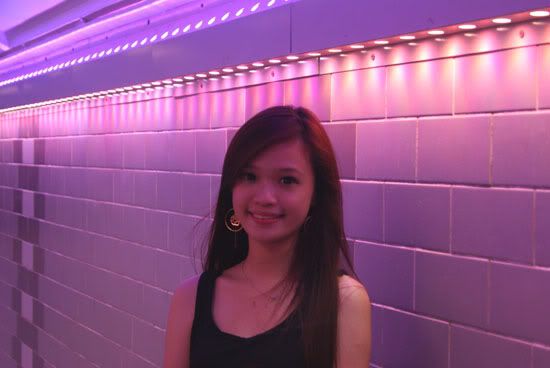 LOL! Okay lar. His skill not bad! :)
But he still very unfamiliar with the camera.

*

REACHED :)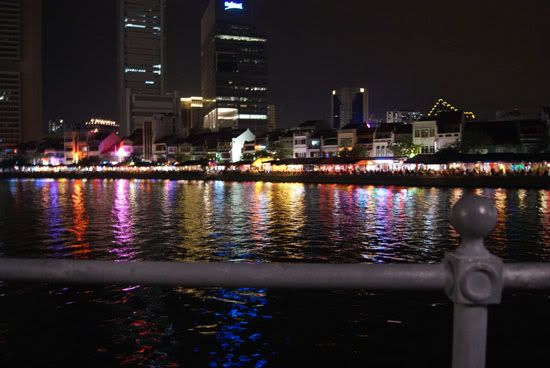 Flooded with pictures!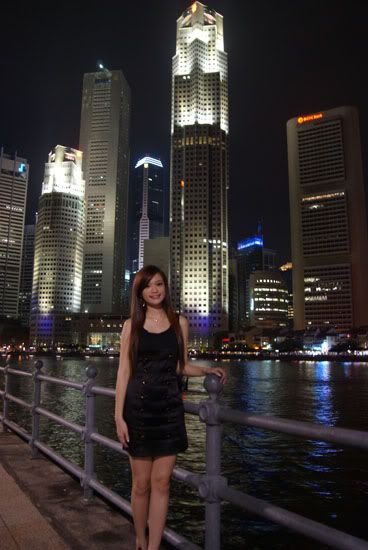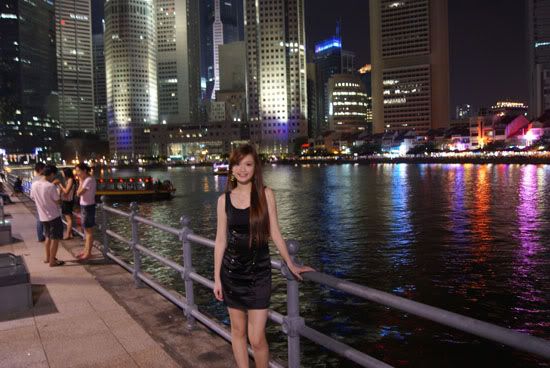 And he is addicted with my camera!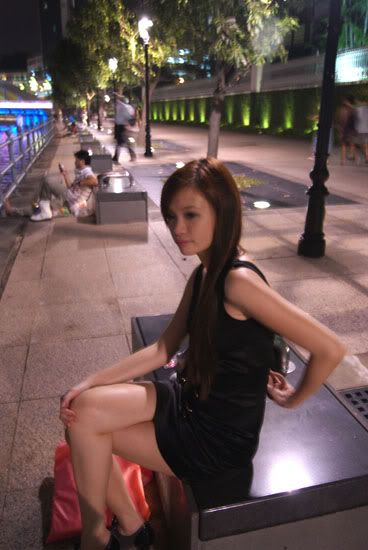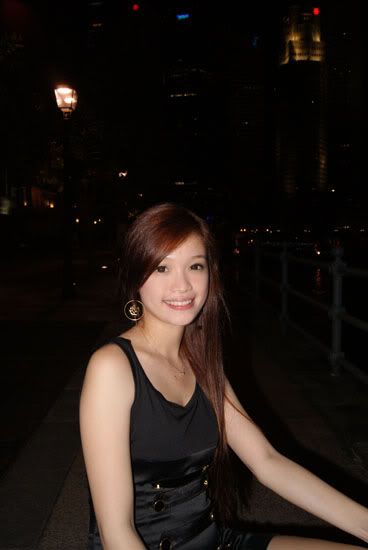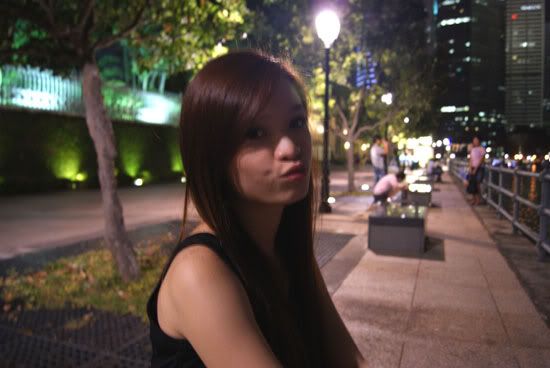 *

Then we started to exchange our present :) He opened his first!
HIS
STUPID FACE! He is ranting that he don't like the present. LOL! (KIDDING!)

THE HANDMADE :)
The "E" dropped out!! But luckily able to find it and paste it back. heehee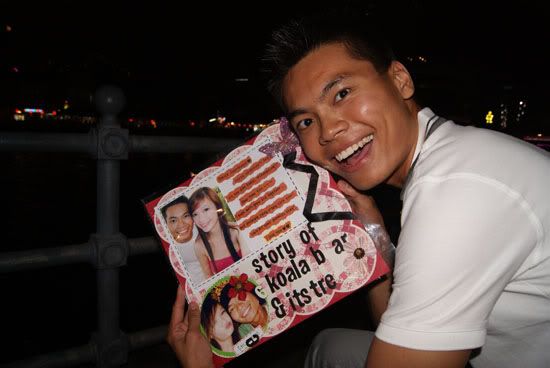 AND My turn :) Actually I have no clue what he is buying.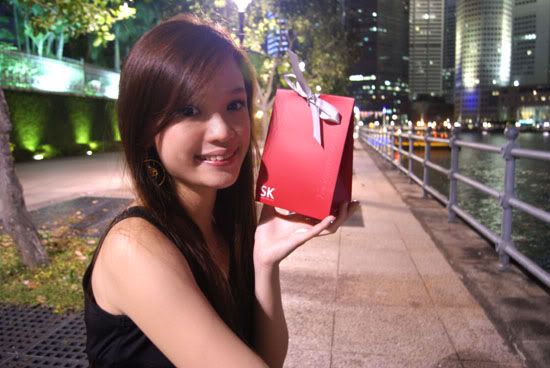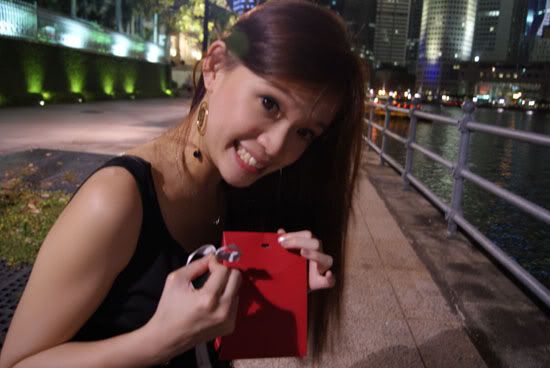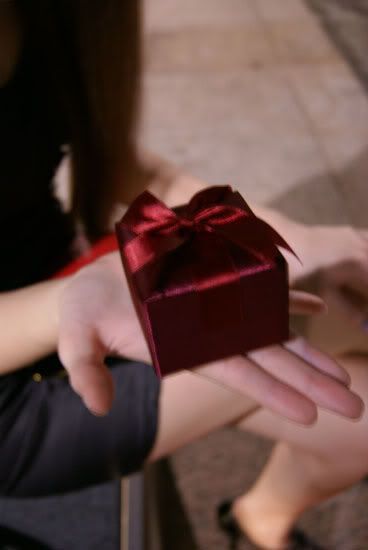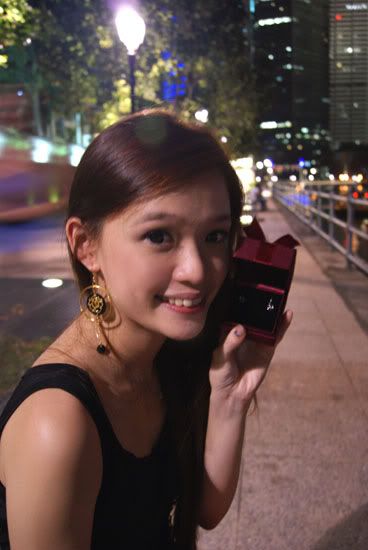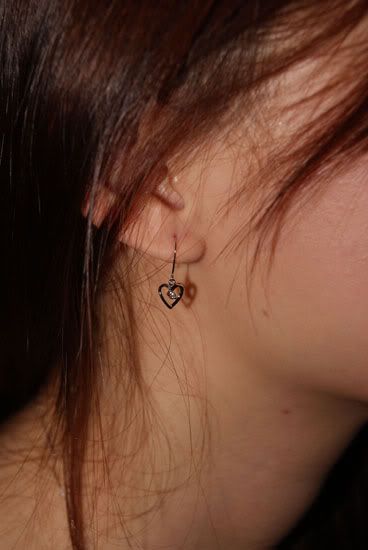 HAPPY VALENTINE'S DAY!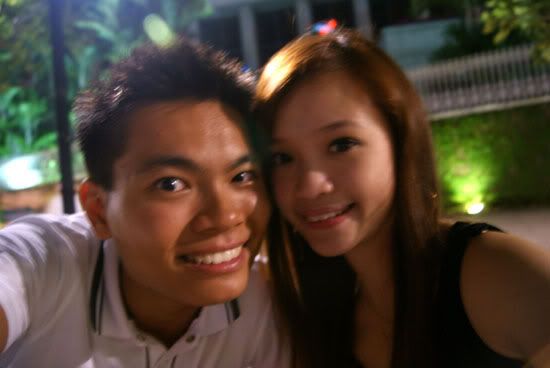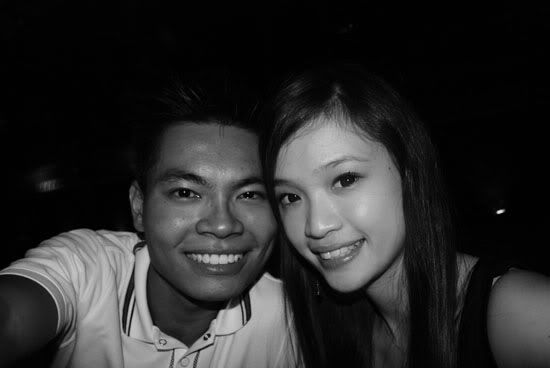 Happy 6th years of Valentine's Day!


*

THIS IS WHEN SOMETHING HAPPENED AGAIN!!
I reached home kinda early in fact; even my mum asked me why i came back so early! =.=
Then I went to play with my hair with curler. LOL! Curl my hair for fun!
The result came out so so. Quite ok, but don't really used to it.
Then, suddenly my mum smelt something; those electrical smell! And she shouted for me thinking that the curler might BURNT my hair or BURNT her sofa or things.

Noooooooo! the factory behind my house short circuit! and it is a BATTERY factory!!
The smell got so strong! Then we heard a few fire engines coming...

The scariest thing is they don't really know when is the smell coming from, and the fire fighter ran up and down the building, shouting here and there! It is kinda dangerous as it might lead to big explosion. AND IF there is really an explosion, I'm sure I have no place to stay!!
The shouting of the fire fighters make us feel more nervous!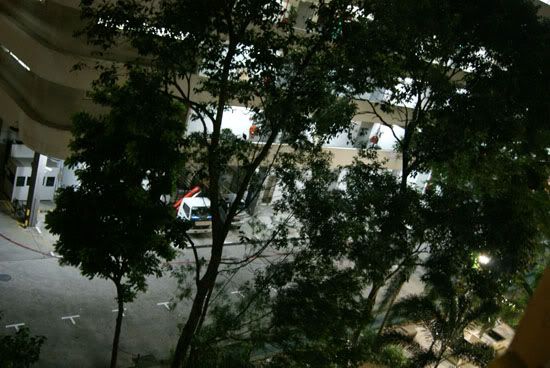 Okay, luckily no explosion!! No idea what they have found out also.
They just stayed behind for nearly 2 hours!!
What a close shave!

With love