Apart of all the good thing, i've to say; I really met lots of strange and weird people nowadays!
Zzzzzzzzzzz
I've no idea why.
Seriously I have not recovered from the backstabbed issue.
Sigh. and I choose to forget about it. Kinda hard, but pondering over it isn't going to make me feel better.
Forget = Forgive?
I have no idea.
Once bitter twice shy; I've know the taste....
But when I wanted to forgive and forget, things got worsen again!
SIGH~~
---------------------------------------------------
04 February 2010 (Thursday)
I lunched out with Serene at bendemeer and went for casting.
The weather is extremely hot!!!
Thanks Serene for introducing me to
Ribena Advertisement Casting
.
Luckily I know where is the place. HAHA!
The casting is fun; and I got really nervous and afraid of reciting those words.
Alright, but i love the experience :)
I am not the one that can speak fluently in front of camera.
I stammered and forget lyric most of the time!
HAHA!
---------------------------------------------------
05 February 2010 (Friday)
A farewell party for jacky
. He is leaving singapore for shenzhen to start his new career.
I have know him for 1 years plus. I am happy that he found the job that he always want to get.
Irene left her van with me and asked me to drive to vivo to meet them as they are having some meeting over there.
I got really shocked when she asked me to!!! Pardon, I have not drive her van before!
Moreover it is an auto car!!!!!!!!!!!!!!!!!
And Peak Period!!!
I think I am good at remembering the road.
I actually know how to go to vivo from my office!! *PROUD*
I wanted to give it a try! But i realised...I am the only one who know how to drive among the other 3 (1 malaysian, 1 china, 1 singaporean (jacky's gf whom he said that she won't know)).
HOW AM I GOING TO GO TO VIVO SAFETY!!!!!!
So i decided to call my cousin, jackson! HAHAHAH!
I told him what had happened and he immediately agreed to fetch us there even though he has an appointment at 07.30pm!
WOOOHOO!
Worst of all, he don't know the way to vivo, but i know! LOL!
So i have to like... turn here.. turn there! Oh! turn wrong.. U turn!
HAHAHAHAHAHA!
Sam was saying "1 knows how to drive and know the place but don't dare to drive. the other one knows how to drive but don't know the place! WAH! I need to sit properly!"
THAT'S TRUE
With his help, we finally got to vivo safety :)
We had our dinner at
Soup Restaurant
I would name that as "High Class Zhi Char"
HAHAHA!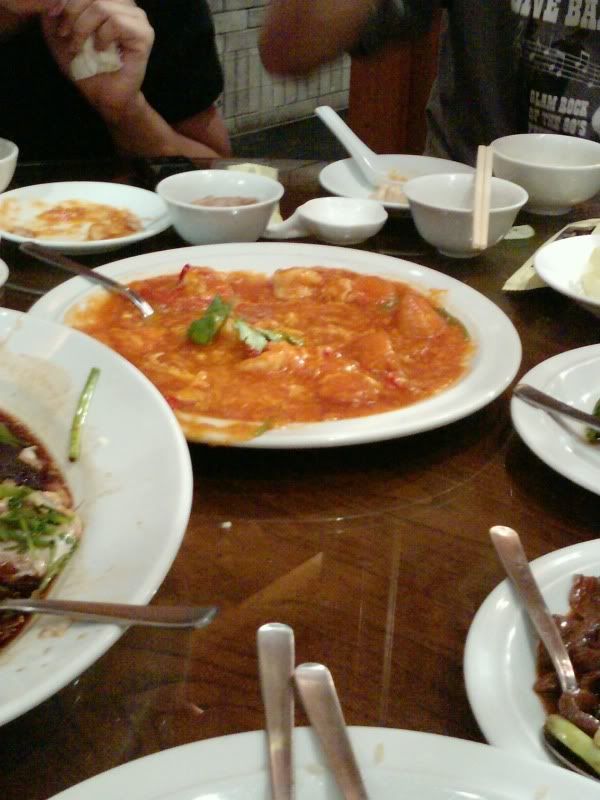 Their fried rice is really really really really nice!
I thnk I had about 3 -4 bowls of that. HEEHEE!
And THIS!!!
This is really nice too! You have to wrap this chicken with the lettuces and also with their specially made sauce!!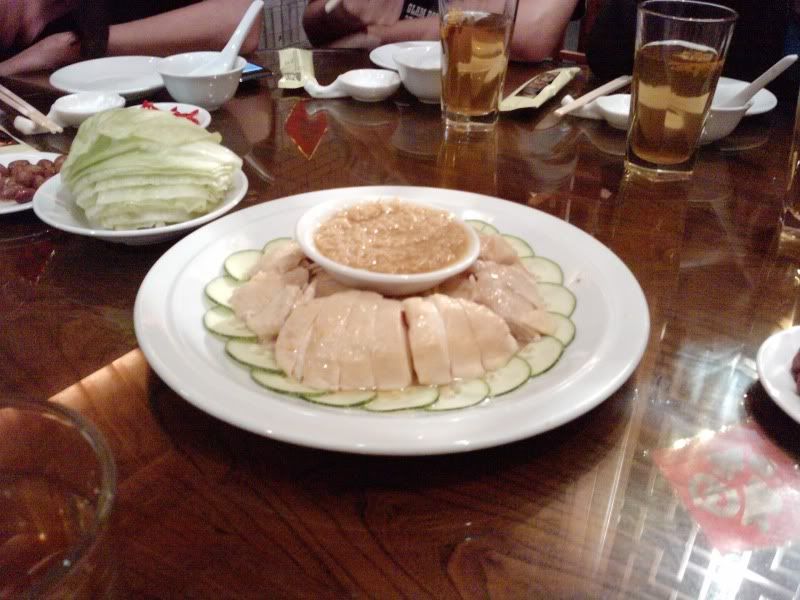 *
After dinner, we went to partyworld at Shenton way.
It took us a little while to warm up! It become pretty wild after a while.
Tiffany and Cat began to "high" the atmosphere. This is my first time getting so wild in a ktv room! LOL!
Getting sore throat because of all the shouting and cheering! hahaha
Overall, is really fun :)
Have to rack brain to sing all the fast song instead of emo songs. As you see, farewell, sad and emo songs will make people cry.
As for me, it is god damn hard for me to sing fast and happy songs!
End up singing... 第一天, 精武门,五月天's fast song!! And we sang 朋友 to jacky :)
Well Well Well,
we shall wish him all the best for his future and his career
:D
---------------------------------------------------
06 February 2010 (Saturday)
No more camping for this week :(
Have to wait till CNY over
Another shopping spree for both of us! I'm
incredibly tired
due to just a few hours of sleep!
I think I am getting lazier!!! We went to Far East Plaza; but there is
NOTHING
caught my eyes!
It is really lazy to squeeze into the crowds/the shop and start to flip those the clothings one by one from the rack.
If there is something caught my eye, I wouldn't mind. But apparently, there is just nothing!
Sigh! How pathetic it is to walk out of Far East Plaza with... haha. at least a tanktop only!
HAHAHA!
Usually I spend 3 to 4 hours walking Far East Plaza and now I can finished walking in 2 hours time! COOL!
I think I am getting more online; online clothing are prettier than Boutique. :P
---------------------------------------------------
07 February 2010 (Sunday)

Tiring Saturday and Sunday!! Not sure why I am so tired. Look really cui and trained all the way to tampines to meet my family. Have to go as i am getting dslr! If i didnt go, my dslr has to postpone again!! =\
I was caught by this guy at the tampines mrt and he asked me for number!!
At first I thought that he is promoting some stuff for me.
We stopped at the middle of the crowd and he asked to say something really funny.
I would see his trembling cheek!
He is trembling!!
I looked at him "yes? yes?" and he continued to tremble and tremble with his mouth opened.
I swear I didn't laugh at him!!!
I was so puzzled about what he is going to ask me!! After "yes?" for a few times, words finally came out from his mouth.
PHEW!
I almost ran away if he did not open his month and talk!
He made a self introduce and he told me he is going for a reunion dinner.
And i told him I am going to meet my family...
And he started to open his mouth and nothing came out! In the end he said, actually I would like to know you... but.... ...
And i continue to yes?
And he replied "you are rushing right? I think is ok...sorry sorry..."
I really did not laugh at him, I am not making any mean remarks by "yes"ing. I think it is pretty awkward if someone were to stuck in between their words. And you know they want to ask you something. But they can't seems to say it out and you will start to puzzle and wish to know what they wants to say.
Anyway, a awkward experience!
Finally I bought my DSLR!!
(Corrected: my family bought it for me as birthday present!!)
And also I have to top up some la... :P
My Chio-ness DSLR! Actually I am a super beginner, kinda hard for me to find a suitable DSLR.
But luckily, Sony Alpha 230 is very friendly use. I am still not that pro and into those complicated DSLR. Simple and Friendly one should be enough. And also for the attractive price and the add on products that is included :)
*
Photo taken using my DSLR
Aden's 写真集!
LOL!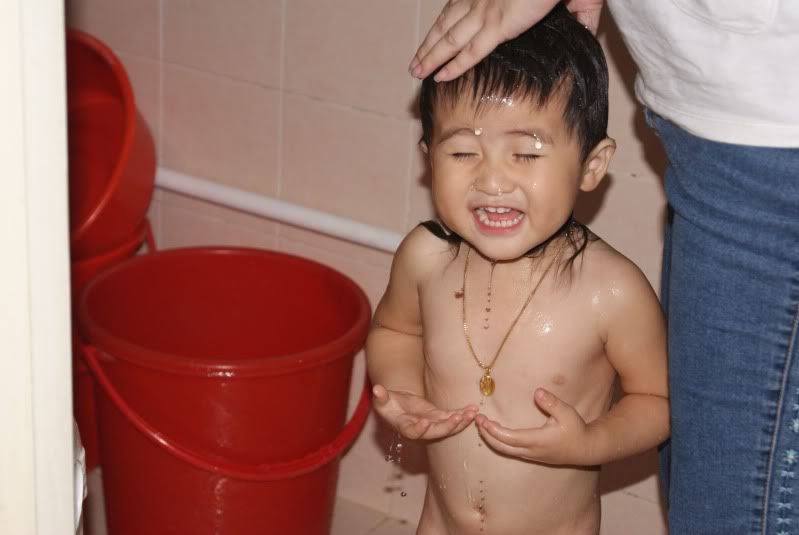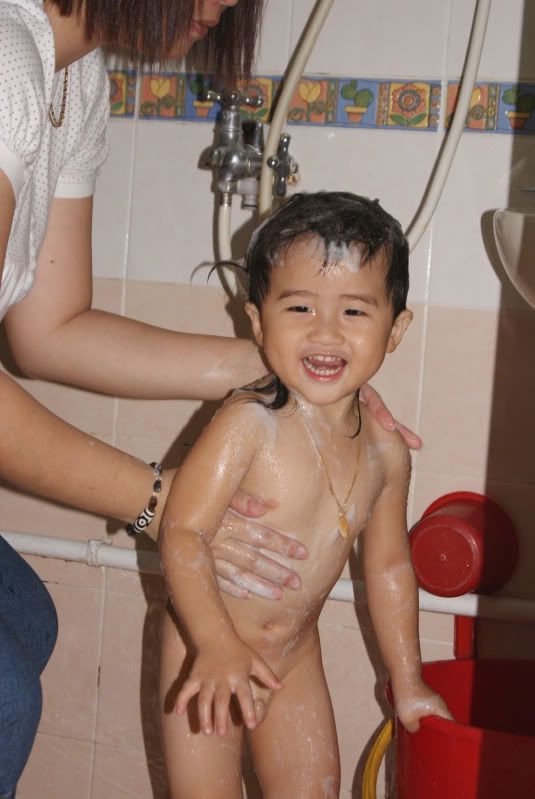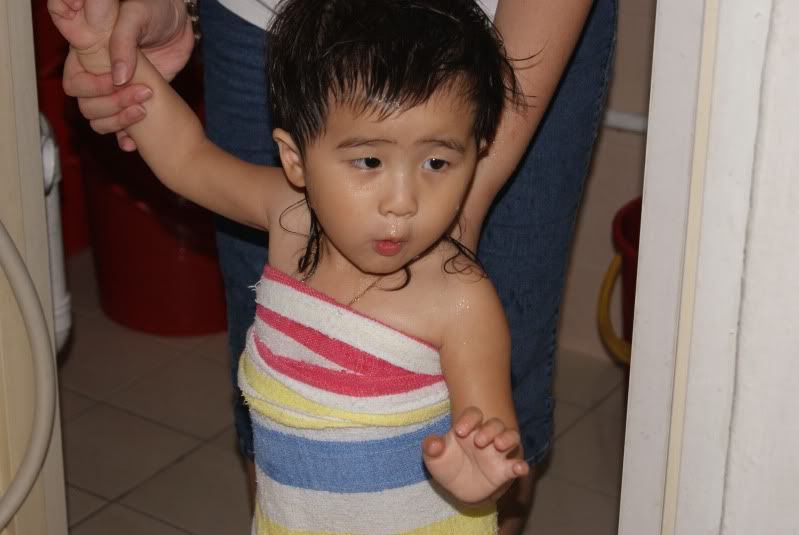 If you wonder why he got this kind of stunt, my mum is holding something to ask him to stop jumping around! LOL!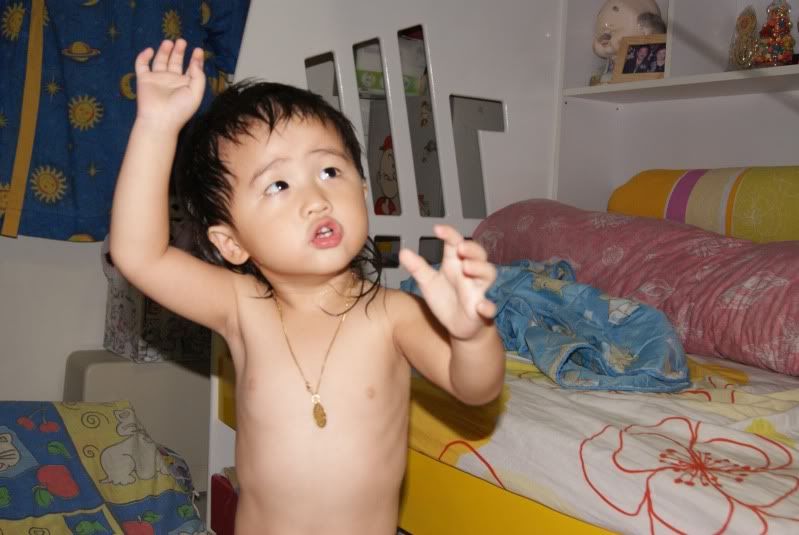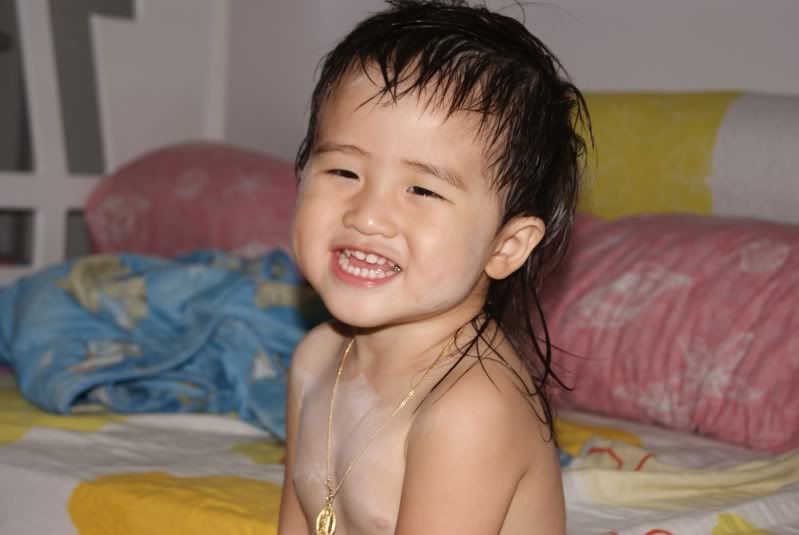 Sometimes I wonder if he is a hyperactive kid =\
With love