Check-in at airport was really a chaos.
3 of my passengers from indonesia
did not turn up
!
This really upset me as their agent told them the wrong timing!
I was so dismayed as I thought It was my mistake.
In the end, it was their agent's fault!
Their agent told them to be in airport on 20 December 11.15pm instead of 19 December 11.15pm.
Sigh
Bad Sign; Totally ruined the mood of the tour as I am afraid that there are more things cropped up :(
------------------------------------------------------------------
20 December 2009 - Day 1

Touched Taiwan at around 6am to 7am.
It is freaking tired!
4 hours plus of flight.
Can't even sleep well though I am in business class.
4 hours!?!?
How to sleep?
Sleep halfway; air stewardess served meal to you.
So I watched a movie called "Funny People"
It is a comedy movie; but it doesn't make me laugh at all.
=.=
Lots of obscene scenes.
I guess it is a man's movie instead.
And it made me fall asleep for awhile..
and.... TADAA!
We have reached Taiwan.
Totally wtf!
Don't even have enough rest =\
One of my passenger got fever and stuck in the immigration.
Poor girl had to take injection to see if she is diagnosed with H1N1
Then straight away, we went to
Window on China (Doraemon)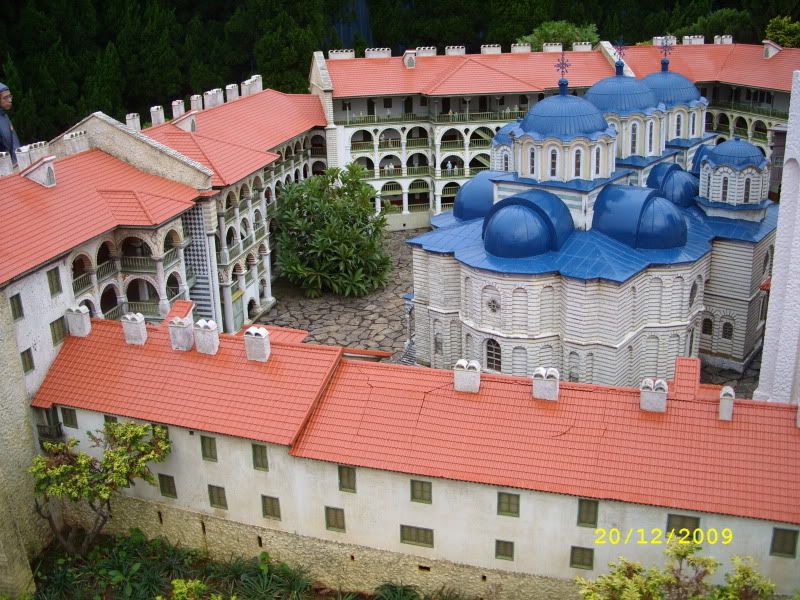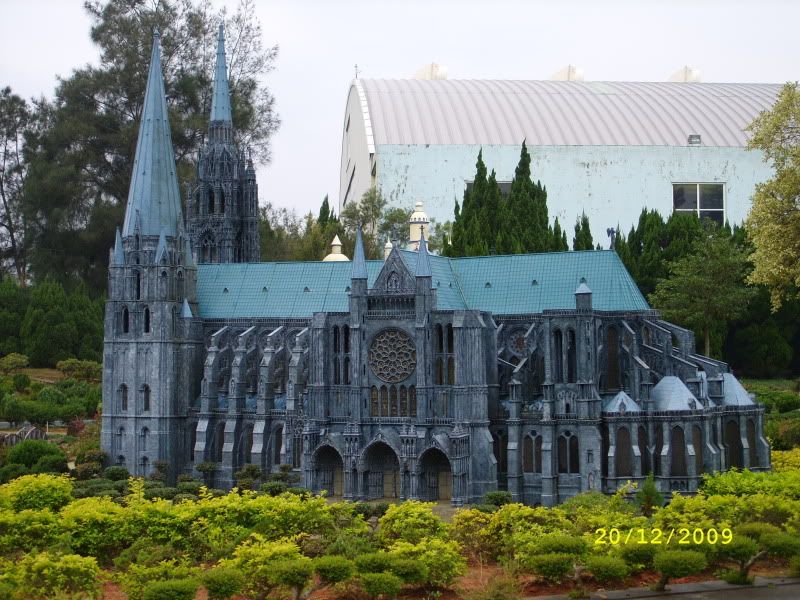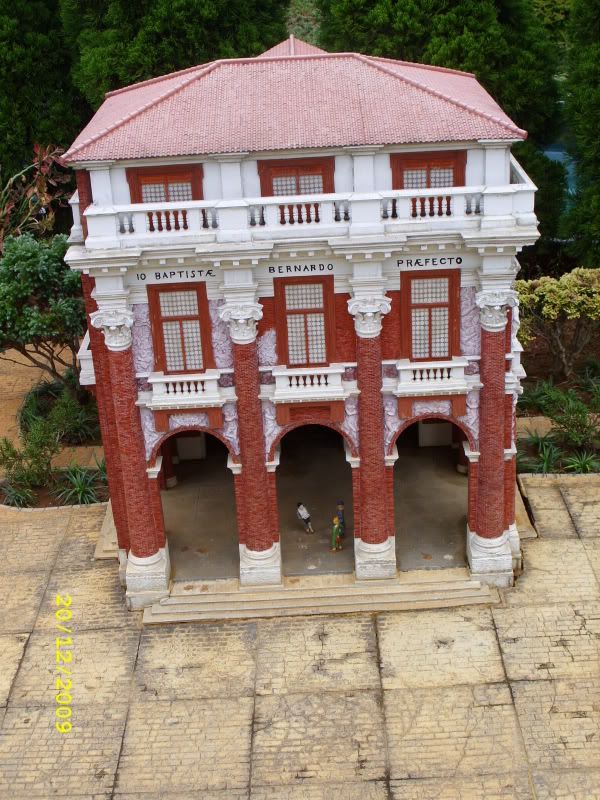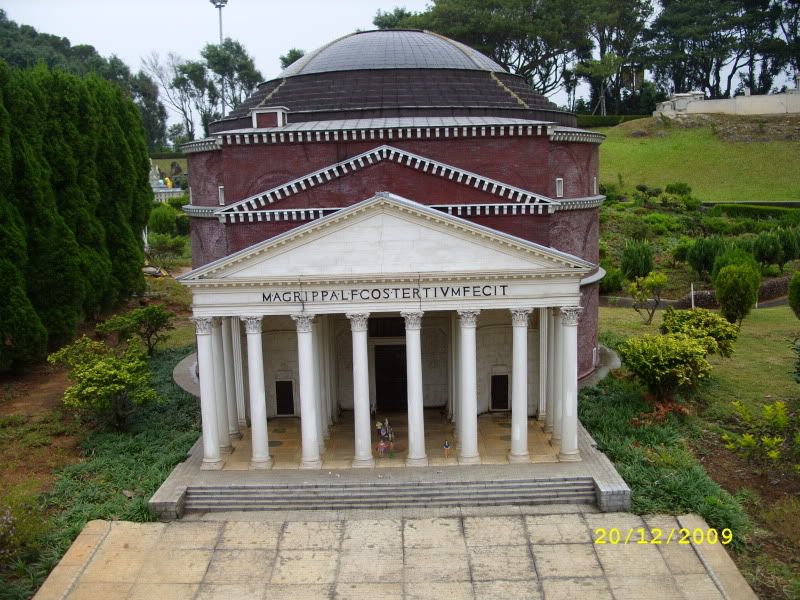 It is impossible to ask passenger to take picture for me.
So I have to resort in this way.
HAHAHA!
*
After that, I managed to meet suhui and we went to take the little train to see Doraemon :)
She is the fan of doreamon!!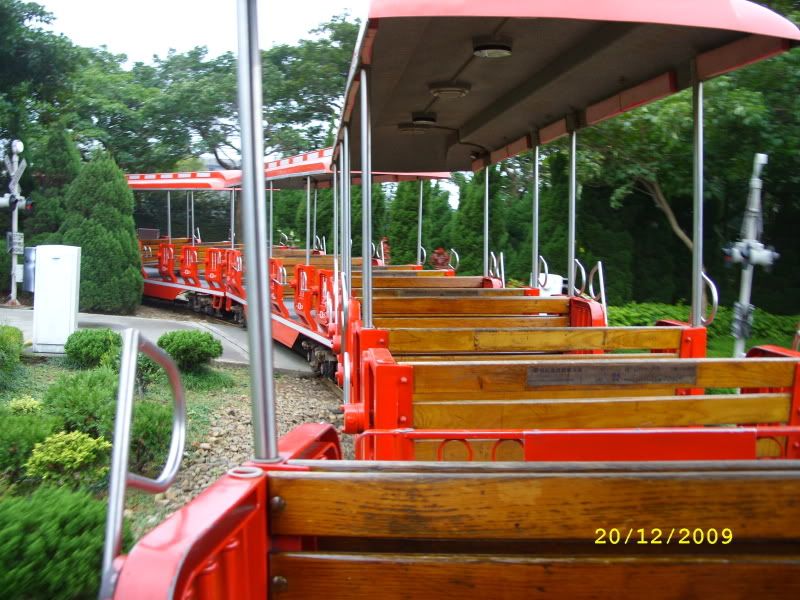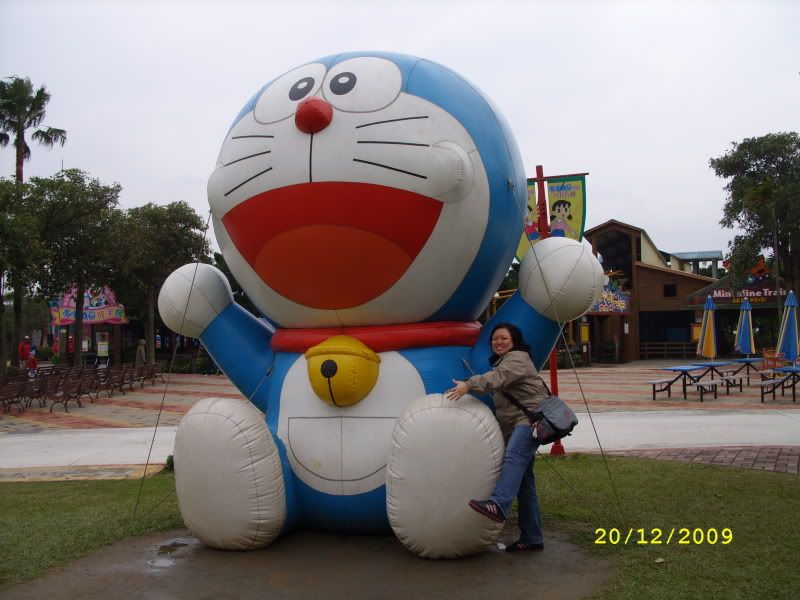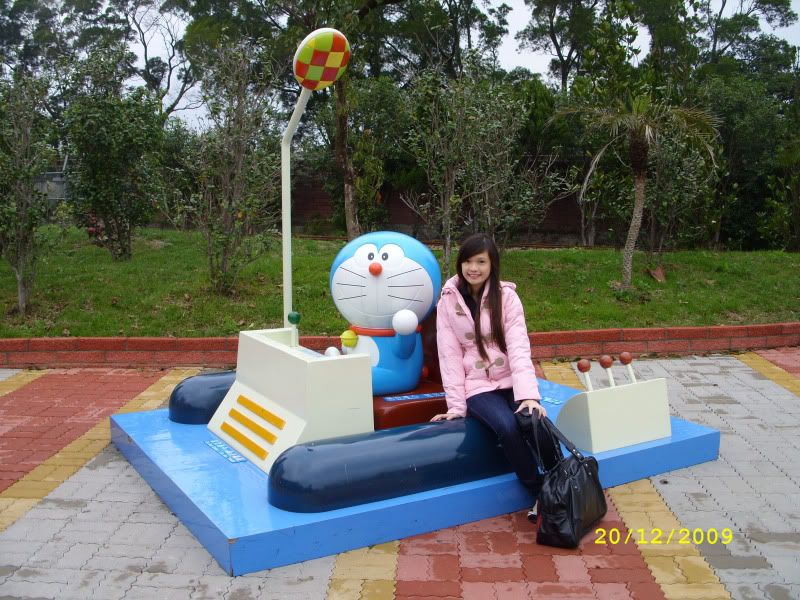 *
Taiwan Storyland
She is xiang jie's daughter.
Just nice she is there to help her mum; so xiang jie brought her around :D
She accompanied me throughout Taiwan Storyland.
Really a 好奇宝宝!
Oldies Street...
I think this is still around this singapore; maybe in some lao kok kok hawker centre?
Dental Clinic
wonder how they rode this in the past; it seems so unstable to me.
hahaha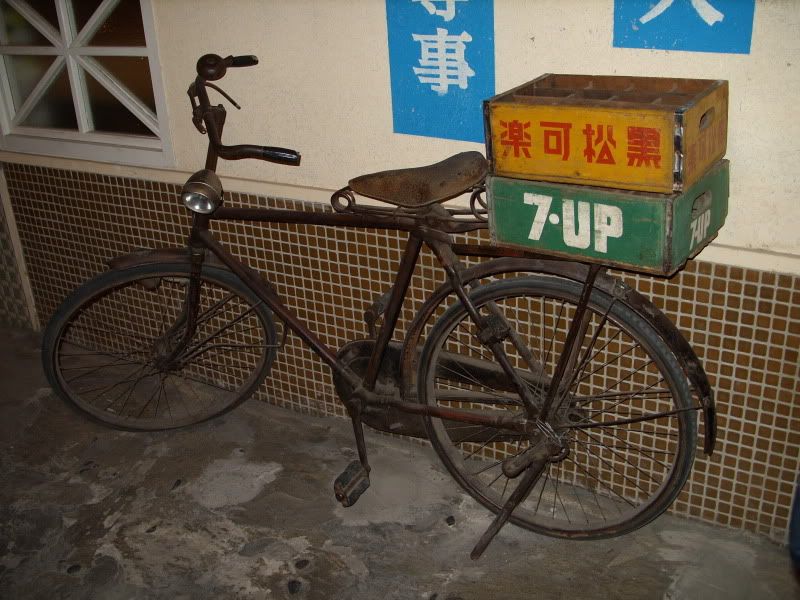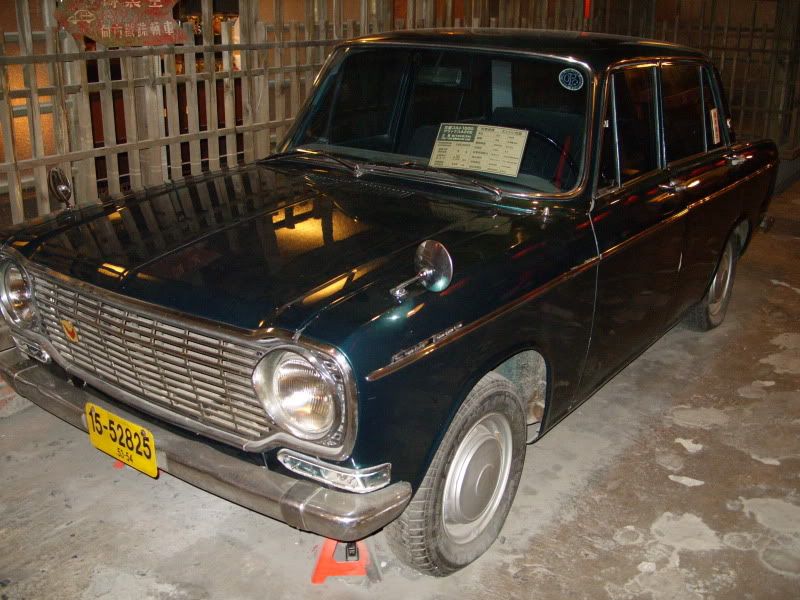 *

Taipei 101
*
Xi Men Ting
Managed to meet up with our another staff - Sharon.
Shop and eat around at Xi Men Ting :D
I have no choice but to buy gloves and also legging.
The weather dropped to almost
11 degrees
and it is freaking cold!
Sadly, I did not prepare any winter clothes!
Everyone thought that it will be air-conditioned weather in Taiwan.
But sadly 寒流 came to find us :(
Despite of the cold weather, we still went to eat 雪花冰!
How can I forget about this!!!
Then, they went to eat 臭豆腐 which they said that it is not that smelly!
I think it is super smelly lar!
But they wanted me to try; took a small bit and I almost puked!
TERRIBLE MAN!!
Though the 臭 is not that smelly as compared to Hong Kong's,
it is still.....
臭
de lor!!!
*
What a physcially and mentally tortured on the first day.
I believe my passengers feel the same too.
Everyone was like a zombie.
Too tired already :P

------------------------------------------------------------------

21 December 2009 - Day 2
The weather is too cold until I wear...
Jeans with a legging inside.
2 shirts with 1 jacket and 1 winter jacket
WHICH MEANS!!
2 pants, 2 shirts, 2 jacket!!!
This is the result of not preparing winter wear :(
*
I almost couldn't make it - I mean I am just too tired!
The minutes I boarded the bus, I slept all the way till the destination.
I know it is rather rude when xiang jie is doing her talking.
But I just can't help but to doze off!
I think the most 丢脸 thing I did was while we are taking the train to Hualien.
The train suddenly stopped and I thought we have reached.
But the train moved super slowly till I dozed off again!
Damn it!
Guess what?
Xiang jie called me and I think I am still sleeping until one of my passenger tapped my shoulder.
SHIT!
I feel like hiding in a blanket that moment.
FUCK!
I kept asking myself "AM I THAT TIRED!?!?!?!?!?!"
I am really able to fall asleep incredible fast!
TSK!
Wulai
Beautiful Scenery with Fresh Air :D
Wu Lai Old Street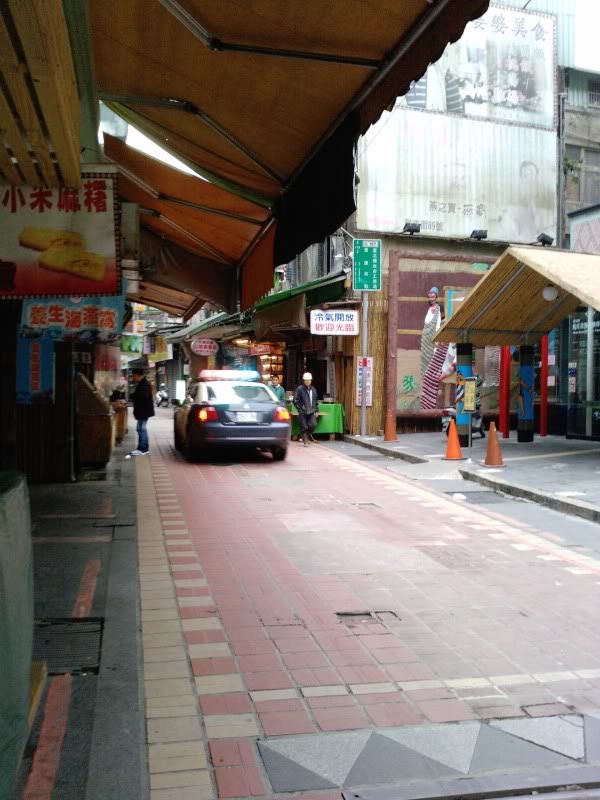 Wu Lai Sausage
I kept telling my passengers that this is nice :D
In the end, we ended up sharing the Sausage.
As in, I think it cost 3 for 50NT (If Im not wrong)
*
National Centre of Traditional Arts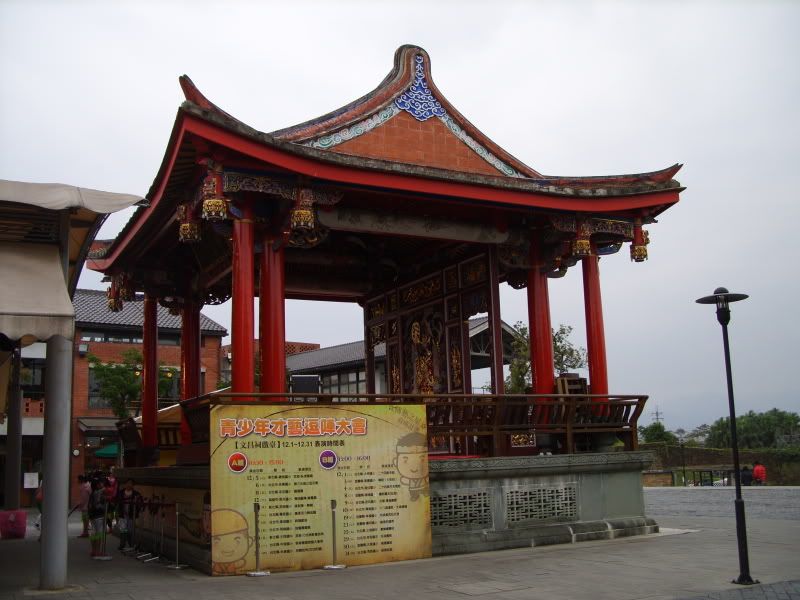 This is made from Charcoal!!
Performance by them
Don't be naive; this is a fake one.
hahahah!
Look tasty right :D
Forget to say; the weather there is super cold!
Cold with wind!
Freezed me!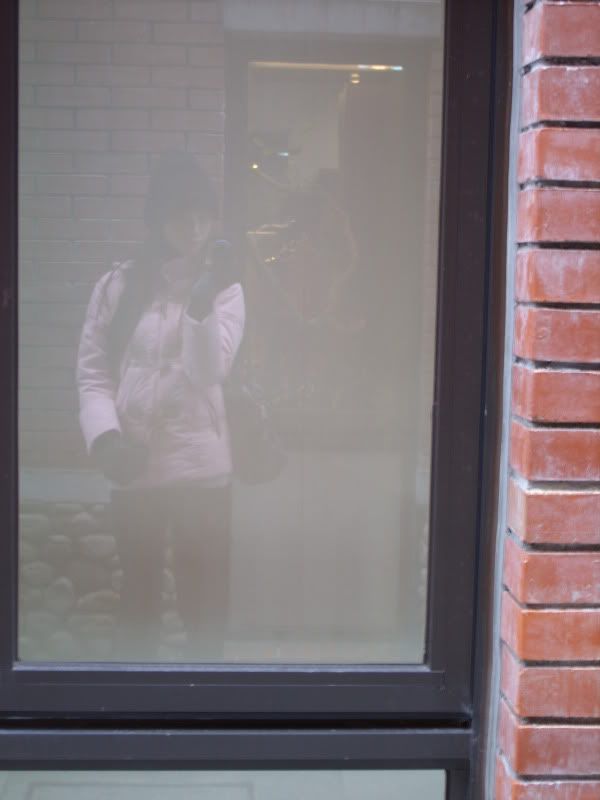 ------------------------------------------------------------------

22 December 2009 - Day 3
Remember the 3 indonesian passengers that missed their flight?
I'm glad they have joined us; they took jetstar here.
And it has proven that it is not my mistake but their own agent mistake.
I waited for them in my hotel room yesterday till almost 1am.
I was so worried as they had to take transport on their own.
From Taipei - Hualien and then to the hotel.
The journey took them almost 5 hours to reach hotel.

But I'm glad they are here with us :)
*
Beautiful view from Hualien Park View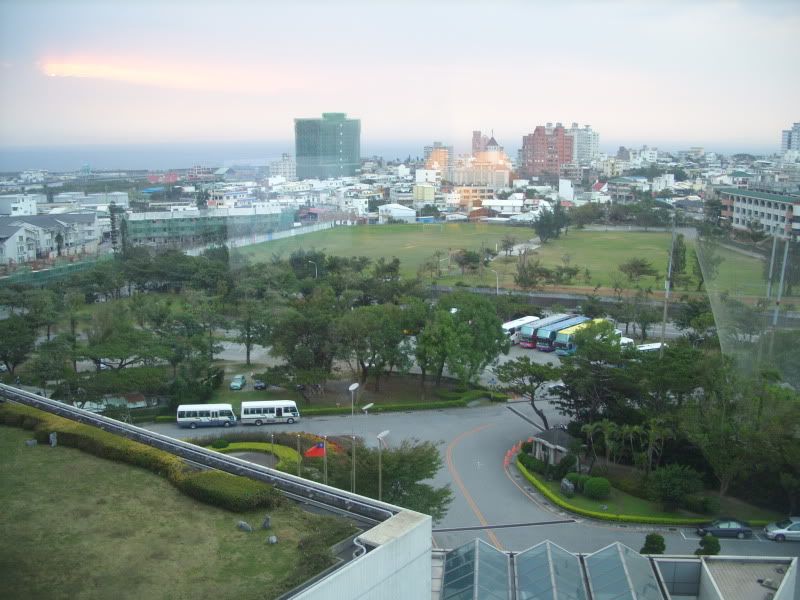 This is my first time seeing sunrise. *LOL*
Look at the sky; you might think is around 7am to 8am plus right.
It is actually 6am plus only.
Hualien - The place which have earthquake a few days back before we came.
Heard that it was a 6.8 earthquake!
But luckily when we came, nothing happened to us :)
*
Taroko Gorge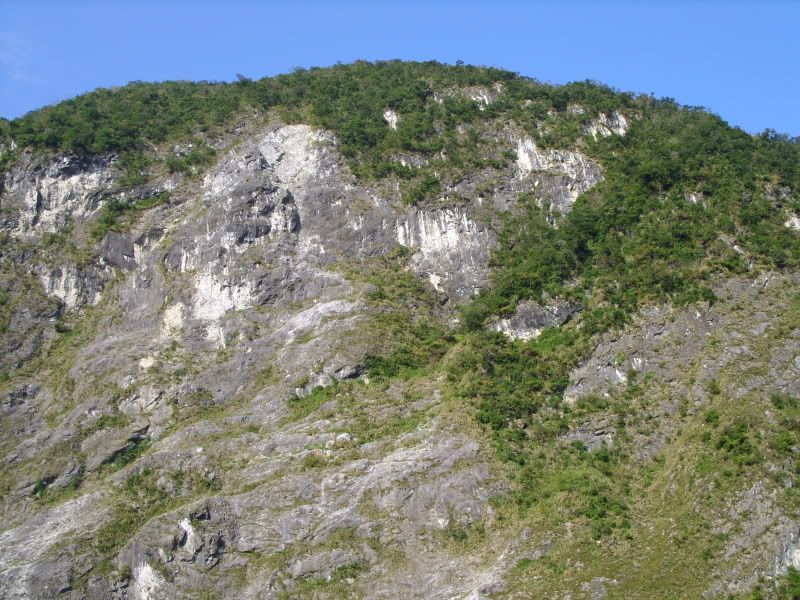 *
Chi Shing Lake
*
We stayed at
Chihpen Toyugi Hotspring Resort
.
It is really a petty that we did not go for a hotspring.
I feel like going; but on the other half, I feel that it will be totally awkward if passengers and I were in the same hotspring.
Such a cold weather, soaking yourself in a hot spring.
Piangs!
It must be
super shiok
!!!
*
You know, the most interesting thing is to shop at their 7-11 store.
I am not kidding!!!
It took me ages to think of what to drink; as they came in too many variety.
------------------------------------------------------------------
Kaoxiong was better; as in not that cold.
But still I continue with my 2 pants. LOL!
The amount of staircase we have to climb is really terrible.
But I love the view there :)
*
Dream Shopping Mall
Another shopping mall that I wouldn't spend my time walking.
Because it is incredible boring to me!
Big enough to make you lose your way.
I was sitting at the concierge to wait for my customer to come.
------------------------------------------------------------------
24 December 2009 - Day 5
Today we went to
九族文化村
theme park.
Watched their 阿美族 Performance.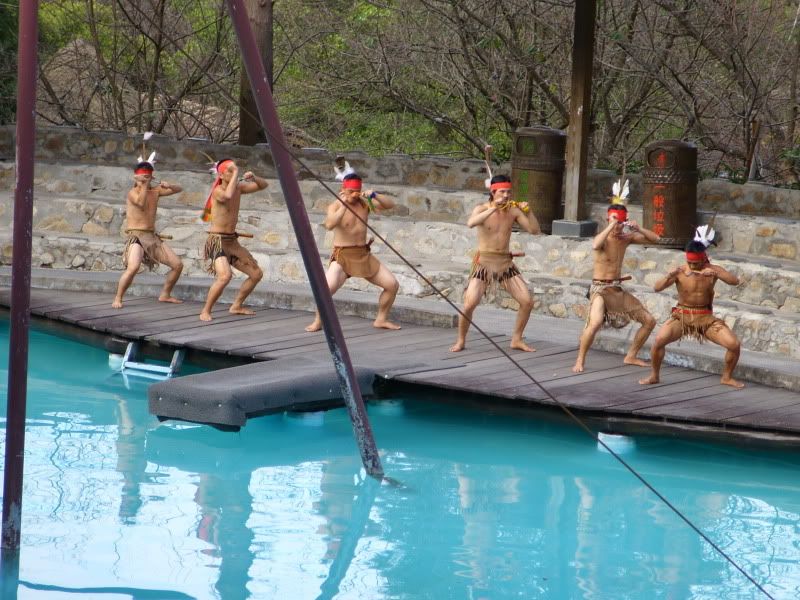 Then followed by theme park.
My group, youngsters invited me to play with them.
Theme Park ride.
I am totally
ON
with it!
So I followed them to the first game.
I don't even know what they played and they told me it is a roller coaster.
I don't even see how the roller coaster look like and I followed them up!
It is something like this
I was seating with Magdalene and she said me "Will you scream?"
I replied " Of cause i will"
HAHAHA!
All I know is, I screamed for the whole journey and my head were like being thrown left and right, eyes barely able to open!!
After the ride, Magdalene started to laugh at me real hard.
She told me "Katty, 你真的是破坏你的形象!! "and continued to laugh!
:(
I kept telling them "I am here to tour leadering one, Why am i being dragged to play this with you all!!"
And every ride I played, they laughed at my screaming.
I am their entertainer of the day :)
HAHAHA!
*
Wen Wu Temple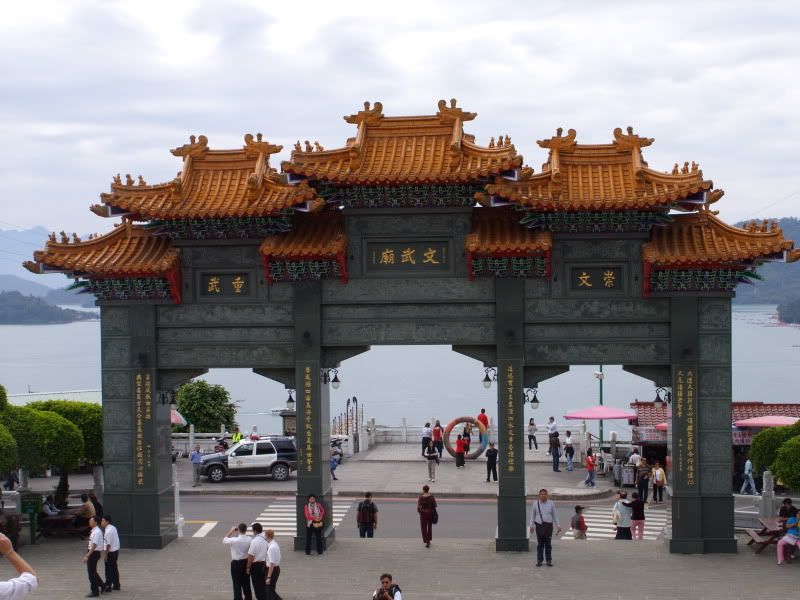 *
I had 3 passengers whose birthday are on 24,25,26 December.
Coincidence right.
Really thanks xiang jie to arrange the birthday cake for them :D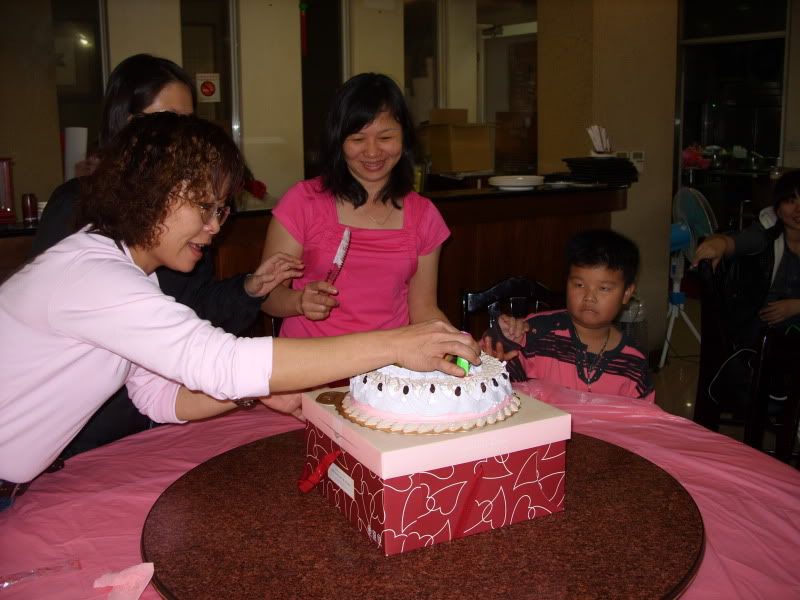 *
Fong Jia Night Market
This is super nice lar!!
It was recommended by 2morrow
Suhui got herself 2 pair of shoes while I got myself 2 bags!
2 bags which cost only 500NT!
And of course little slippers for the youngs.
*
Since it is
christmas eve
, I got a little present for my passenger.
I gave them Candy Cane :)
Xiang jie suddenly told passengers that they have to place a sock outside hotel room tonight as santa claus will place some present inside their sock.
And I am the Santa Claus lor!!!
After finished shopping at Fong Jia Night Market, suhui and I went back to hotel room.
It was already close to 12am.
When I was distributing my candy cane, my passengers one by one came back from their shopping spree!!!!
It took me so hard to finish distributing...
This santa claus is really tough to be :)
But I think it is really heart-warming though it super tired! (I have to run up and down whenever I hear the lift door opened :P)
*
25 December 2009 - Day 6
M
E
R
R
Y
C
H
R
I
S
T
M
A
S
!
!
Totally have no christmas mood in Taiwan except for the cold weather in Taipei.
Just a normal day to me. SIGH!
Today I received two little presents from my passengers.
One of them is a granny and the other is a family of 4.
I am shocked!
Specially the granny; I often hold her up and down from bus and she always said something that she is afraid that she might hurt me or something.
You know, I nearly teared when I received her little present.
It is a keychain; though it is nothing expensive.
I feels really really contented enough.
The family of 4 gave me a 2010 diary.
Both of them gave me their golden word (similar word)
"Work hard and I'll success"
"My future is still bright, all the best in whatever I do"
How touching it can be!
I am already
contented
as a tour leader :)
*
At
Yehliu
This is the granny that bought the keychain for me :)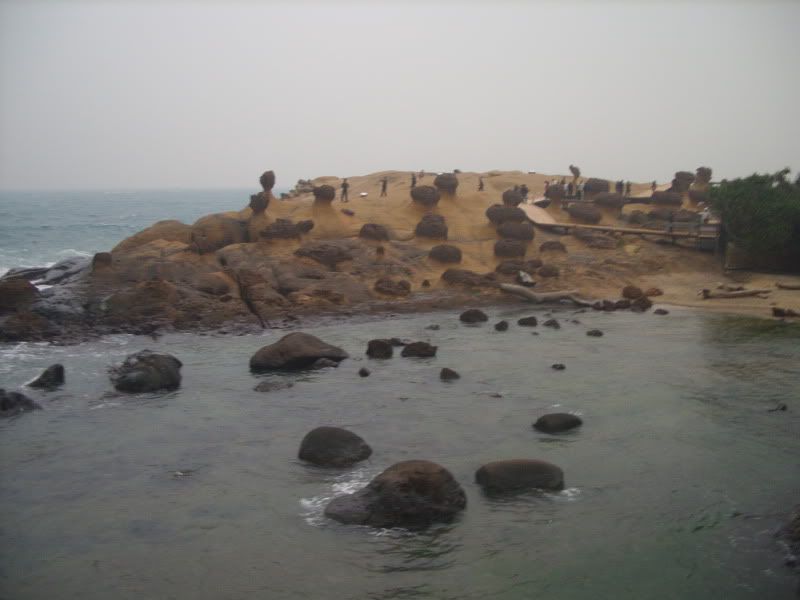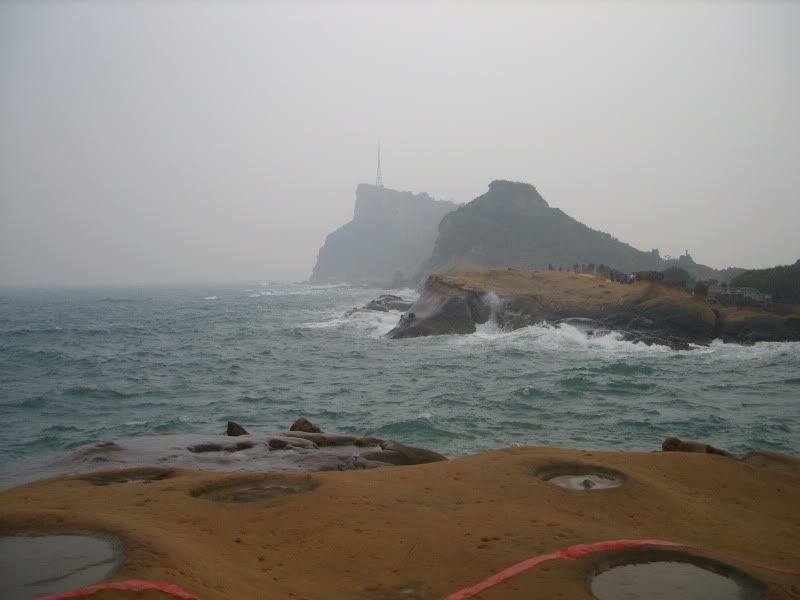 *
At night, I met up with suhui at
Shihlin Night Market
.
Sadly, I did not walk around there as I forgot to bring the christmas exchange present!
Suhui had to accompany me back to hotel.
We met the rest of the girls (our colleagues who happened to be in Taiwan as tour leading) at Xi Men Ting.
Dinner Meal was soooooo sumptuous.
Had Lor Ba Peng with 贡丸汤 and some other 小菜.
After that, tiffany still ON me for 阿宗面線
After dinner, we went back to Rain's Hotel for gift exchange.
*
Su hui and I happened to be in different hotel on that day.
THIS REALLY FEARED ME!!
WHICH MEANS
I will be alone in a hotel room :(
WORST OF ALL, My hotel room is a suite room! (with living room somemore!)
PIANGS!
Immediately I went in, I gave up my living room and went straight into the room
HAHAHAHAHAHA!!!
I even switch on the volume of the Television and went to bathe!
HAHAHAHA!
After that, I even slept with the television on.
------------------------------------------------------------------
26 December 2009 - Day 7
I woke up in the morning by the morning call at 8.45am; then I realised my TV is still on
Refused to switch it off, I went back to sleep again.
HAHA!
Then I suddenly woke up and realised it was 11am!
DAMN IT!
I have to check out by 12pm.
Totally freaked me out; I can't imagine if i overslept...
After checking out, I banged into my two passengers and I bought them to take train with me.
We went into separate away at the train station. (The train station is so far from my hotel!)
Then I went to
台北地下街
to shop alone.
I were so happily shopping with shoes!
Damn! The shoes cost only 200NT (roughly $9-$10 per pair)
In the end, I bought
5 pair of shoes
:)
2 of them are from my mother and sister.
I already stopped refraining myself from buying.
Every shop I went in, I got something out! Super Scary!!
Till now, I still 对 one of the shoes that don't have my size 耿耿于怀 :(
Hopefully there is a similar pair in singapore and hopefully also similar price.
Hehehehe!
I bought quite a number things in less than 3 hours.
2 Tops, 5 pair of shoes, 2 caps, 5 beanies, 2 bags, 1 coin purse.
I think thats all?
Luckily I stopped myself, if not i would have buy even lots of shoes back and forget about my clique's gifts :P
Lazy to take train back; I decided to take cab back.
HAHA!
Then I saw most of my passengers waiting at the lobby.
They still joked with me that they have been waiting for me to bring them out!
Then the youngsters started their photo-taking.
It is then whereby you will see all of them actually quite close to one another.
The group of youngsters :)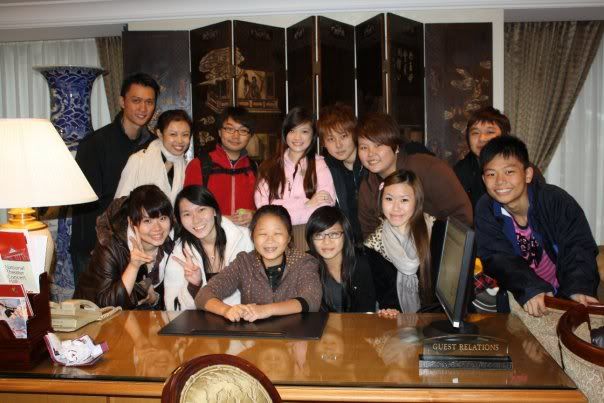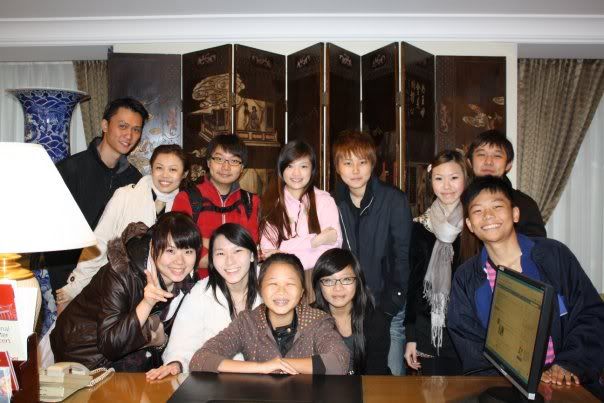 With Elizabeth
With Magdalene
*
Our flight delayed for
1 and a half hour
!
:((((((((((((((((((((
And I don't understand what is China Airlines doing!
I am there; panic to get the seat right for my customers and when we boarded the plane, the plane was quite empty!?!?!?!
Wahlao!!
After all the planning, it become a free seating to all of our passengers!!!!!
Waste of effort man!!
We touched down singapore at around 2.30am!
Super tiring!
My mum and my brother came to fetch me back (:
HOME SWEET HOME!
Home is still the best lar!!!
A piece of note
[I agreed to xiang jie's close ending; all of us, from different countries, different area of singapore joined this tour and then become friends are rather tough. And this is so-called fate. thoughout these 7 days, from a stranger and now friends, are really hard. Though we might not know each other well, it is the fact that fate brought us together to become friends. I am glad to know everyone]
My group of youngsters really cute.
They asked me: "Katty, do you have a sister?"
I told them: "yah, I have. Why??"
Then they started..."wah, she had a sister..."
They asked me: "What is your surname?"
I say "陈 lor. Why?"
They started to get very happy and asked me "is your sister,陈凤玲 aka 陈靓瑄"
I almost fainted
(PS: 以上言论不代表所有人的观点, 所以请不要轰砸我! :P hahahahahahah)
With love