16 January 2010

Out of a sudden, I went to dye my hair.
Not sure WHY i should dye.
I guess I might not notice about the my two colours hair.
Black and the previous...bronze brown?
Anyway, the colour I dyed is pretty...
red
?
But the person told me that the red will slowly fade away :D
I was so puzzled for the hair colours.
If I were to dye back the colours I used to dye, It will be like... nothing much difference.
So we choose a slightly red-er colour.
Well Well Well,
I don't know if it is nice.
But I feel that it seems to be too...red?
But hopefully the colour will fade a bit. HEEHEE!

*
After that, we made our way to Yenyee's birthday chalet at East Coast.
Surprisingly we are quite early cause we took cab! HAHA!
Her mum really knows how to prepare for her.
And she really got
lots of relatives
!
It totally freak us out when we saw the amount of people coming in!
I wonder will that happen to mine's birthday too :X
*
We went off around 10.30plus and went to the beach for a walk. :D

We saw so many stars!!!!!!!!
And he said he wanted to buy a tent to pitch next time!
It's pretty fun I guess :)
Talking under the stars...pretty romantic huh :D

-----------------------------------------------------------

Heygorgeous meeting at Novena Square.
It is quite disappointed as there are only 7 of us came.
(Gary, Ferynn, Serene, Linda, Ron and Christine)
Really thanks christine for the effort for this gathering!
Hopefully the rest won't go MIA again. HEEHEE!

Looking for the next gathering soon~ :D

------------------------------------------------------------
18 January 2010
Happy Birthday to Princess Celest and Yen Yee :D
A small celebration at home for Qi En
Her Swensen Princess Ice-cream Cake
You know, it is always tough to help them to take family photo.
Due to that rascal! HAHA!
He is good at doing stupid faces when people trying to take a photo of him!
The nice one was taken when my sister trying to tickle him.
Nice catch :D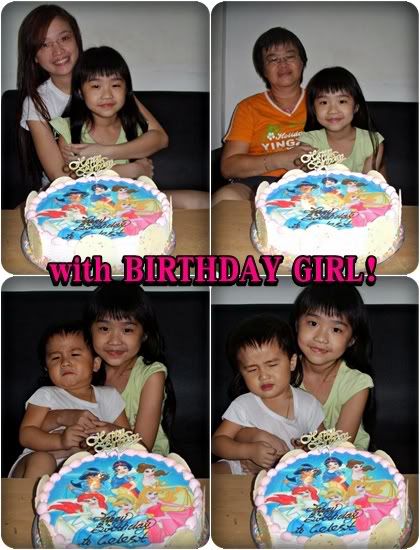 It is quite pathetic when qi en is trying to blow off her candle when this rascal was trying all his ways to blow off the candle before her sis did.
Luckily, we managed to get a hold of him.
And her poor sister had to make a hurry wishing and hurry blowing candles.
This video explains everything :D
-----------------------------------------------------------
The other day, my mum and sis brought him for a hair cut.
The only salon that he will go!
And they took these picture which I think it is kinda funny!
My mum told me that he told the auntie
"不要剪我的耳朵! "
But the auntie couldn't catch what he said and when my mum told her about it.
She kept laughing at the way this little boy is thinking!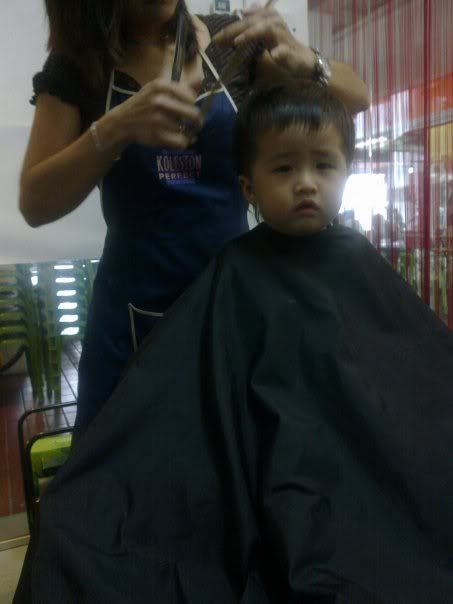 Oh Ya! He called this auntie as "Swee Char Bo" all the times!
It is because his daddy always ask him "Wah, you let swee char bo cut your hair huh..."
The only salon he went you see...
And I think in his little mindset, "Swee Char Bo" become this auntie name!
HAHA!
TaDa!! The new hairstyle!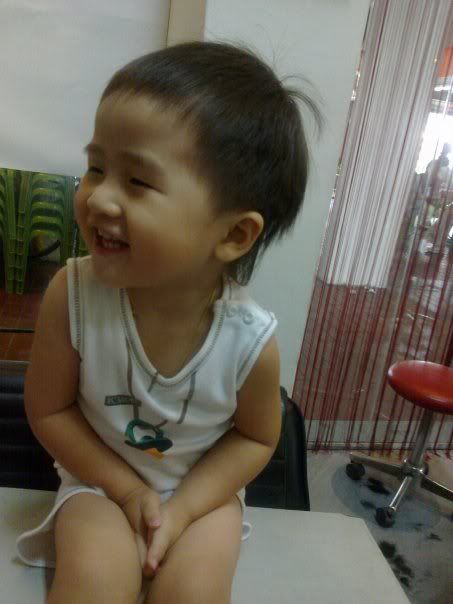 Look at his back :D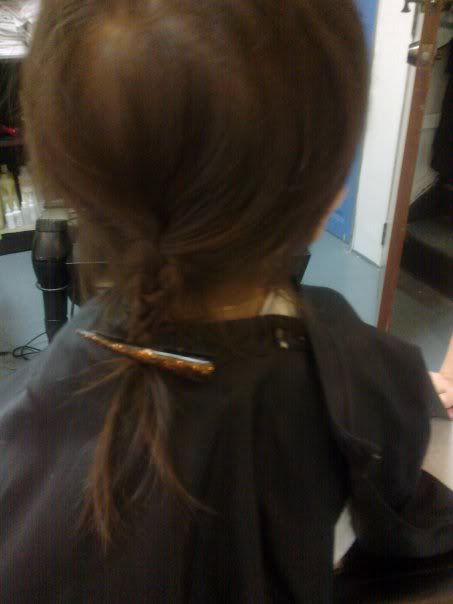 The auntie plaited for him.
CHIO HOR!
And when he came back, I kept asking him...
Who cut your hair??
And this is his reply :X
YOU ARE RIGHT
, the Swee Char Bo!!
-----------------------------------------------------------
Oh ya. did I mention that Mr Chang got his driving license???
Cool right!
He got the same point as me :D
But still, I need to hao lian to him that I pass first and first timer!
HAHAHAHA!
Cause he looked down on me!!
Anyway, this week is kinda xiong for him!
Mandai Training on Monday till very late.
The very next time, he had to prepare for a 4 Days 3 Nights Tekong Camp (Which Sam told me that it is damn xiong)
Friday, he is having guard duty!
FHL!!
How pathetic his life can be!!!
And
FML
How pathetic my life can be!!
-----------------------------------------------------------
I'll be sending out my birthday invitation through SMS, MSN and Facebook :X
Hope those people that I invite will go.
Maybe I should say, Hope there are people going.
HAHAHA!
I know it is hard, cause it was STILL on new year period!
DAMN IT!
*
Guess what I am soOooooOoooOoooOoo Tempted to go Festive Hotel and Hard Rock Cafe.
It is damn beautiful can!!!
GOSH!
I am darn unlucky that I missed the promotion period!!!!!!!!
I heard from my colleague the promotion price was only $200!
I guess that promotion price has ended too!
=(
As for the universal Studio, I shall wait first. :X
With love