December 11 - December 13
I've back from my Lovely Bintan ♥
Everything were fine :)
First day.
I did not know that the ferry terminal was at Tanah Merah; all along I
was thinking that it was at Harbourfront.
I was totally

freaked out

at the last minutes knowing that it was at Tanah Merah.
I can't imagine what if we went to harboufront instead.
Anyway, we managed to find Tanah Merah Ferry Terminal.
Settle down everything and tadah!
Take picture! :P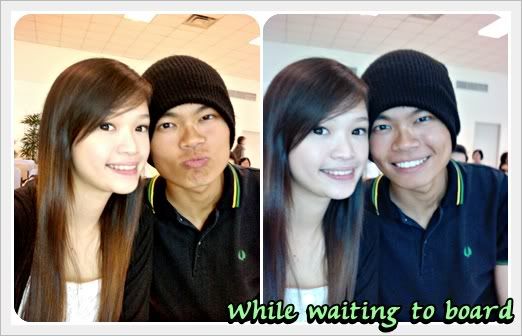 We managed to get a window seat!
HAHA!
But super sway, the sun was scorching!
Who says window seat is the best.
TSK!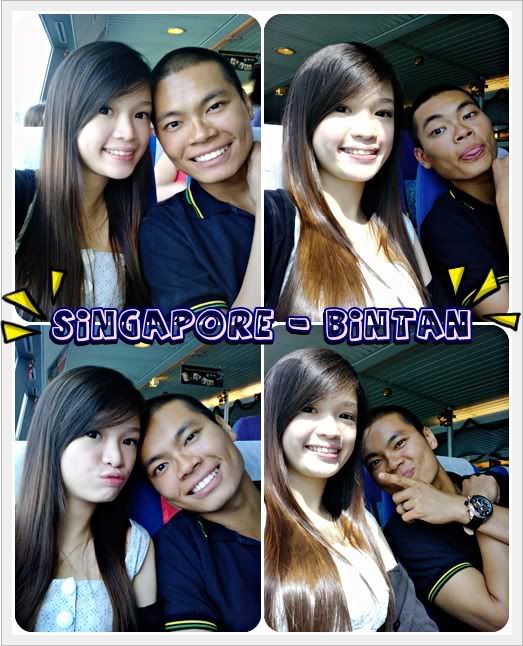 Did a cam-whore when he is snoring away!!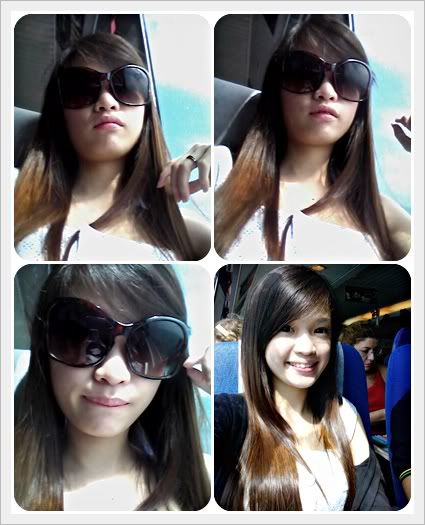 Bintan was about
55
minutes away from Singapore.
The waves were very big when we were about to reach there.
I guess that is because of the monsoon period?
HELLO BINTAN!
Their custom was quite slow compared to Singapore
And mind you.
Those people in uniform are fierce enough that they will shout at you if you failed to do the right procedure.
But baby said those Indonesian girl's uniform look nice.
*TMD*
He got different taste now!
It took us less than 15 minutes to reach our Resorts.
We are staying at
Nirwana Beach Resort
We got a little bit stunned when we are so welcomed by them.
They even did their traditional dance :)
We feel like a king and a queen :P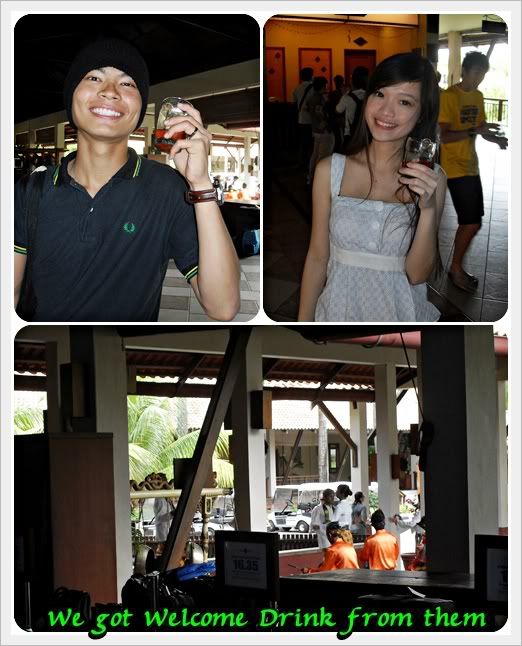 Our Room No.
3229
Nice number right!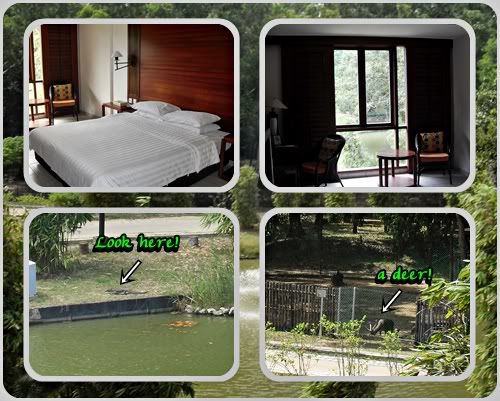 We are not facing the pool; but it seems that we are facing a ZOO!!
That's because we saw lots of different kind of animals right opposite our room.
Nature Love!
After settled down, we went to the first destination.
Pasar Oleh Oleh!
There was a shuttle bus that came every 30 minutes to fetch us there.
It was a mini van; Humid mini van.
It took us about 20 minutes to reach there.
I think we made a wrong move by coming in the afternoon.
It was so freaking hot!!
We were like some hungry man looking for food.
And managed to find Helo Helo Cafe that sells reasonable price lunch :)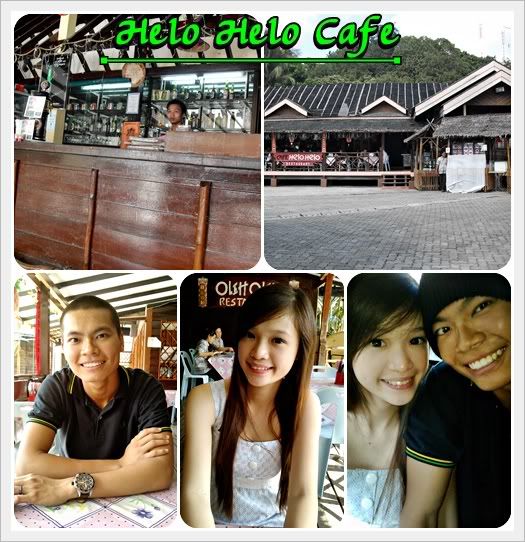 Our lunch :)
Mine taste really great; but his... he says is sucks.
HAHA!
But I like my mee goreng :)
Here is HIM
After that, we went to walk around the place called
Kampong Lagoi
.
There is nothing to walk actually.
We came across this car here.
The first thing in my mind is Zhou Jie Lun. haha
Since there is no one, we quickly take a photo of it.
Then I realised there is this man walking towards us.
I thought this car belongs to him.
Then he offered to help us take photo.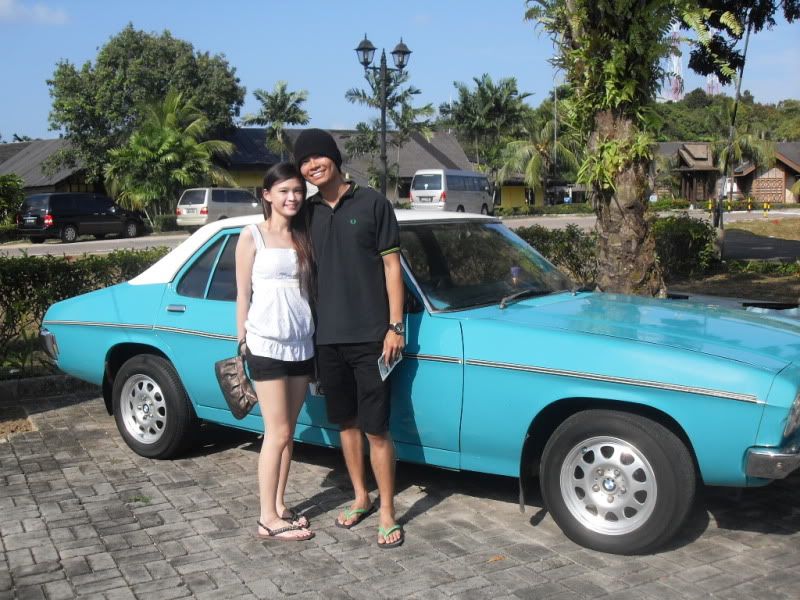 He is actually a taxi driver, wanted to bring us around to city.
City area cost about $50-$60 bucks!
*
After our lunch, we went back to hotel and start our swimming :)
It was freaking cold.
We did not bring camera along with us so we decided to come again tomorrow :)
*
Dinner time, we went over to
Kelong Restauran
t.
There is this little tiger look alike shuttle bus to fetch us to there.
It was very posh actually.
Totally different from Batam's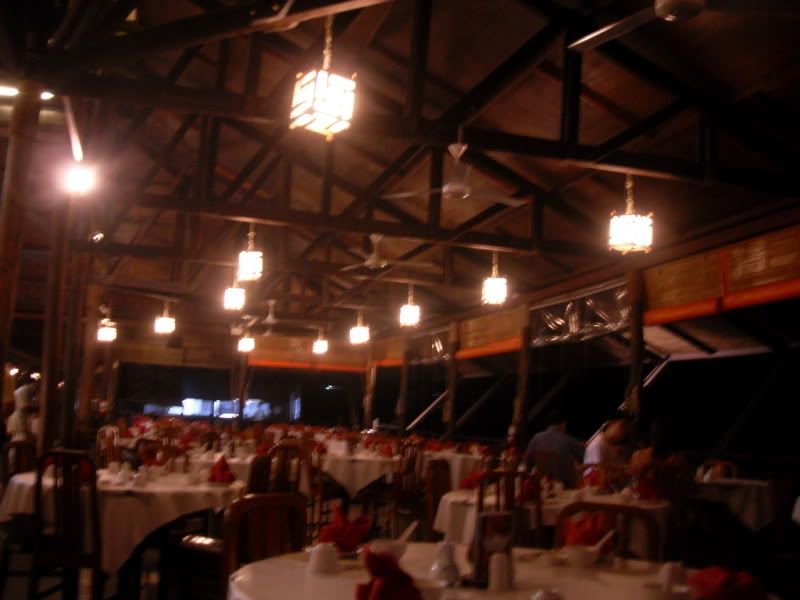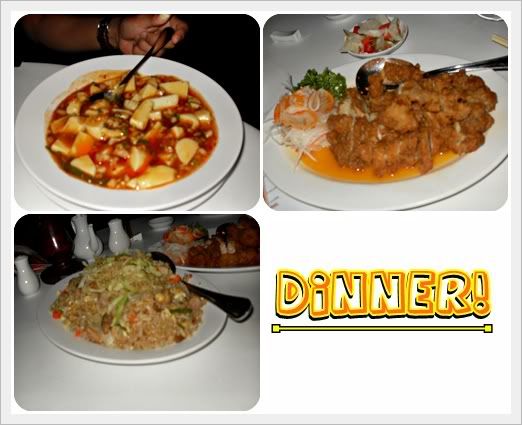 ---------------------------END OF DAY 1---------------------------
Second Day
Our Breakfast, of cause not just these....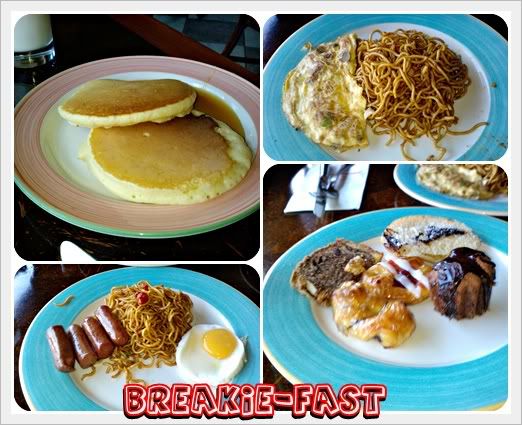 Before we set off to the beach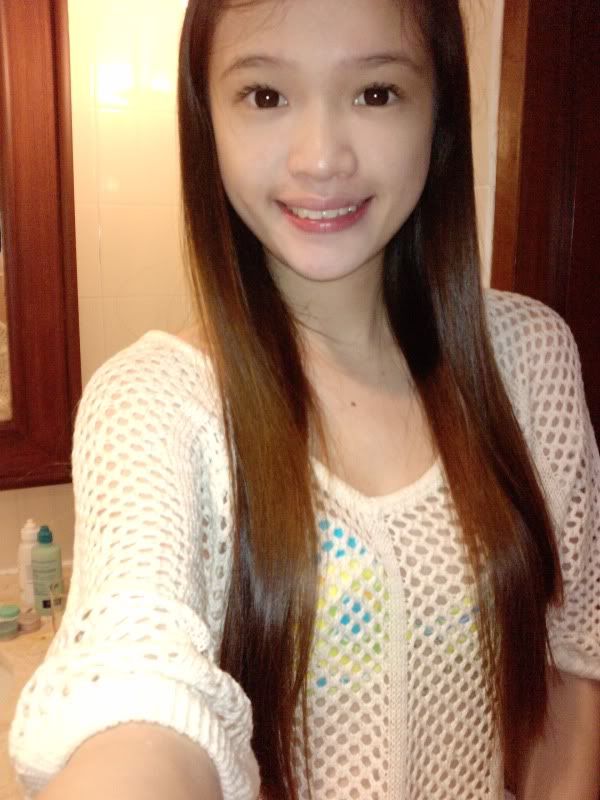 I thought we are able to play frisbee.
But the wind is uncontrollable strong!!
Too strong till my rubber band that I used to tie my hair got throw off :(
I love the beach there.
the cloud.
the peace.
It is really relaxing :)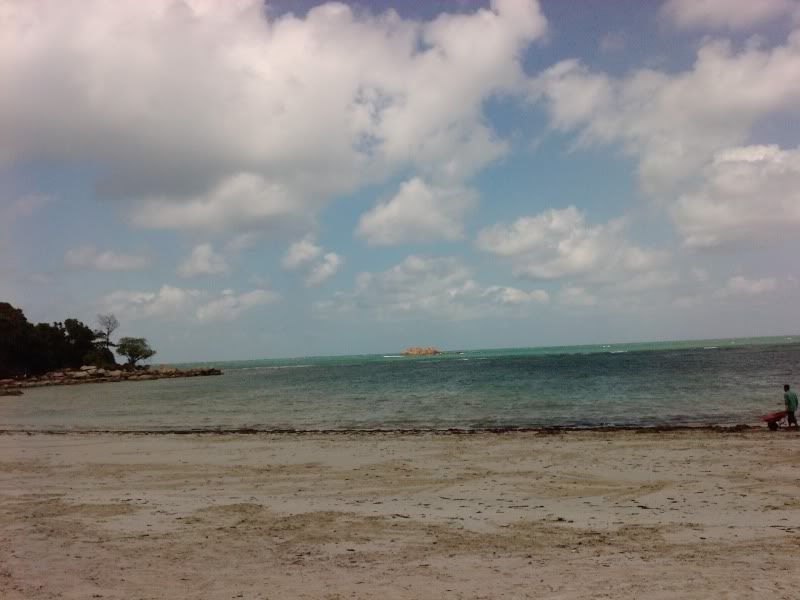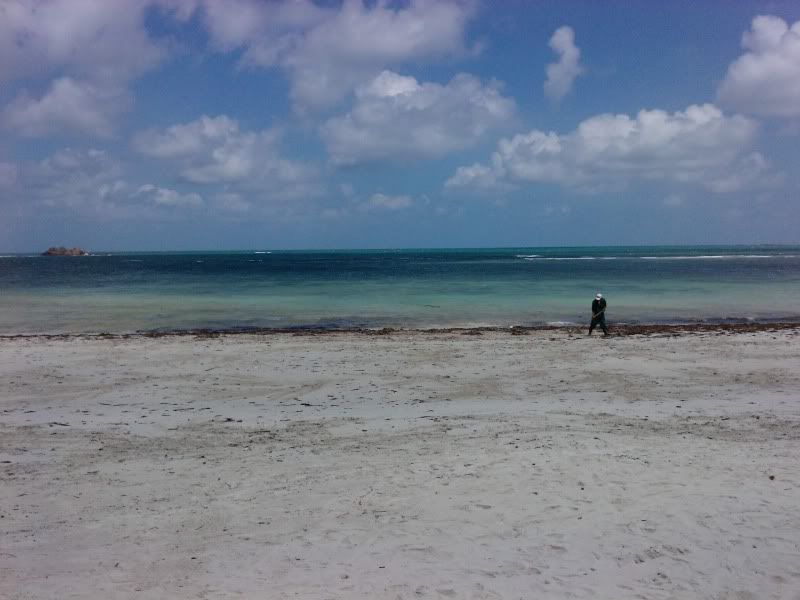 No Turtle Egg...
Cam-whore session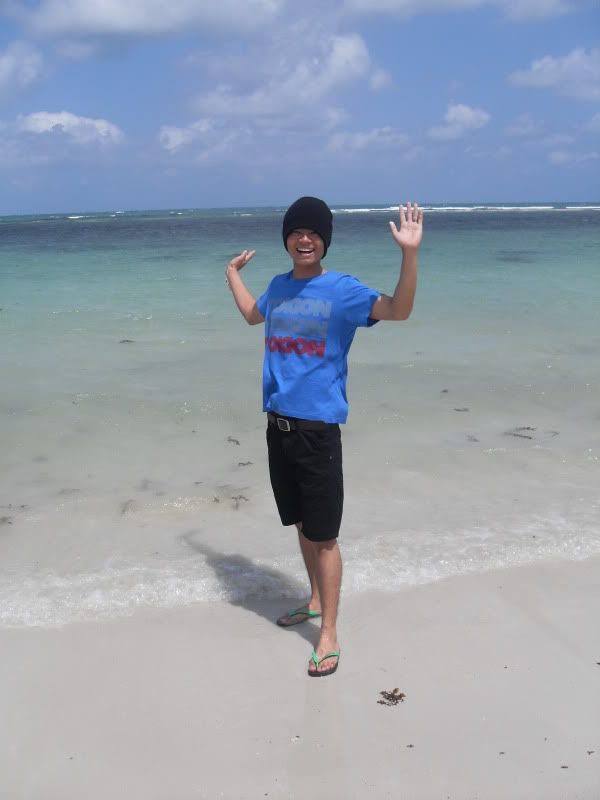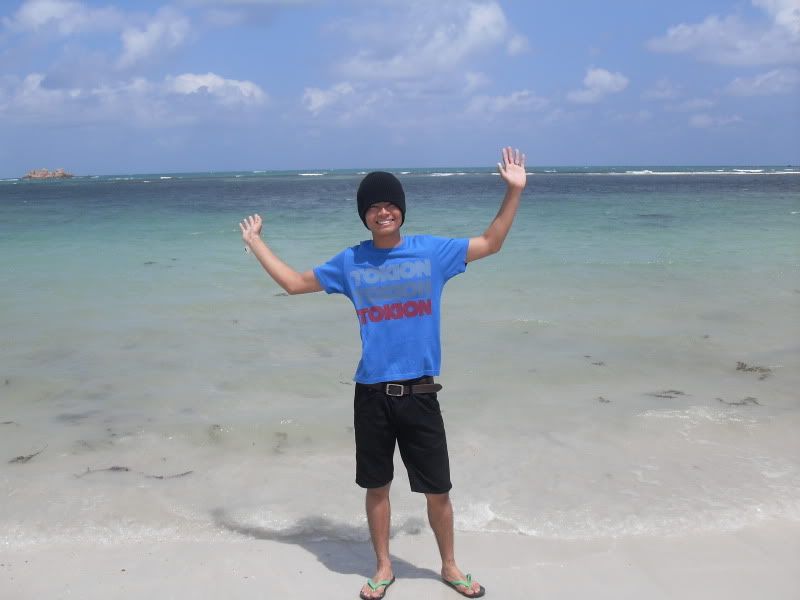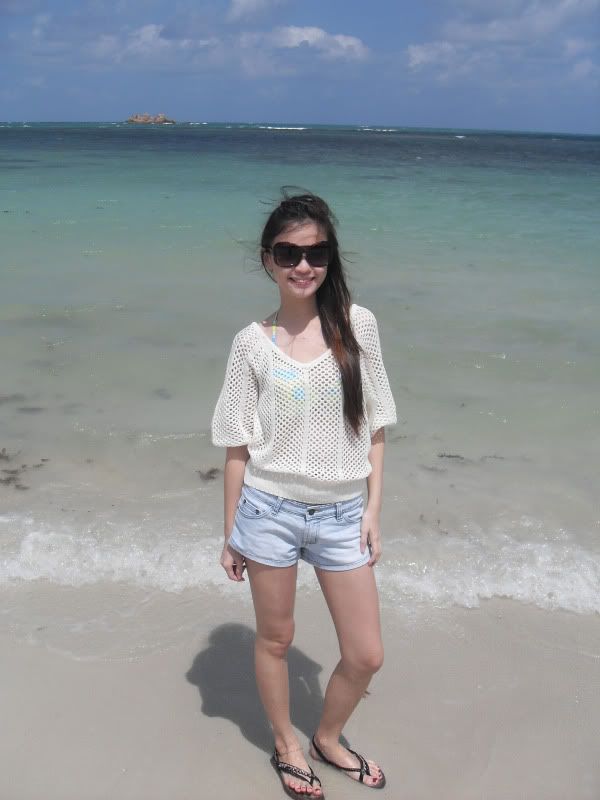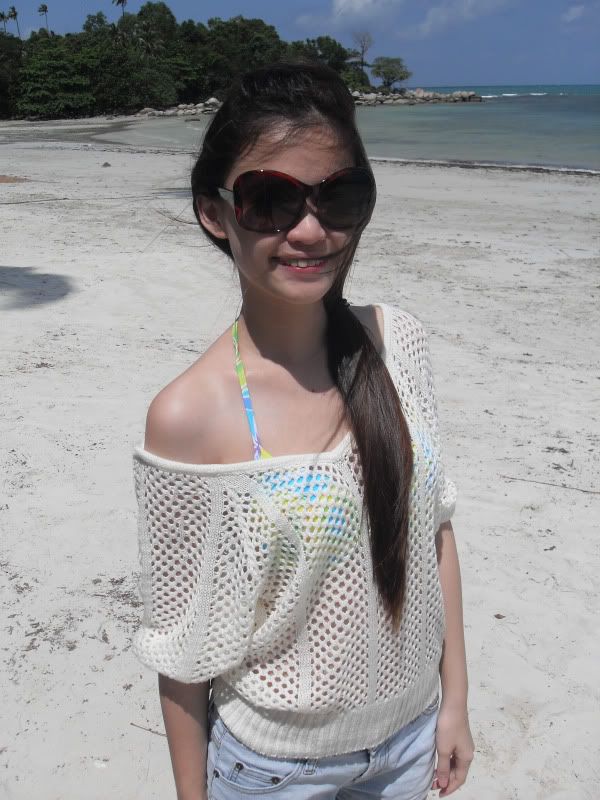 Classic Shot!
hahahahahhahahahahhaa
The sand there is really soft; and baby managed to find a spot to write this.
He likes the sand there :)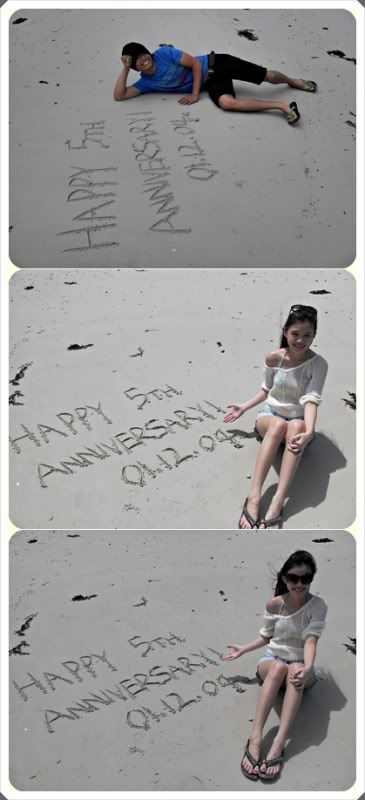 With some addition.
I drew the bintan :0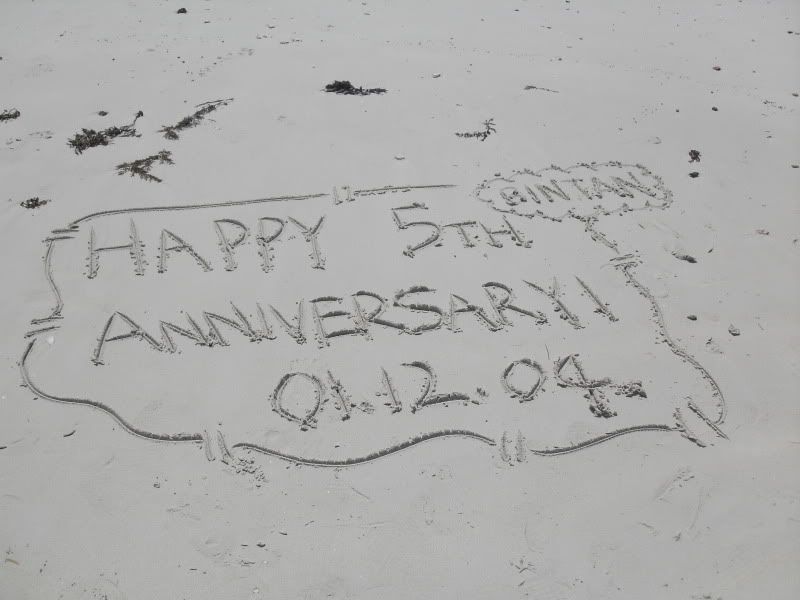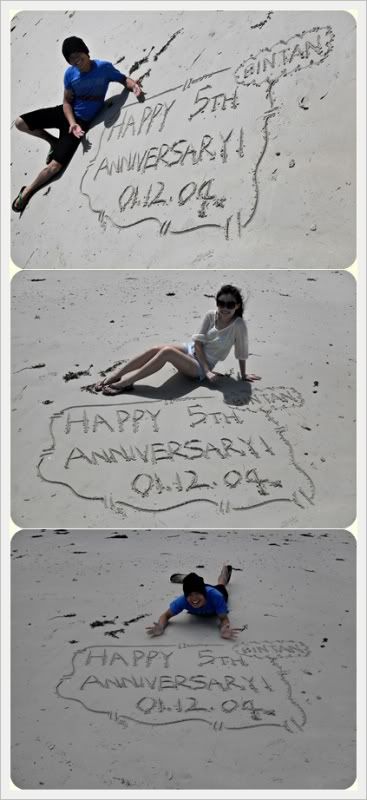 My Favourite Picture :)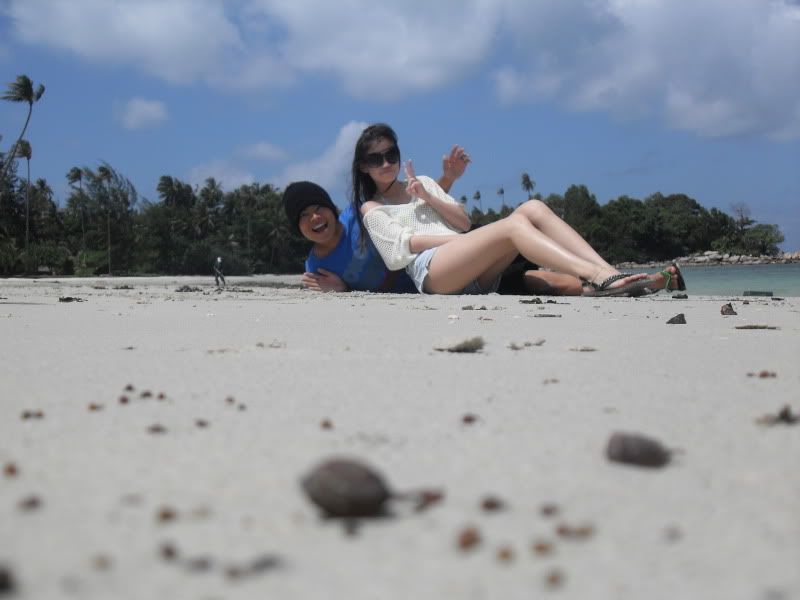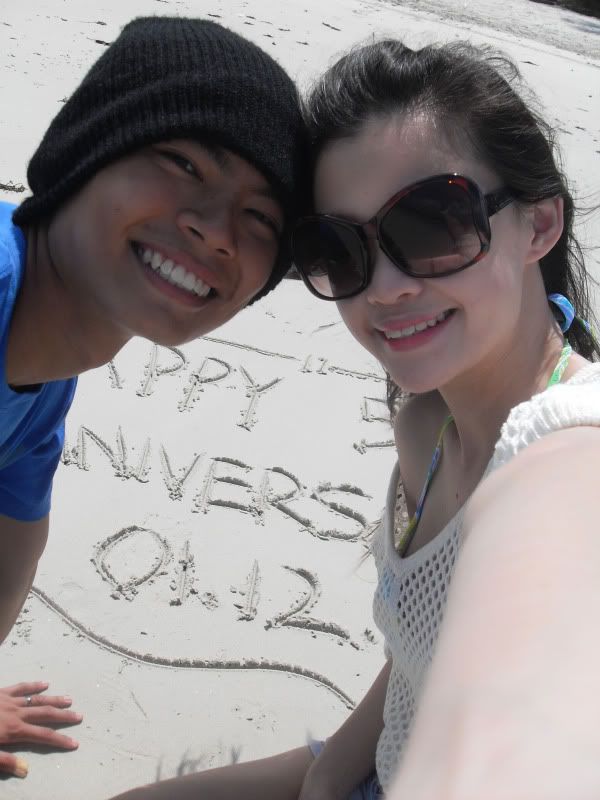 And we left the wordings at there :)
Hopefully it won't be erase off?
hahahaha
(Chong Meng just went to Bintan on Wednesday, hopefully when he came back he still tells me our art piece is there?)
Here is the stupid place whereby my camera dropped!!
Upset!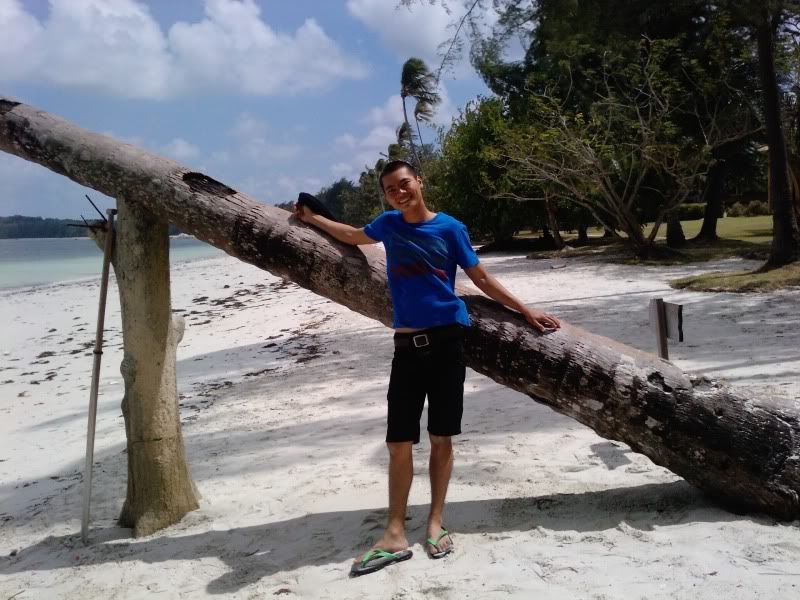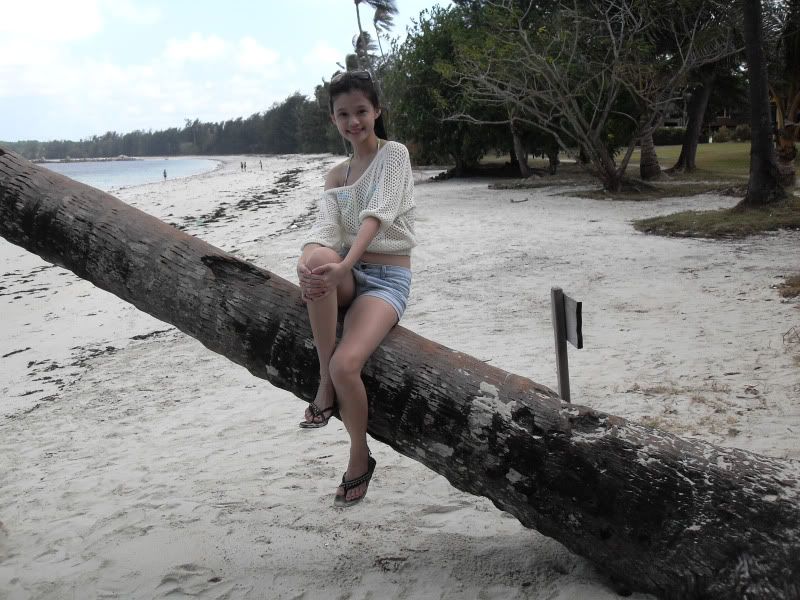 Another Favourite :)
After that, we went back to the swimming pool.
Just then, this staff here stopped us.
In fact, we couldn't really understand his english; we thought they forbid us to go to the pool.
Then, we realised he was referring to the slippers.
Our slippers stained with TAR (not sure what is that, just a patch of stuff that we stepped)
He offered to even clean for us!!!
SOOooooo Nice!!!
He took so much effort to help us to clean cause the tar is really quite hard to remove.
And if we did not remove it, the stain will be there forever.
We feels like a king and queen! :X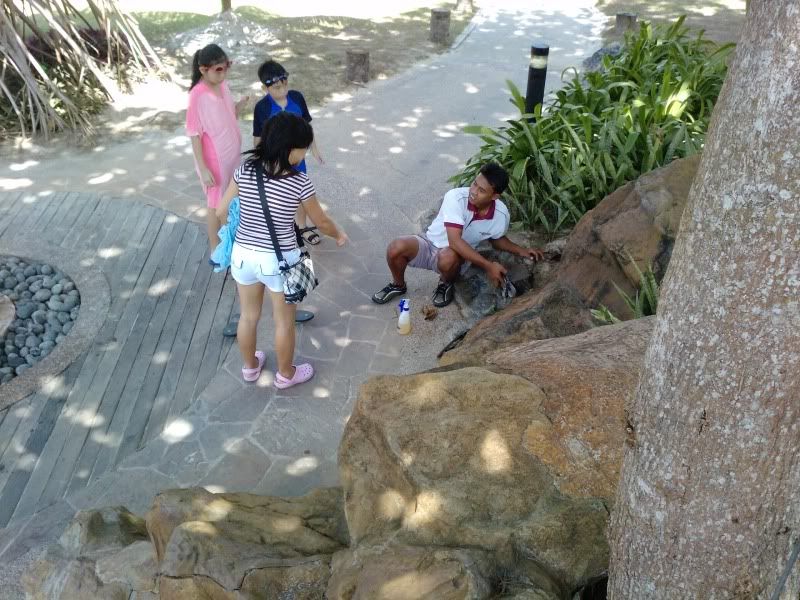 So we are bare-footed taking picture everywhere and chit-chat while he is doing :)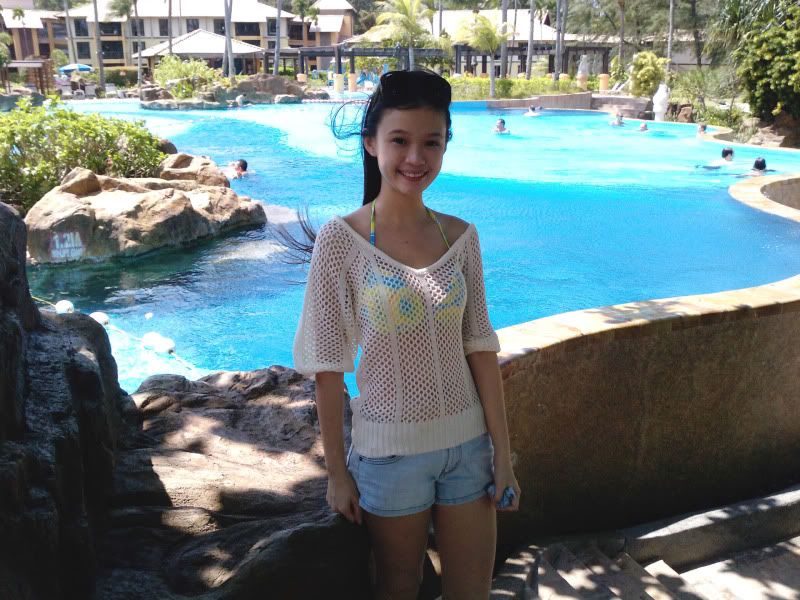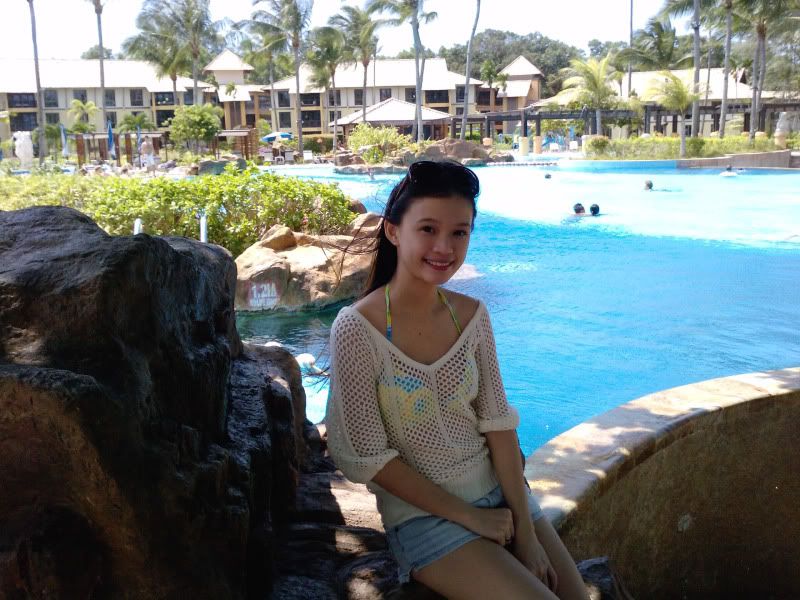 Totally a Perfect weather for a swim!
Take a look at the surrounding!
Oh yah, and there are some bikini girls too!
He is ogling at them EVERYTIME!
You see, what a perfect place right!
Does these make you wanna swim?
*Nodded*
I wish I can go back. TSK
After his kind service of removing the tar, we went for a swim.
This time, with a camera in a zip-lock!
Clever right.
Somemore is my handphone as my camera was spoilt.
*
we went to the Pool Bar.
The drinks are rather tempting. HAHA!
Again, the staff chatted with us.
Everyone there is really friendly!
And it is really freaking cold!
The wind kept blowing and we were shivering like
mad
!
I don't even wanted to get up; cause it is really freaking cold!!
SUPPPPPERRR COLDDDDDD!!!
I forgot the staff name..
I think is h... ... ...
He is always at the pool bar anyway.
Super friendly guy :)
He helped us to take picture too!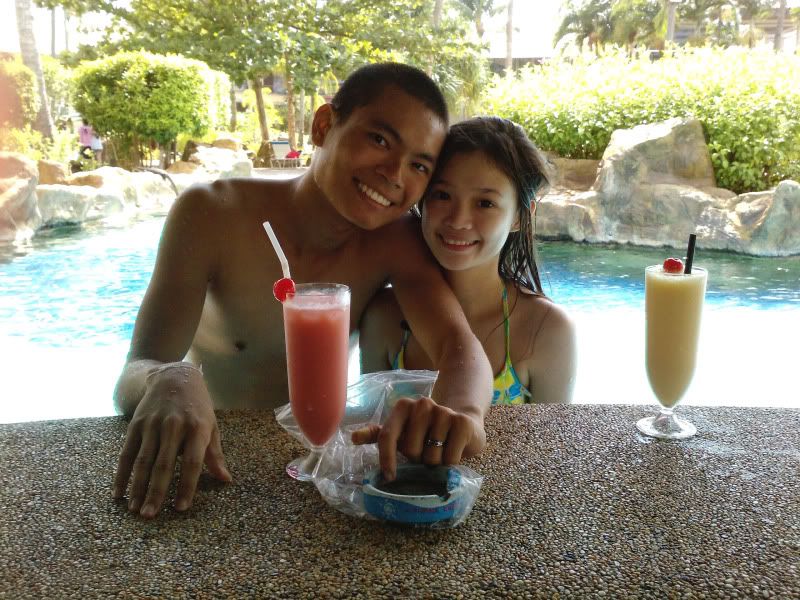 *
After a wash-up, we went to explore the place by stopping at every stop.
We went to the
Nirwana Resort Centre
We settled our lunch at the empty foodcourt.
HAHA!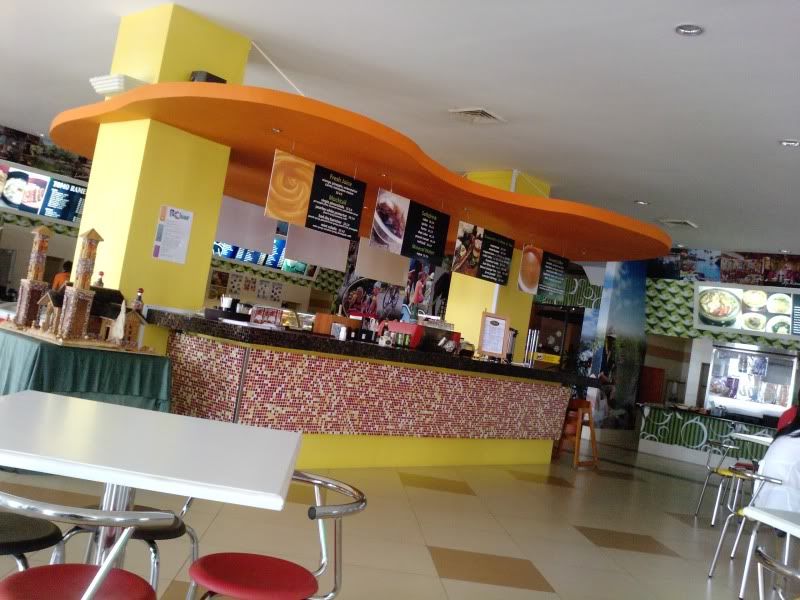 Pardon, the normal laksa and normal char kuey tiao cost $7 !!!
We had Japanese food
Mine taste really bad but his was quite good actually.
hahahaha
We went to their club house.
When i saw the flying fox, I wanted to play so much.
So exciting larrrr!!!!
baby even asked the price for that though he don't dare to play.
BUT!!
The staff said "Oh. sorry, that one only open next year, they are still building. It is link to another island."
Another ISLAND?!?!?!
Saw the arrow?
It is link to there!
WAH!
Fcuking exciting!!!!!!!!!!!!!!!!!!!!!!!!!!!
Let's go back next year to play that! :DDDDDDDDD
*
We wanted to ride the ponies/horse.
But then we stopped.
They are so small and if we ride on them.
It is really a torture for them!
So poor thing.
So we decided to ride elephant!!
He said that it is more exciting and elephant won't feel any pain!
That's true I think :)
BUT!
It is really high!
And we have nothing to support but only the staff's shoulders.
Somehow I feel that I am going to fall off!
But look!!!
The floor is full of their waste and urine!!
My elephant is 28 years old while baby's is 20 years old.
And they are both females :)
Baby's one even shitted on the way!
Wah lao!
I saw his elephant shit!
HAHAHAHAHAHA!
The way they urine is like opening a tap!
HAHAHAHAHHAHA!
damn interesting.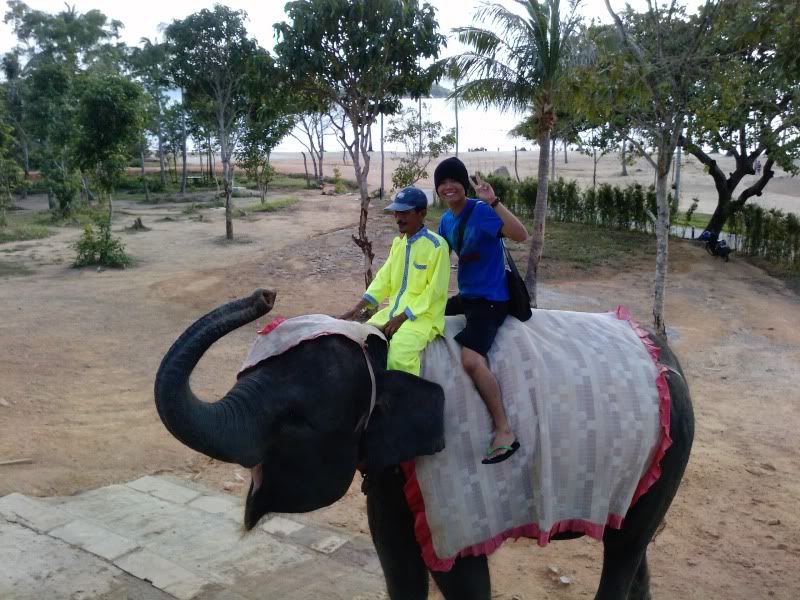 The staff even stopped and asked if we wanted to take picture.
You know, I don't dare to move as I am really afraid that I might fall.
HAHA!
And I managed to take out my handphone can took this :)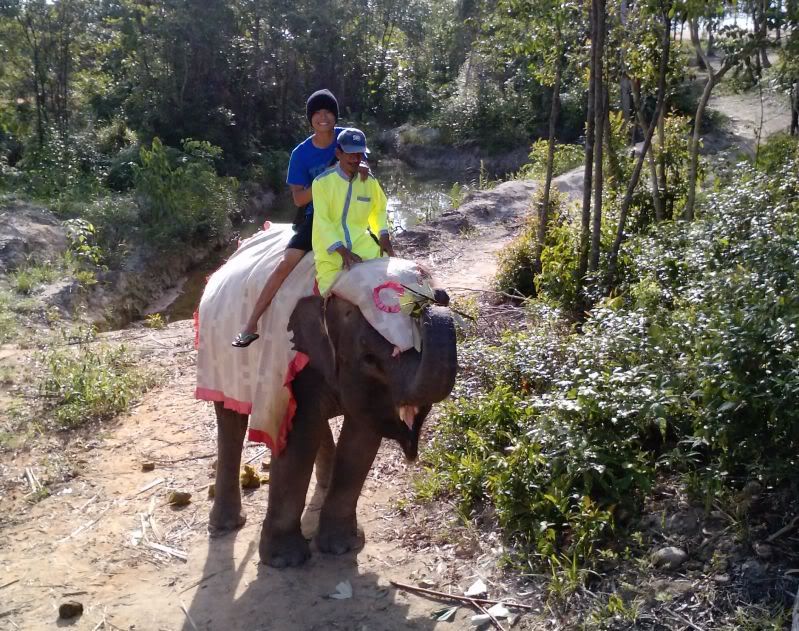 And I asked him to take for me too.
He also took quite sometimes to take his handphone.
HAHA!
We need to balance!!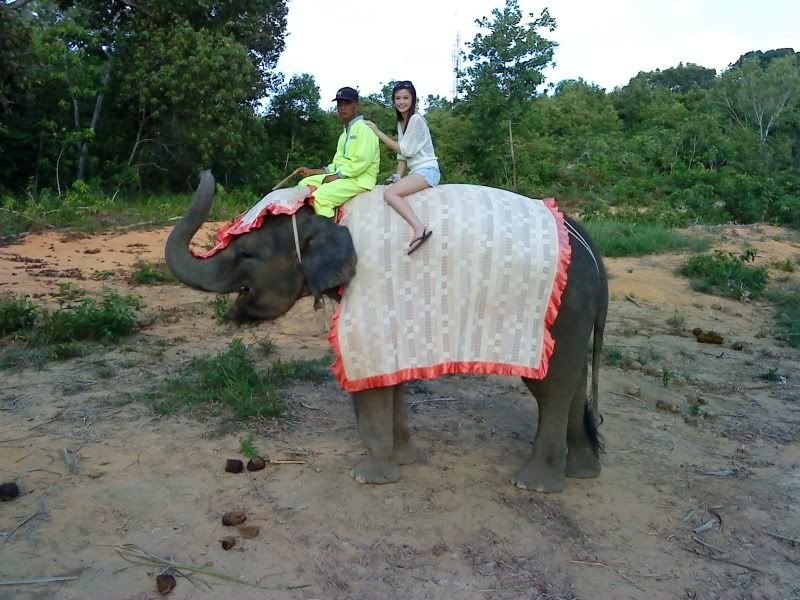 We both have this feeling.
There were a point that both of us feel that we are falling down.
We really don't dare to move so much you know.
Cause we can feel the backbone of the elephant.
The way we sat were uncomfortable yet we don't dare to move!
Cause we are afraid of hurting them. :P
Hopefully they are okay.
They are really adorable!
They even posed when you are taking photos with them!
Oh man!
Their
"sexy"
pose :DD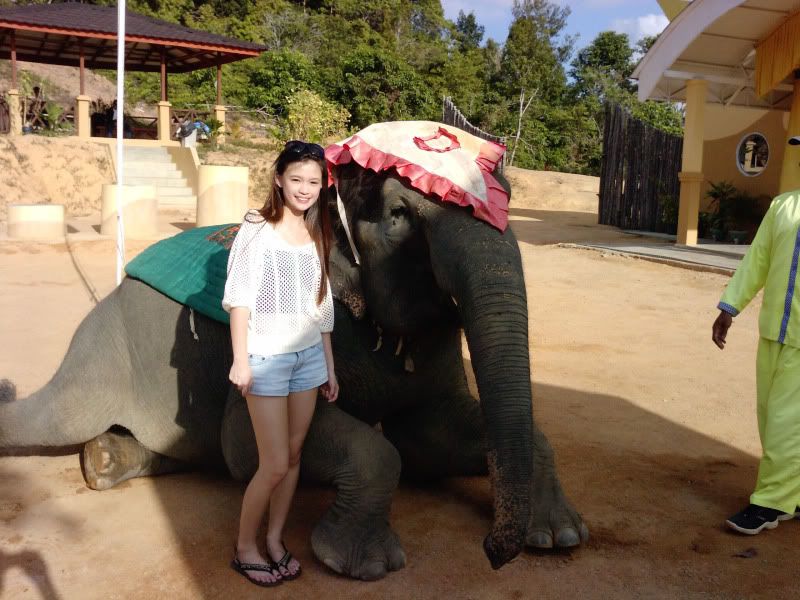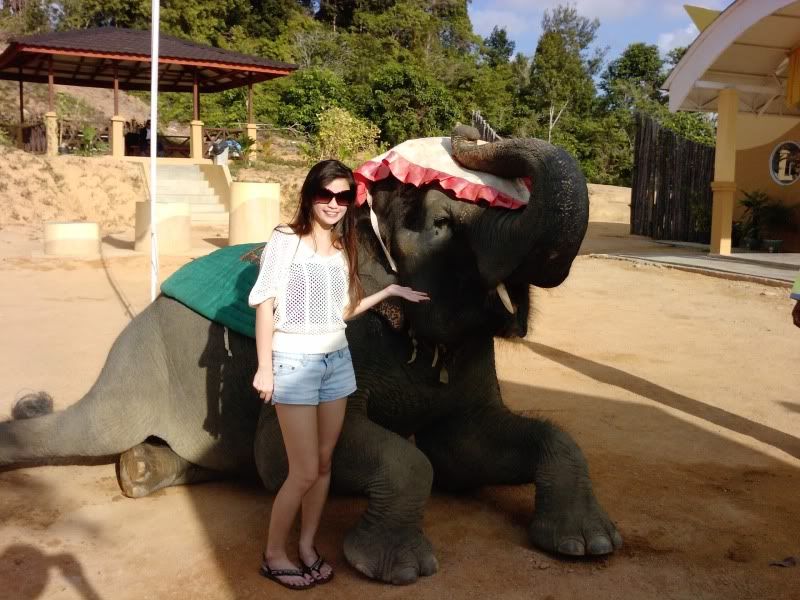 After leaving that place, I realised that my hair and clothing seems to stain on the elephant's smell.
The smell of the shit and urine.
Maybe we think too much :X
Next destination!!!
While waiting for our shuttle bus...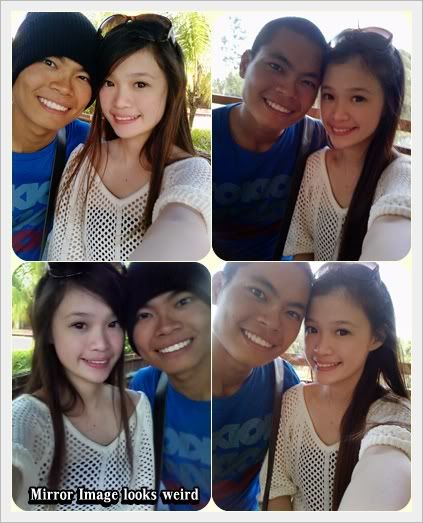 Crazy. HAHA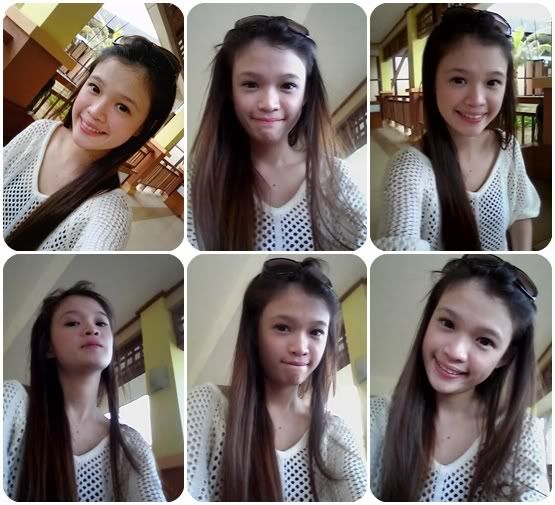 Next stop: Waterspot.
Damn it!
Really damn it!
We did not bring out any clothing and thus unable to play that.
We wanna play the body boogie board
DAMN IT!
ahhhhhhhhhhHhhhhhhhhHhhh!
And again, the beautiful beach :)
I am really in love with bintan beaches!
Wanted to do a nice jump with my slow handphone.
Caught nothing.
But just some stupid picture of us!
HAHAHAHAHAHA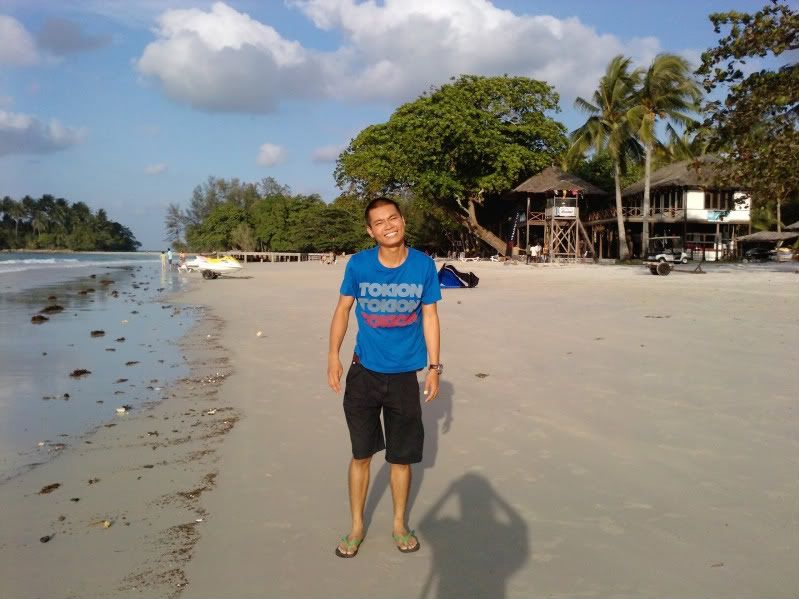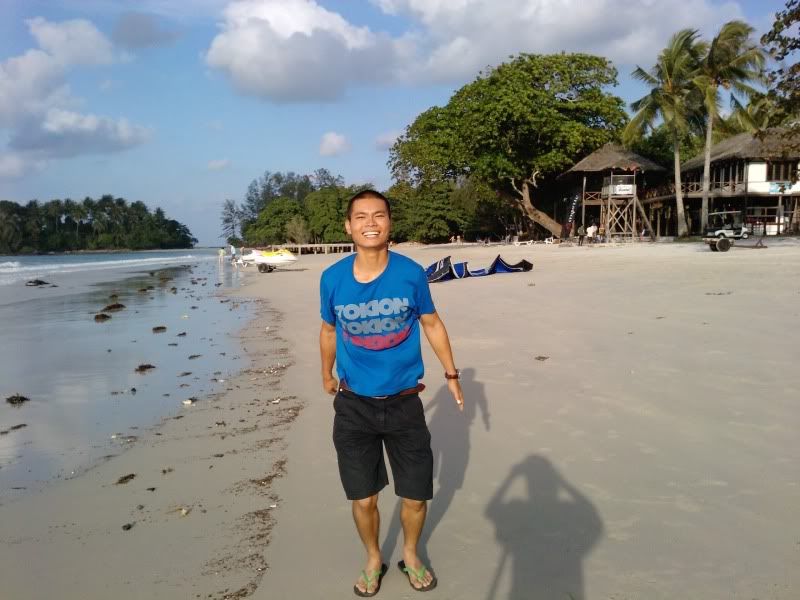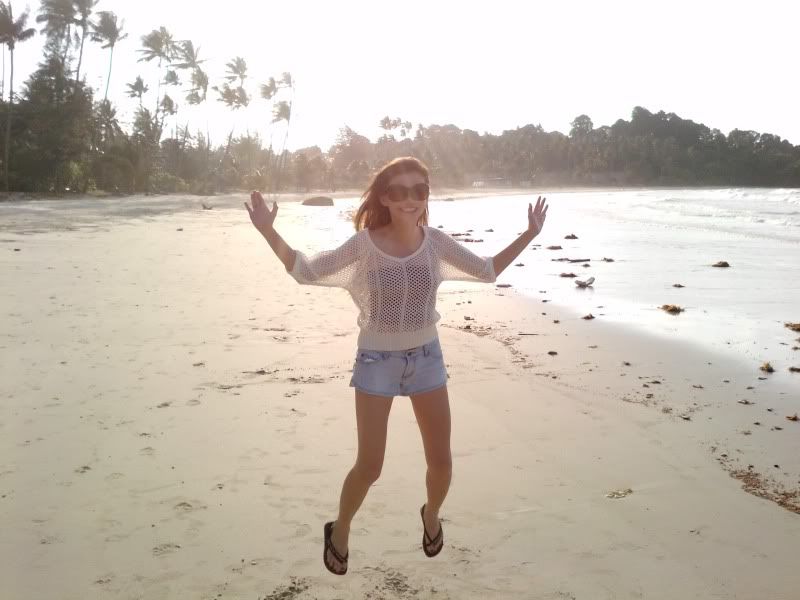 Love this! :)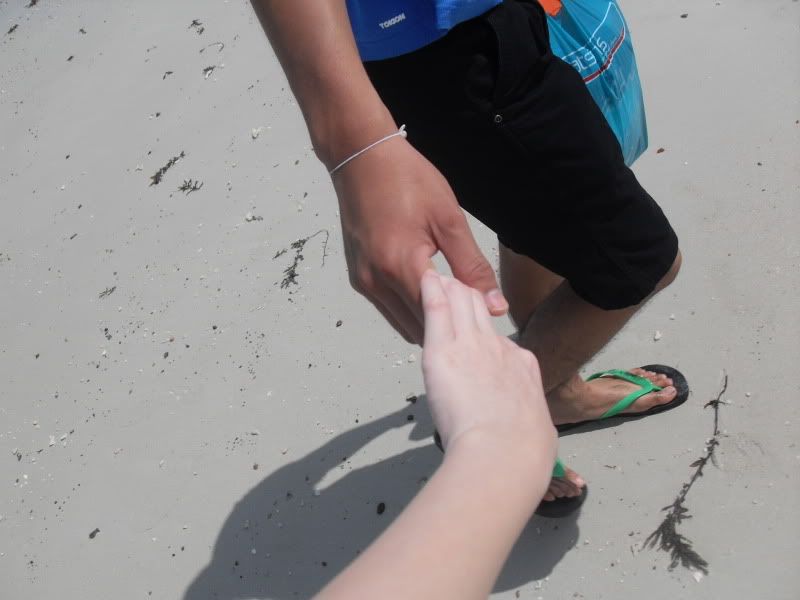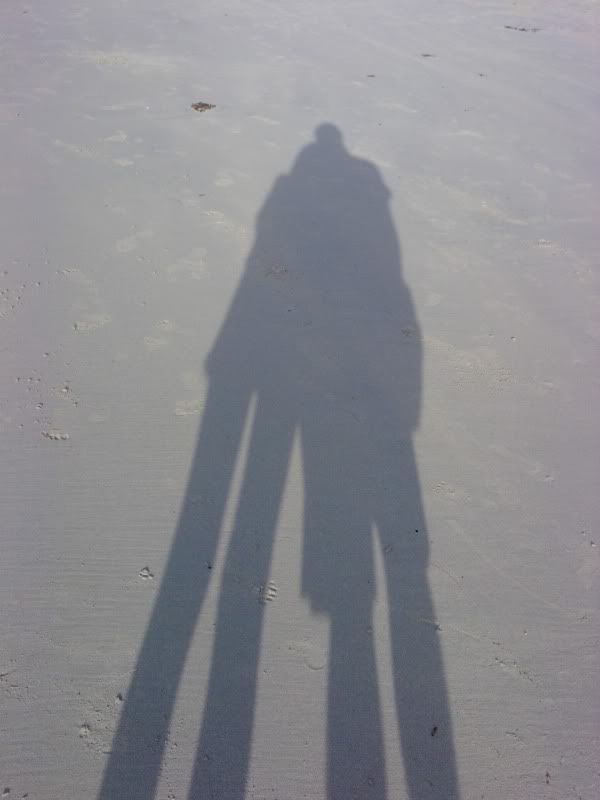 *
It's Dinner Time!
We had the buffet at the Poolside Restaurant.
It is damn expensive! :(
We really got cheated with the bbq-ing outside which we thought that it will be delicious.
It is, but not as we expected :(
We kept stuffing food until our stomach are damn bloated!
HAHAHA!
And we celebrate Advance Christmas :)
We got present for each other :P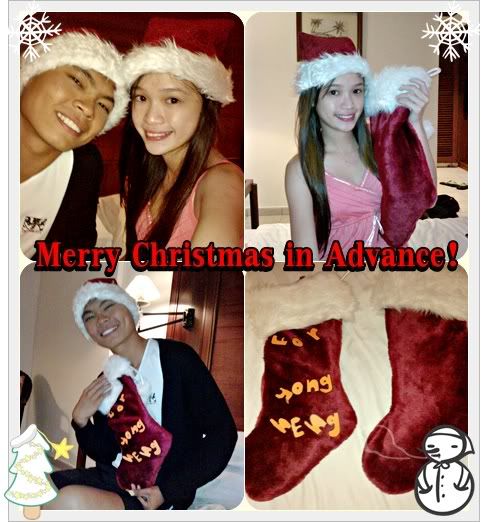 ---------------------------END OF DAY 2---------------------------
Third Day!
Check out at 12pm :(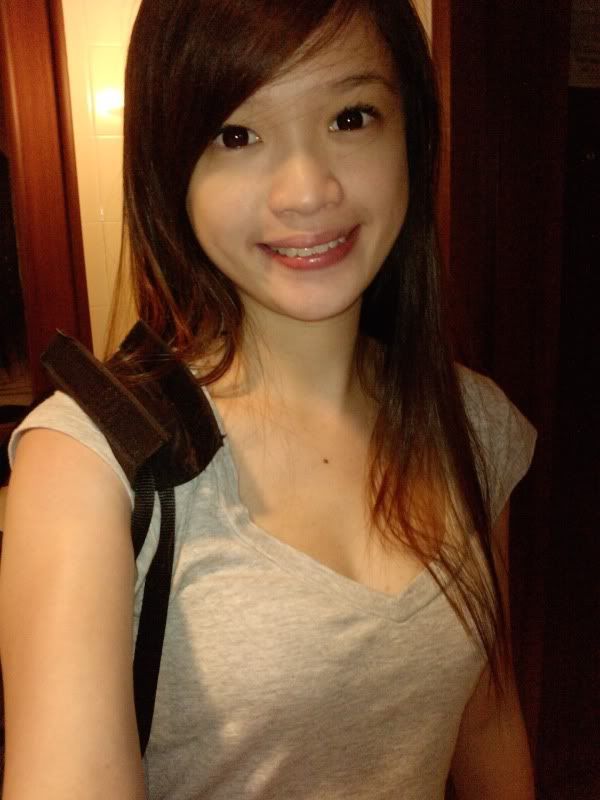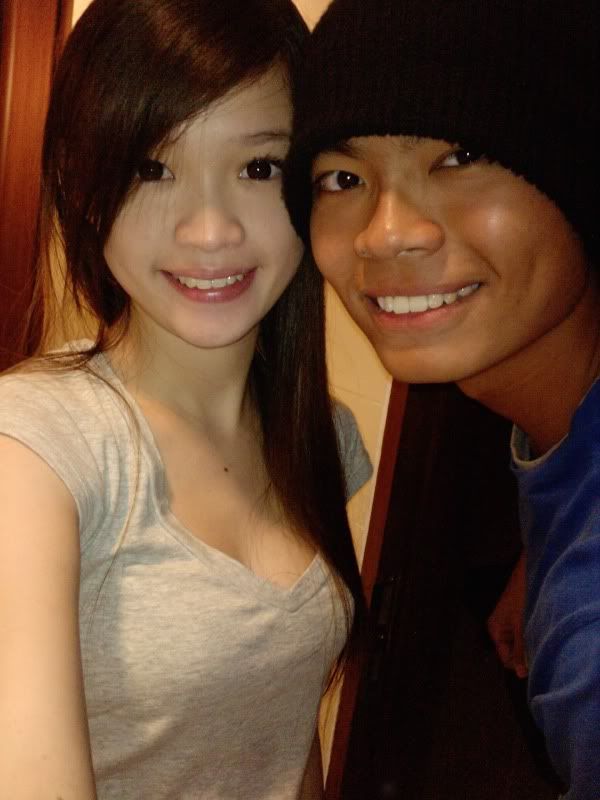 *
Our ferry timing was at 4.35pm and we loitered around for almost 4 hours!!!
Both of us were so sleepy and baby even dozed off in the lobby!
When he woke up, I quickly persuaded him to get himself some coffee!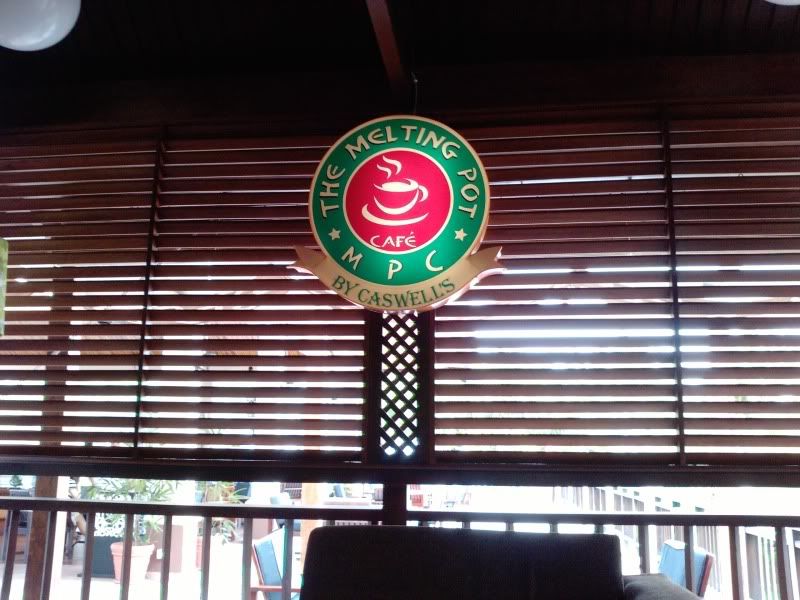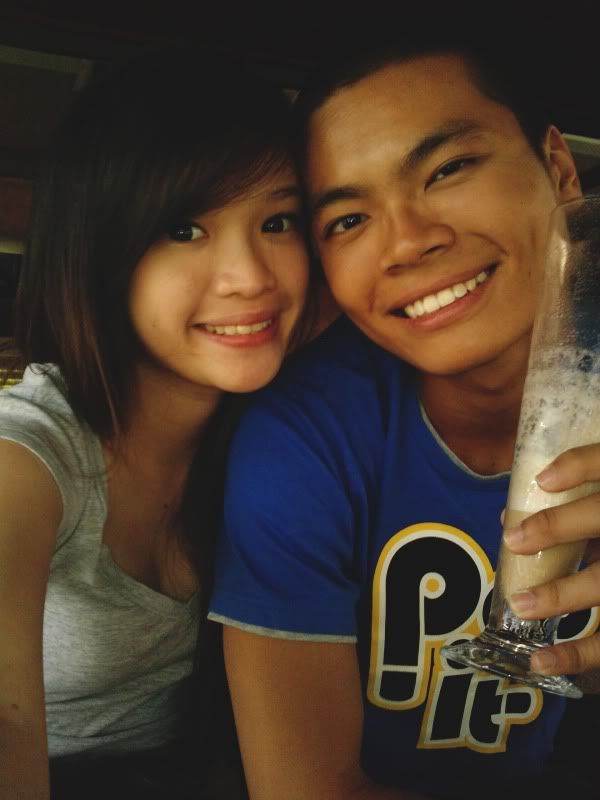 SEXY hunk!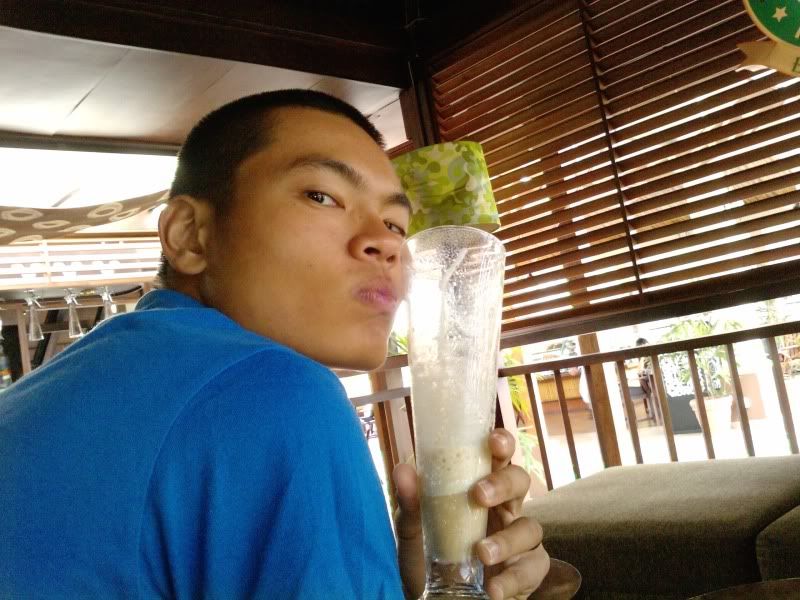 *
After that, we decided to go to the nearest beach.
It was really relaxing to lie down there and enjoy the breeze.
Listening to music, eating chips, looking at the sky!!
Totally RELAX to the MAX!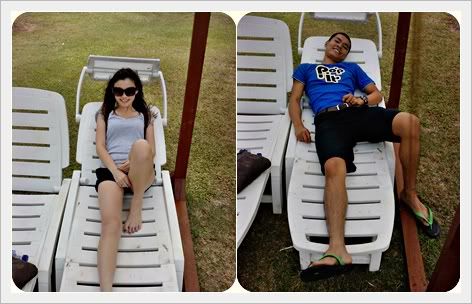 *
He ran over and trying to balance himself while I am holding onto camera trying to capture his picture.
WHO KNOWS?
He is unable to balance himself and he fall right infront of me!!!
HAHAHAHAHAHAHHAHAHAHAHAHAHHAHAHAHA!
He is always poor at balancing!!
I couldn't stop laughing at all!
HAHAHAHHAHAHAHAHAHAHHAHAHAHAHAHAH!
Then I chased him away and I went to lie over.
It is pretty easy to balance.
I don't know why he had such a bad fall!
HAHA!
I tried to take a nice picture but I just couldn't stop laughing!!!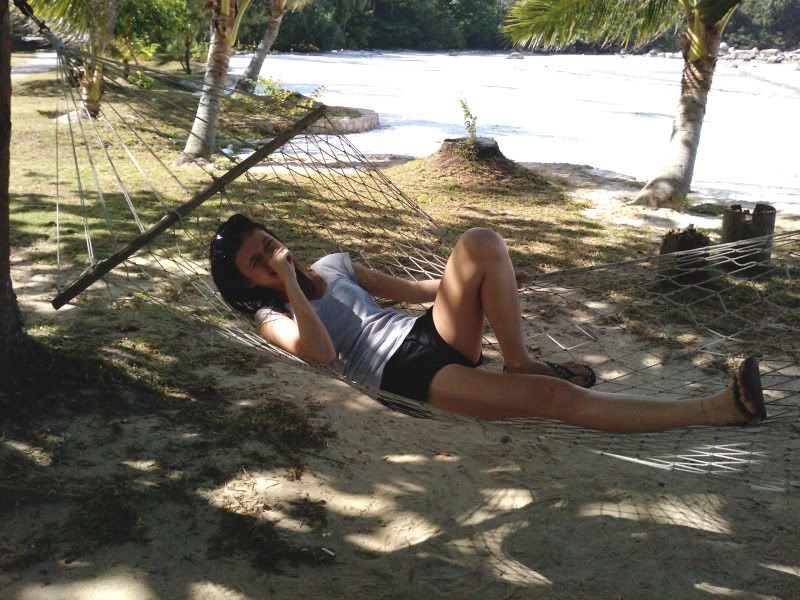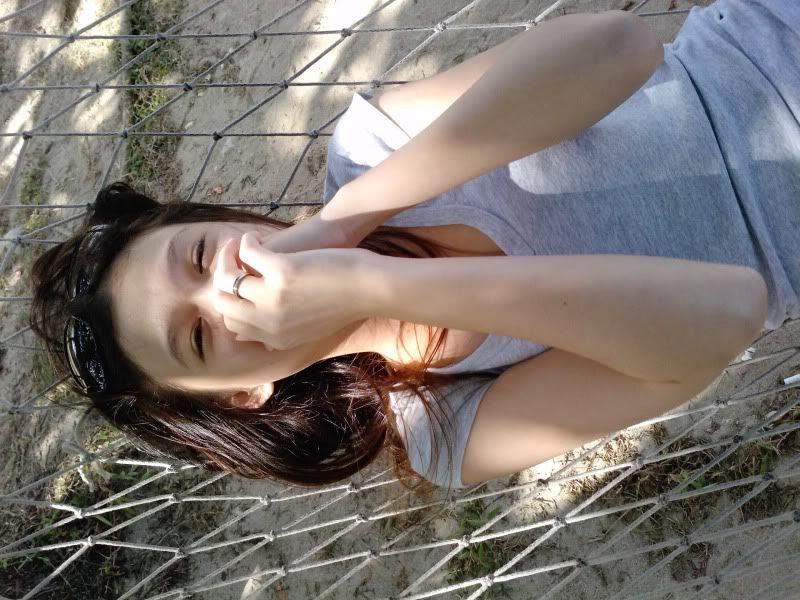 The funniest thing is.
He complaint that I am too stiff!
BUT look at this!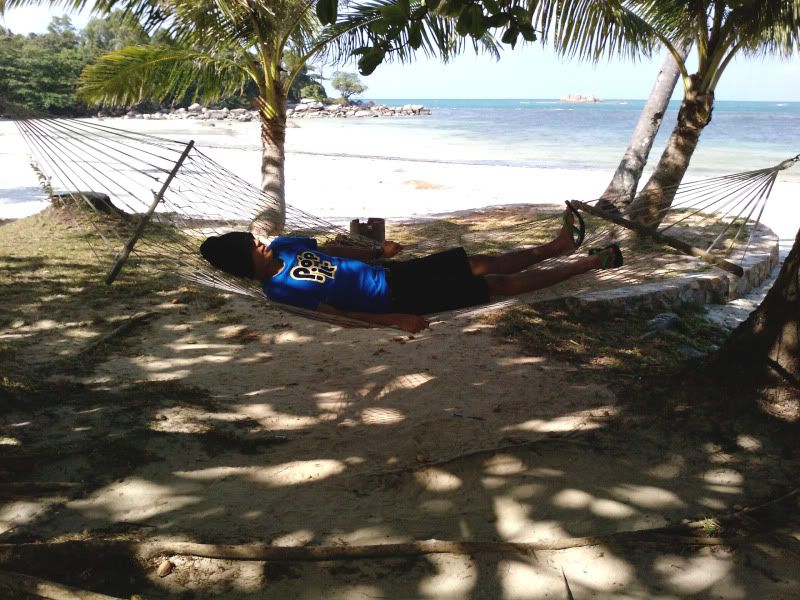 So who is more stiff?
And he said that he is trying to balance it
HAHAHAHAHAHAHAHHAHHAAHAHA!
After all the non-stop laughing!
We began to take some act-classic pictures :X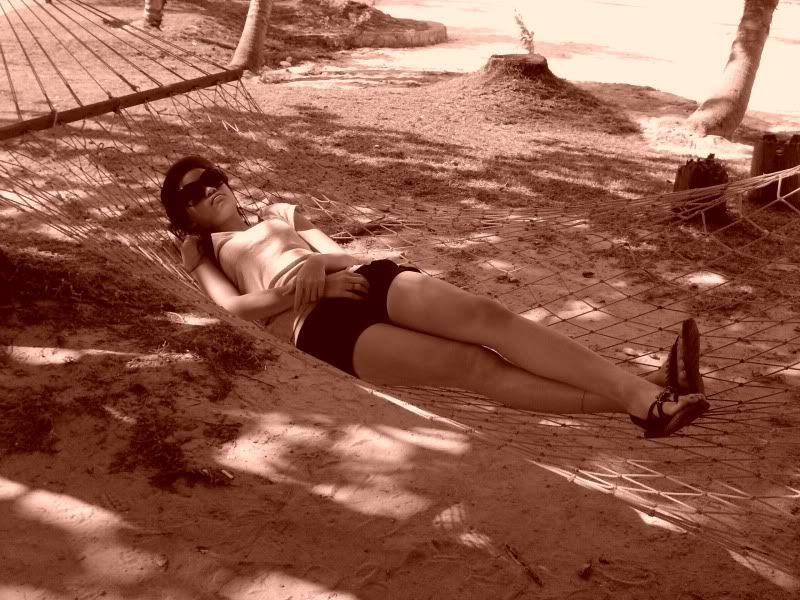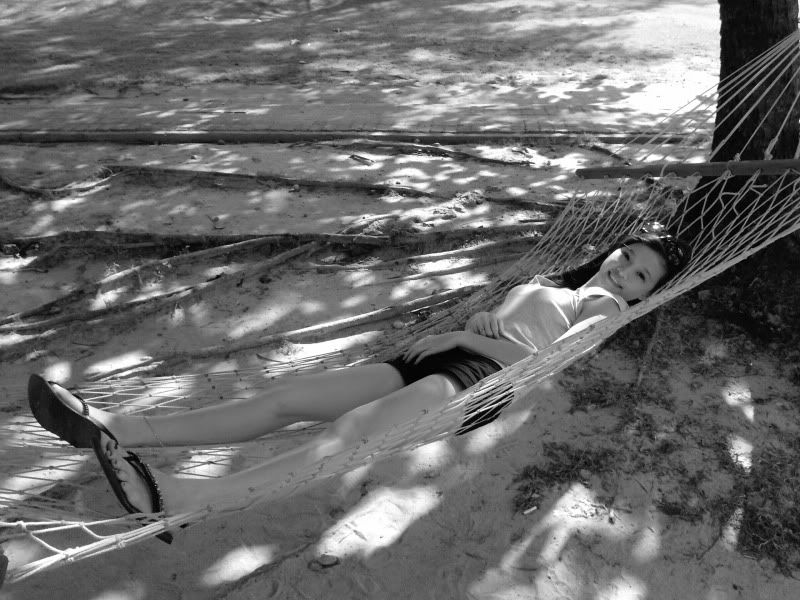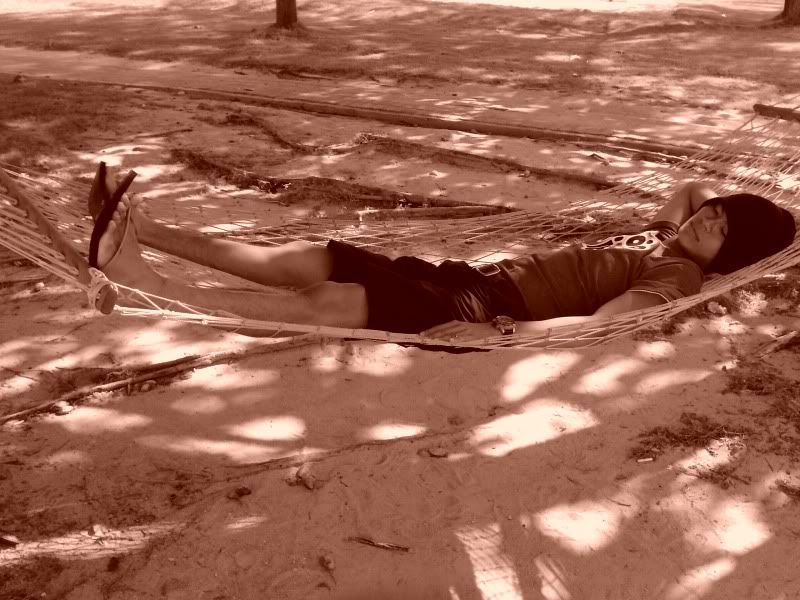 *
Bumpy ride back to Singapore :D
*
Oh yeah.
Did I mention about the weird dream I dreamt on the first night?
I heard people saying that if you are having continuous dream for the whole night in a hotel/resort/chalet, meaning the place is dirty.
I don't know how true about that!!
In the afternoon when we are at Pasar Oleh Oleh.
Baby complaint that he wanted to eat bread; he is bread-man you see.
But there is no bread there.
At that night, I dreamt of this old granny who came into our room.
She brought milk and bread for us.
Super friendly those kind.
And then in the dream, baby was darn happy!
I woke up suddenly with cold sweat.
I kept dreaming of stupid things which I can't remembered and suddenly woke up with sweat.
This is my dream on the first night.
xxxxxxxxxxxxxxxxxxxxxxxxxxxxxxxxxxxxxxxxxxxx
Second Night, I believe I am too tired and I did not have any dream.
But the next day, baby asked me "Did you go to the toilet yesterday?"
I replied "No... WHY?"
He then told me about his weird dream.
He dreamt that the toilet was right infront of our bed (toilet was supposed to be at the side)
He heard toilet flushing.
Then followed by the sound of an opened door.
He said that the dream was damn real.
He heard footsteps..coming nearer and nearer to him.
And SHIT, he woke up immediately.
What a weird dream we have in just 3 days! O.O
With Love