Boyfriend brought me to
Westlife Gravity Singapore Tour Concert
on Monday 03 October 2011.I'm so god damn surprised! For the past few weeks, we have been seeing posters (Bus stop) and commercials (313 Somerset), almost everywhere.
THEY ARE MY CHILDHOOD BOYBAND!!
Totally in love with them when I'm in Primary 5? Since then, I started to buy their albums. I stopped when I am into Chinese songs, when ENERGY came into my life. HAHA! It was their
fourth
concert in Singapore. The last time was 5 years ago! 5 years ago, i couldn't really afford it. I'm glad that I made it last minutes to their concert. Really have to thank him for it.
HE MADE MY DREAM COME TRUE!!
After my work on Monday, I met up with him to have dinner together first before going to the concert. The whole journey (as usual), I kept talking and talking nonstop about how excited I am! I'm really excited lah! Keep talking and talking until he couldn't take it. hahaha! He kept asking me to calm down! I have been counting down for the whole of Monday while I'm listening to their songs at work. Like somehow, 心很难定下来的感觉! hahaha! I don't know why, when I see ENERGY Concert, I don't have this kind of feeling. Perhaps Westlife is my first love boyband. LOL! Rubbish!
It gave me lots of flashbacks as in how I started to go crazy for them. Listening to their music, watching their music videos and their interviews. Buying magazine when it had their interview even though it was just a small little page. This is how 小妹妹 will do when they started to go gaga over a boyband right? 我也是过来人啦!
Here is the start of the concert. Excitedly waiting for the concert to start. It started around 8:30pm. Kinda of late :(
Here come their first song -
When you're looking like that
followed by
World of Our Own
! Immediately, 全场high起来!You will start to see people standing up! Haha! I'm one of them :X
I will be posting videos that I found on youtube. Those who missed this fabulous concert, perhaps you can get some feel through these videos! Thank you for those who had videoed down.
Credit to immelly! - When you're looking like that!
Credit to justchewme -
World of our own!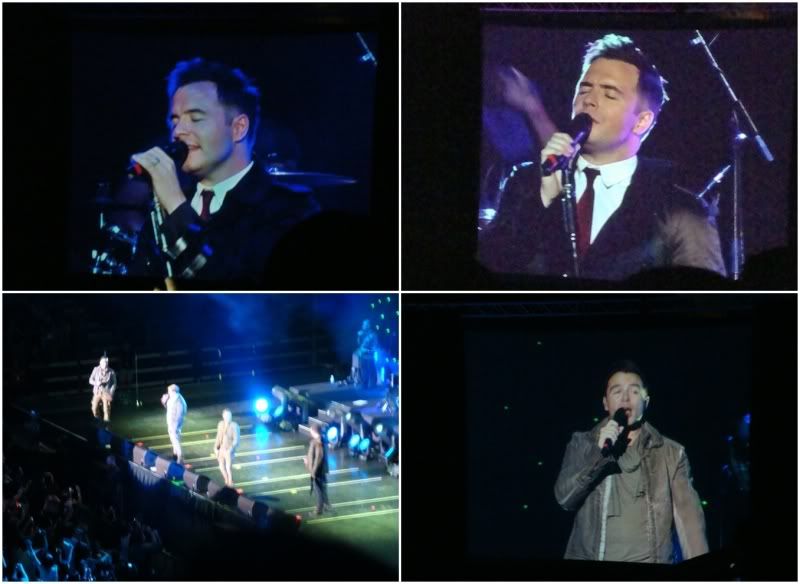 A change of outfit after world of our world, coming up will be my favourite song -
What makes a man!
I screamed my throat out when I heard this song! OMG! Totally goosebumps after hearing this song. Got those kind of wanna cry feeling! AHHHHHHHHHHHHHHHHH!!! Really get so crazy over this song!
Credit to Kevinardywijaya -
What makes a man!
Followed by
Safe
, a new song from their latest album - Gravity. I must say Mark's vocal is super duper strong!! But of cause lah, shane is good too as well as the rest! :X Their voice never change after so many years! I am still able to differentiate.
Credit to RikaCullen -
Safe
Next
Home
, everyone started to scream when they started to scream harder and sing along! :D
Credit to justchewme -
Home
Then they did some talking and followed by the world famous song
My love
. Goosebumps again when the whole hall started to sing along with them. Incredibly Touching!
Credit to irfachub -
My love
After that, they invited 4 audiences up to sing along with them for the next song
Beautiful Tonight
. The 4 girls were so excited that they can't stop hugging them one by one! HAHA! Can feel their excitement as well!
Then, they went for a change of their outfit. Guess what they came out with? - Mickey Mouse Tee!! Then they started with a medley of Viva La Vida by Coldplay, Only Girl (In The World) by Rihanna and lastly, what makes me surprised is Lady Gaga's Bad Romance. Totally in a clubbing mood! hahaha!

Credit by justchewme -
Medley
After that, a changed of their outfit again and Kian came out having a little speech with us. And he also announced to us that his wife is expecting their first kid whose nickname is Twinkle. Mischievously, he wants us to give a shoutout to Twinkle as he videoed it down. haha! Then follow by Nicky. He asked us to scream out loud as he videoed it down and said that he will post it in his twitter and asked everyone of us to follow their twitter account. haha. The next songs: Season in the Sun and You raise me up.

Credit to rachelyong88 -
Season in the Sun
Credit to west2000 -
You raise me up
Next, followed by
I'm already there
and
I will reach you
, which is the song for amazing race.
Credit to kevinardywijaya -
I'm already there
Credit to kevinardywijaya -
I will reach you
Again here,
Flying without wings
, another world famous song. They ended this for the last song for the concert as they thank us for supporting them for 13 years.
Credit to justchewme -
Flying Without Wings
Ending? Nope. Of course there is Encore! Change of outfit and sang the last 2 songs will be What about now and Uptown girl which brings us to the highest point again where everyone started to stand up, cheer and sing along with them. I can't stop screaming when they start to sing Uptown girl! hahaha! cause it is one of the song i expected them to sing! hehe!

Credit to west2000 -
What about now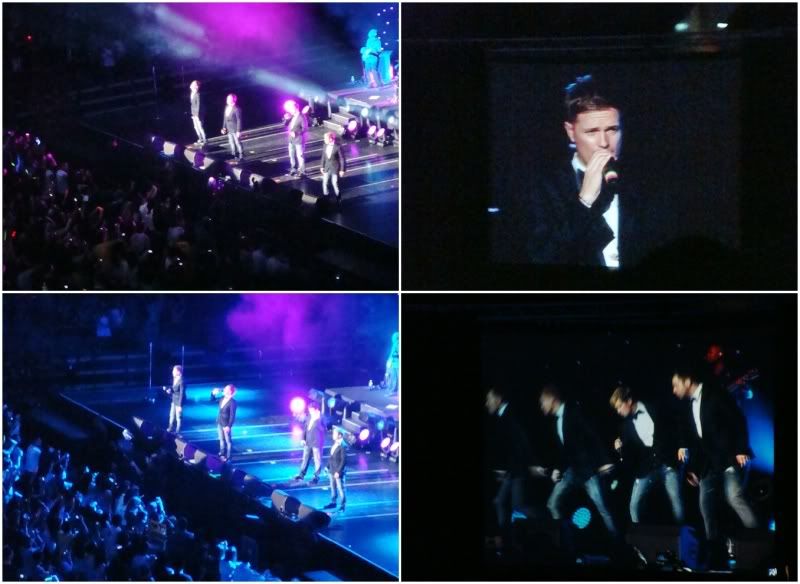 Credit to west2000 - The last song -
Uptown Girl
Love their dance! haha!
13 years of my whole life and i finally get to see
WESTLIFE
. Not face to face, but so much contented! It wasn't the best concert I had ever watch, but it is the most nostalgic concert I ever had! I'm not being exaggerate. I really enjoyed myself a lot! He said that I'm like a xiao mei mei! Keep shouting, singing along, taking pictures. HAHA!
It is good to see them, sadly not as 5 but 4. I had no idea when to see them again. I hope they will do another world asia concert again :)
With love